Former British professional cyclist Tom Copeland and ex-Fusion Media PR manager Samuel Doll have set up a cycling and adventure sport-focused PR shop to help brands get more out of cycling sponsorship and other adventure sports.
PaceUp Media will provide a full range of PR, events, content and digital media services to brands and professional cycling teams.
It has launched with three foundation clients, SCICON (global PR, email marketing and digital content), Team Sunweb, (PR and social media) and Velusso cycling holidays (communications strategy and events), and has since picked up Angling Trust with more prospects in the pipeline.
Copeland was a pro cyclist for the UK team Sigma Sport - Specialized in 2011 before injury cut short his career and he turned to the media, where he worked as a cycling expert for Sky Sports.
He then moved into PR and comms, working for Dutch-based pro-cycling outfit Team Sunweb (then known as Argos-Shimano) and then stints with Aspire PR and strategic sports communications agency Postman.
Copeland said his ambition was always to run his own communications agency and hopes his broad range of experience will allow him to bring a "fresh approach" to sponsorship in a traditional sport.
"Within cycling there is an inherent problem where sponsors come and go too much and teams and riders don't really have any job security. It's something I experienced as a rider and while working on a world tour team," he explained.
"It's partly down to teams being so busy and the calendar so full-on that they're lacking the time and a bit of strategy to do [sponsorships] properly.
He added: "My goal is to help the top tier of the sport both on the brand side and with athletes to make the best return of investment then can get from sponsorships. This should help the growth and longevity of pro cycling."
There is still a mindset for brands sponsoring lower tier professional cycling that logos on jerseys are the major benefit of a sponsorship package. But as Copeland points out, "there's only so much room on the jersey and that is the problem because they are looking at that spot on the jersey as their return on investment".
He believes there are huge opportunities for brands to maximise their investment by using teams of 15 to 30 cycling ambassadors that can be activated through content, events and networking opportunities.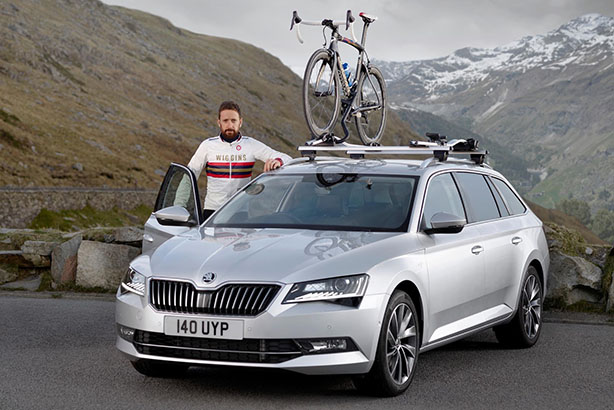 Sir Bradley Wiggins was appointed a brand ambassador for Skoda last year
Cycling's image problem
A major challenge for anyone operating in the space is that the sport has endured more than its fair share of doping scandals in recent years. Lance Armstrong may be the poster boy for cycling drug cheats, but there are many top teams and individuals in the past 20 years that have either been caught for, or suspected of doping, casting a shadow over the sport and its suitability for brands.
Most recently, Team Sky has been tainted by allegations that its Tour de France winning cyclist Sir Bradley Wiggins (above) was given a jiffy bag with the banned substance Triamcinolone.
"People are worried about any negative connotations coming out of being part of a cycling team because of the image it has dealt itself over the last ten or so years. It is the toughest barrier to overcome for brands entering the sport," Copeland admitted.
"There are always going to be brands that don't want to associate themselves with the sport and there can be crisis communications involved, but we are trying to find creative and attractive ways to break those barriers."
Copeland says the sport is getting better at dealing with doping cheats and there are still huge opportunities to work with brands willing to back the sport and professional teams.
PaceUp Media, based in east London, is about to hire a social media executive with plans to add more talent as interest in the boutique agency ratchets up a gear.