Stick a cork in it
PRWeek was invited to the excellent and very important Women in PR event that tackled the gender inequality that exists at PR event speaker line-ups.
Did you know that two-thirds of PR and communications professionals are women, but only a quarter (24 per cent) have ever spoken at industry events? Those who attend such events would not be surprised by the findings.
Panelists at the event discussed sensible ways in which women can get a seat at the lecturn or spot on a panel chair.
One of the problems, according to RADA tutor and speaking therapist Sheelagh McNamara, is that women aren't assertive enough in how they project their speech.
To solve this problem, McNamara ran the room through an unusual exercise.
Stick a cork in your mouth and try to talk through it. After you practice this, you will be able to be more assertive, so the theory goes.
To be honest, the three men in the room, including PRCA deputy director general Matt Cartmell, found the activity slightly awkward, but maybe that's part of the point.
What wasn't lost on PRWeek is a new twist on the old adage, 'stick a cork in it'.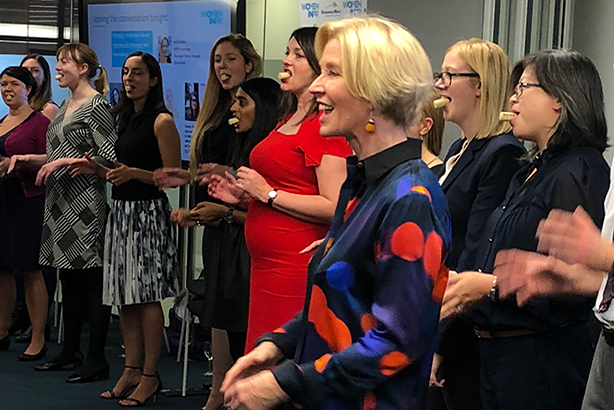 Re-United?
What's up next for Nik Govier, who surprised many when she left Unity, the agency she co-founded in 2006, at the start of the year?
Flack has heard an unsubstantiated rumour that Nik is hoping to team up with former Unity colleagues Davnet Doran – who recently departed from M&C Saatchi PR, where she was MD - and Katy Stolliday of Brands2Life, for a new venture. We'll watch with interest.
Comms: the final frontier
Sorry to say, every journalist has, at some point - or (more) often - complained about an unintelligible press release. But almost any hack would be justified to make that accusation with this intergalactic release from Ready10.
To publicise its new client - Destination Star Trek, Europe's biggest Trek convention – Ready10 has issued a version of the press release written entirely in Klingon.
"Qap wanI' qaStaHvIS 2018 'ej tul tlhIngan DIS veb thrill," it reads.
Or for the uninitiated: "We are thrilled to be working on the event in 2018 and hope to Klingon to it for next year."
Indeed. The release is being sent alongside one in English, thankfully. But with so much ostensible gibberish in the Klingon version, Flack hopes the email makes it boldly through journalist spam filters.
Tetchy techy…
Not an example of our profession at its best, this, which comes courtesy of Computer Weekly network editor Alex Scroxton.
How do get yourself blacklisted by an IT journalist. An easy primer:

1) Expose hundreds of journalist emails in CC field
2) Unsolicited PDFs, information not contained in body text
3) Your news is that someone else did a news about you

*flushing toilet sound effect* pic.twitter.com/iQzJTclcGj

— Alex Scroxton (@alexscroxton) October 2, 2018
Don't cast your pearls before swine
Following up on that in fine style this week, Byrne gave full vent to his thoughts on Wednesday's Daily Mirror's front page story, even managing to insert (sorry) a reference to #PigGate into his missive.
Meet the 2040 Tory Cabinet. Yes, only one woman. At least they got the sexually assaulted pig out of the picture. I recall now "respectable" Tories running around wearing "Hang Nelson Mandela" t-shirts in the 80s. This shit happens, and so do these shits. pic.twitter.com/gSvqUJp3j7

— Colin Byrne (@capbyrne) October 3, 2018