YouTube stars Niki and Sammy Albon, who are also BBC Radio 1 podcasters, told a PRWeek Breakfast Briefing that about 99% of the relationships they have with brands are short-term commitments and about 75% of briefs are 'bolt-ons' to other campaigns.
This contrasts traditional brand sponsorship arrangements with celebrities and athletes, which can last for several years.
Many brands are also reluctant to provide online stars with the creative license to have an input into campaigns, which can make the creative appear awkward and have a negative impact upon results.
"We've had no real long-term relationships with brands – it's often bank your buck and get out. There's always the promise of, 'here's this fee for now and we hope to work with you in the future', but that never happens," Niki Albon said.
"I think as the area matures we might see more long-term partnerships. I know influencers in America where there are ongoing commitments from brands, but I don't see many outside of the beauty world in the UK."
Collaboration is key
Karmarama social and influencer lead Katie Hunter believes there will be a shift to long-term partnerships because marketers need to start looking more towards advocacy rather than short-term relationships.
"You work with influencers for their creativity, for their ideas and the fact that their content, organically, has already drawn thousands of people to look at what they are doing," she said.
"You need to be working with them in a way that is far more collaborative creatively to get the best from them."
The Communications Store influencer marketing strategist Stephen Farrell said collaboration is key and that influencers should be viewed as brand ambassadors where there is a natural fit because it builds momentum.
An example he cites is a recent collaboration between fashion influencer Lucy Williams and the brand ba&sh.
"Lucy was a customer of ba&sh before it launched in the UK and when they came to me and asked for an ambassador, I thought she was a natural and right fit," Farrell recalled.
"Last season, she posted the product on her Instagram and it was picked up by Grazia and ended up in 'Who, What Where'. When you get [the collaboration] right the post has the potential to go much further."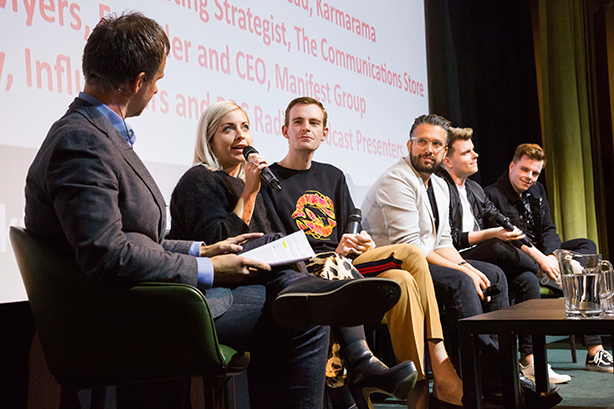 Karmarama's Katie Hunter: 'You need to work with them in a way that is collaborative creatively'
Briefing process blues
Hunter said there is work to be done on the agency/brand side on the briefing process and how to get influencers into the brand and campaign ideas.
"We want them to make content that [aligns with what] they are already doing and are proud to have made rather than 'can you please post this thing on your channel and hope for the best'," she added.
Manifest Group founder and CEO Alex Myers said he sees too many brands present an influencer brief that attempts to "shoehorn this in with an influencer the best way we can".
"[One example I can recall] is we were asked to psyche millennials out, suggesting things influencers could say like, 'are your avocados brown'. It's mental some of the things we've been asked to do."
Experts stress that nailing the selection process is vital to influencer marketing. Edelman UK head of influencer Philip Trippenbach said marketers need to use a sophisticated analysis process that looks beyond vanity reach metrics to consider an influencer's social proof.