BrewDog has severed ties with US brewer Scofflaw after its PR agency Frank PR circulated a controversial launch press release inviting Trump supporters to visit BrewDog bars.
The UK craft beer company, which is known for its opposition to Trump and some of his policies, had previously agreed to distribute Scofflaw beer in the domestic market, but had no knowledge of the 'rogue' press release until late yesterday morning.
The brewer moved quickly to cancel the deal with Scofflaw and distance itself from the scandal, offering free BrewDog beer instead of Scofflaw as a 'love offering' to consumers.
BrewDog will no longer sell Scofflaw beer and said it will send back the stock it had received.
Scofflaw, an emerging US brewer that is popular in craft beer circles, has blamed Frank PR for the comms failure, saying it did "not approve or release said message" and would be working with the PR agency to fix the problem.
PRWeek approached Frank PR for comment but had not received a response at the time this article was published.
Guardian food reviewer Jay Rayner received Frank PR's original release, followed by a correction email from Frank PR, and posted both on Twitter:
When brands completely screw up: this morning just after 11 thousands of journalists (incl this one) received a detailed release from a PR @WelcomeToFrank writing on behalf of @ScofflawBrewing a US brewery about to be launched in the UK by @BrewDog But there's a wizard wheeze 1/ pic.twitter.com/oqfmCWwSiZ

— Jay Rayner (@jayrayner1) September 27, 2018
The apology email said the original release featured 'incorrect information and is not a message from the brand'.
The Scofflaw rogue release set lofty and bizarre goals for its BrewDog tour, such as getting the UK "beered up redneck style" and promising Trump supporters they could drink free beer at BrewDog bars – an initiative BrewDog had no idea about.
The release outlined strange marketing stunts, such as demolishing beer can pillars in a monster truck and beer can clay pigeon shooting.
PRWeek investigated the claims and understands the press release came from Frank's Manchester division Manc Frank.
Scofflaw backlash
Consumers and observers on social media were quick to broadcast their opinions:
Sweet Jesus pic.twitter.com/F9xmoG3lRx

— Jonn Elledge denies running for LibDem leader (@JonnElledge) September 27, 2018
Quite an hour of social media mayhem for @BrewDog. After a backlash to the 'Trump supporter' stunt, the company say the press release was put out without their knowledge and Scofflaw link has been scrapped. Worth noting the partnership between two brewers was announced last year. https://t.co/wCj6Nm3kFi

— Joshua King (@JoshKingWrites) September 27, 2018
Following Scofflaw's Fake News earlier, we're going to run a very real promotion today - one free beer for anyone who supports LOVE not hate.

Simply tell our staff, and enjoy a pint of Punk IPA, or any Headliner on us.

— BrewDog (@BrewDog) September 27, 2018
PRWeek believes the distribution of the press release was a human error, but cannot understand how or why pro-Trump messaging was even considered in a country that recently launched a baby Trump balloon in protest of the US president's visit.
'It contradicts BrewDog's values'
PRWeek approached BrewDog's global PR agency Manifest to find out what they knew about the scandal.
"There was a release circulated this morning to the media on behalf of Scofflaw brewery that neither us or BrewDog had seen, let alone approved," Manifest CEO Alex Myers said. "As well as being utterly false, a principle issue was that the campaign contradicted the core values of BrewDog.
"We acted very quickly to confirm on Twitter that the story was not true, and that it contradicted BrewDog's values. We also decided to give anyone who supports love over hate a free beer instead. The stock of Scofflaw beer due to be sold in BrewDog bars is being returned in response.
"It's hardly the first time fake news and Donald Trump have appeared in the same sentence, but it's hardly a situation you expect on a Thursday morning. Hopefully global campaigns like 'Make Earth Great Again' and 'Bar on the Edge' make BrewDog's position on Trump's policies pretty clear."
Scofflaw are known as an anti-establishment brand and has carried out publicity stunts in the past involving guns, but PRWeek understands the brand has never previously expressed support for Trump, making the content of the rogue release all the more baffling.
Myers said he couldn't work out what had motivated the rogue release but doubts it is fake PR because the stunt "has not been stage-managed well enough".
PRWeek has seen the original press release that was approved by BrewDog. It doesn't mention Trump and provides details of the Scofflaw brews that BrewDog had planned to bring to the UK as well as Scofflaw BrewDog Bar Tour dates.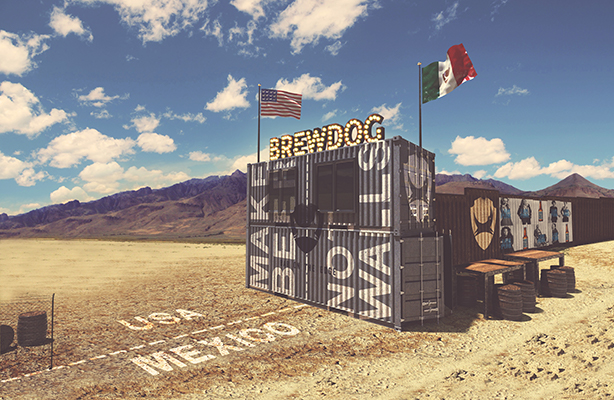 BrewDog's Bar on the Edge campaign makes BrewDog's position on Trump pretty clear.
'We're the victim of fake news'
In response to the scandal, BrewDog claimed it was the victim of fake news "promoting an offer for Trump supporters in our bars that we had no idea about".
"We'd like to again categorically confirm we did not know of, endorse or approve this promotion and as a result we'll be sending all the Scofflaw beer from our bars back to the US," BrewDog said in a blog post.
"We had planned to stock their beers in our bars, and hold collaborative tasting events, but nobody ever mentioned anything about Trump to us.
"We will also offer that free beer they promised, but this time it will be Punk IPA (or any of our other headliners) to anyone who shows up to our bars in the name of love not hate. All you need to do is tell the bar staff at any BrewDog bar you're a lover not a hater, and we'll pour you a free pint."
BrewDog said that the "rogue press release about the weird Trump offer" was sent to the media by Frank PR without the UK brewer's knowledge.
"It's not just that it wasn't approved that is the issue for us here – it's the fact that the offer directly contradicts our own views and values at BrewDog," BrewDog said.
The timing of this mishap will be particularly grating to the UK brewer. Earlier this month, BrewDog signalled a shift in its marketing strategy to avoid politically linked marketing stunts to focus its messaging purely on beer.