The research, by executive recruitment firm Odgers Berndtson, looked at FTSE 250 CADs.
As corporate affairs is given a greater priority within organisations, the use of external communications agencies is declining, with 60% of CADs reporting a reduced use.
The report is based on insights from a survey of 36 corporate affairs directors and conversations with most CADs from companies listed in the FTSE 100 and FTSE 250.
It found that around 10% of the top CADs, which typically lead teams in excess of 500 people, command pay packages of more than £750,000 and a further 40% are on packages that exceed £500,000. Nearly half (47%) command a base salary of £210,000 to £300,000.
"There have always been highly paid top performers, but we are seeing remuneration rise generally in the FTSE 50, as reputation management becomes a key priority for CEOs and boards," Odgers Berndtson head of corporate affairs practice Hannah Peech told PRWeek.
"In these highly regulated, issue-rich businesses, the number two roles in the function can command higher earning than the top director roles in mid-market businesses. However, there is a real issue with not enough top jobs for good people that are just below the CAD level. You have some really good talent at number two level that just have nowhere to go.
"At a more junior level, certainly with some companies in the FTSE 50, it is still not being remunerated at the correct level because the teams or the roles are are not big enough."
The top earners typically work for companies in heavily regulated industries, such as financial services or law firms. Peech says a major driver of CADs' growing importance and pay packets is that reputation management has become much more critical.
In marketing-led organisations, such as FMCG companies, corporate affairs responsibilities and pay packets tend to be more modest, with other marcoms divisions having a greater influence.
"The lines between marketing and communications continue to blur as the focus on content to engage, influence, recruit and build the brand takes a lead over previous marketing disciplines," Peech explained.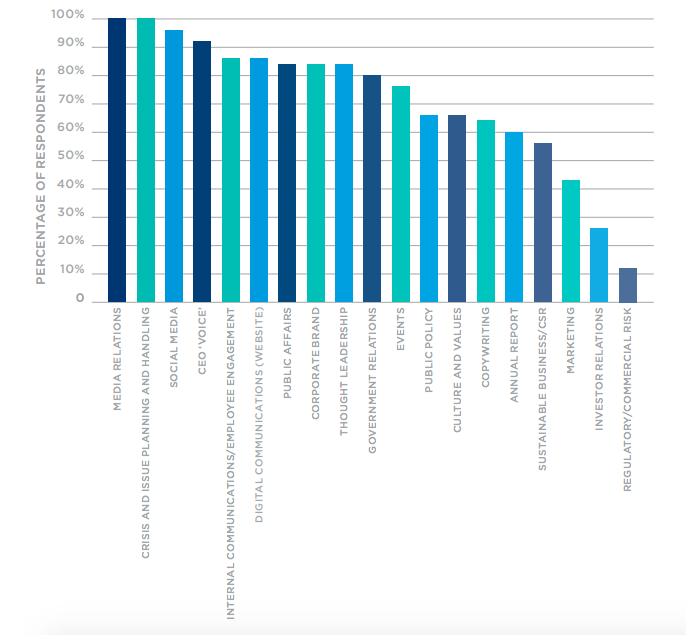 Broadening remits
Almost all CADs surveyed are responsible for core corporate affairs functions, such as media relations, crisis planning and handling.
But the scope of their roles and responsibilities is increasing. The convergence of digital marketing and communications means that 43% of CADs interviewed have created new digital roles in the past year, while almost all list social media, digital communications (website) and curating a 'CEO voice' as important parts of their role.
The majority (86%) have assumed responsibility of employee engagement and internal communications.
Public affairs, internal comms and corporate brand are also high on the list of areas corporate affairs chiefs are responsible for.
Another trend picked up by the study is a growing proportion of corporate affairs directors report directly to the CEO. The study found that 60% have a direct line to the CEO, 33% report into other senior executives and 7% report to HR directors.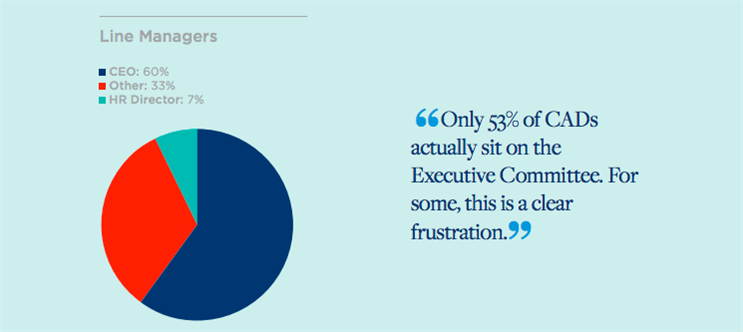 Only 53% of CADs sit on the executive committee, and while some view this as a frustration, others believe the direct CEO/CFO relationship as more important.
There was a 'notable increase' in the amount of time CADs spent with chairman and the board. On average, the most time (39%) is spent managing corporate affairs teams, while 18% of time is spent with the CEO and 34% with other parts of the business.