Brands should not use influencers for reach campaigns because the return on investment, as measured by cost per thousand impressions (CPM), compares poorly to other channels.
That's the verdict of Edelman UK head of influencer Philip Trippenbach, whose presentation at Tuesday's (25 September) PRWeek Breakfast Briefing focused on how brands should assess the suitability of influencers for campaigns.
Trippenbach said the industry has two major problems when it comes to influencer marketing – there's too much focus on an influencer's audience size (reach) and not enough stock is given to how talent can influence an audience (social proof).
He said an influencer's organic reach is "basically meaningless" because it can easily be manipulated by acquiring fake followers.
There is currently a lack of oversight and regulation to crackdown on influencers that mislead clients with fake or fraudulent followers.
Despite the risk of fake followers, a recent PRWeek survey found that an influencer's number of followers was still the second most important factor when PR and comms professionals choose talent.
Agencies such as Edelman use several tools to detect fraudulent audiences, looking at demographics such as location. For example, if a UK influencer has a huge proportion of its audience in Indonesia, this raises a red flag. They also assess sudden spikes in follower growth and engagement rates as "bots don't tend to engage very well".
"I get clients coming to me every week saying they want to work with influencers to reach a particular audience," Trippenbach said. "I usually turn them away because influencers are not a cost-effective reach channel. Targeted social ads are substantially cheaper than influencers."
According to Trippenbach's assessment, a social ad on Facebook's news feed is about four times cheaper (on a CPM basis) than a post by a micro influencer, however, the cost can vary depending on how a target audience is defined.
In Australia, an analysis of 13 influencers by full-service agency Hyland Communications found only 16.7% of their audience was valuable to brands, inflating the average CPM to $780 (£480).
It looked at influencers with audiences ranging from 42,500 followers to 1.5 million.
On average, only 61% of an influencer's audience was 'active and lurking' on social media, which the agency described as 'quality followers'.
Of this amount, only 27.7% were then based in Australia, which amounts to 16.7% of the total audience (950,000 followers out of 6 million).
When the average costs of campaigns are combined with 'audience of value' data, the CPM averages out to $780, with the lowest at AU$171 (£94) and the highest at AU$2,300 (£1,268).
Hyland head of content Esther Wilson has called on the industry to re-evaluate how the cost of influencer campaigns are calculated, urging a departure from using 'vanity metrics' such as cumulative followers as a baseline.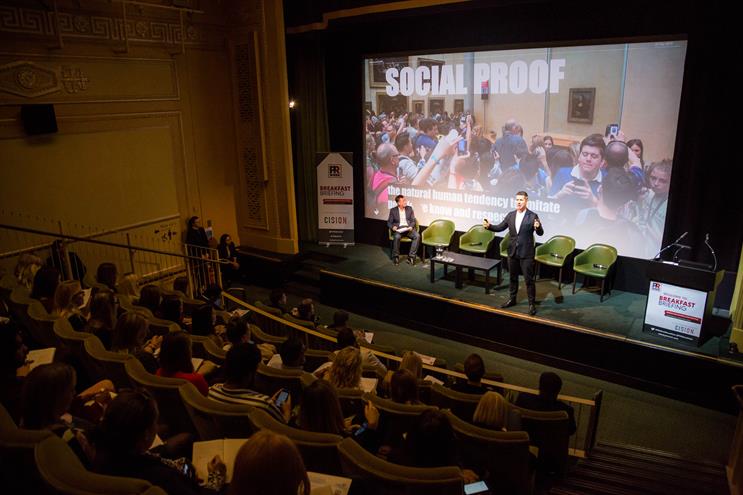 An influencer's strong suit is social proof rather than product sales
An influencer's sweet spot
Trippenbach argues that influencers should not be used as a "reach channel" altogether, because their sweet spot is "social proof".
"An ad can give you reach, but influencers give you social proof and it can be super powerful. If the people around us we know and respect are doing things, we feel compelled to do that thing," he said.
"There's a difference between someone's influence and popularity."
Edelman uses four dimensions to assess how effective an influencer is likely to be. This includes an influencer's relevance, their authority about category or brand, the size of their audiences and their accessibility.
Trippenbach said the most important data relates to relevance and authority.
"Reach is a multiplier, it makes sure that people see it, but relevance and authority is what is going to change people's minds," he explained.
Trippenbach said mapping out an influencer's profile against these dimensions will help brands choose talent that matches its values, target audience profile and campaign objectives. He also recommends influencer campaigns that are brand-led, rather than product-led.

The importance of due diligence has come to the fore in recent months. The Australian government banned influencers following a series of embarrassing exposés involving taxpayer-funded social media stars, while there have also been cringeworthy product placements on social media, including a Nescafe sponsored post.

Some companies are taking action. Earlier this year Unilever said it would sever ties with influencers who buy audiences.

It's likely that more brands will follow suit as detection tools become more sophisticated and commonplace.

---
Yet to receive the results you'd like from your influencer marketing efforts? Learn how to choose the right influencers, create and maintain long-lasting relationships and discover best practice for measuring campaign success at PRWeek's Influencer Breakfast Briefing this September.