Philip Trippenbach, head of influencer at Edelman UK, said he has "never seen evidence" of influencer marketing delivering a good ROI when used to promote specific products, a tactic that is popular on social media platform Instagram.
"What I have seen evidence for is successful brand-level marketing," Trippenbach explained at yesterday's PRWeek Breakfast Briefing.
"I would never recommend a brand get an influencer to say, 'hey this product is cool – buy this product', but what I would say is engage an influencer to say, 'this brand is cool, check out what this brand has enabled me do'."
An example Trippenbach cites is PayPal's #PoletoPole campaign, where the online payment service sent travel vloggers around the world to show consumers they could cover all expenses without using any physical cash.
The reason why this campaign was so effective is that it wasn't focused on pushing a product, rather showcasing how a brand can be an enabler to boost what an influencer specialises in. A strong overlap between brand and influencer values is key to this more nuanced approach.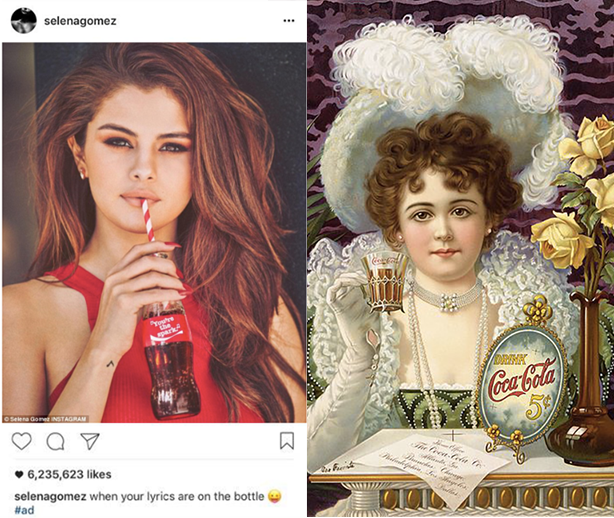 Is Selena Gomez's promotion of Coca-Cola on Instagram influencer marketing or social media advertising?
'Plastic celebrities' do not work
Trippenbach opened his presentation by slamming posts of poorly matched celebrities pushing products on Instagram. He used an image of Kendall Jenner in his presentation, but there are plenty of other examples, such as Selena Gomez's costly campaign with Coca-Cola (above).
"Plastic celebrities awkwardly posing with products in their feed is not success. If you have to use the guidance #ads to shoehorn your way in with budget then you've already failed," Trippenbach said, later telling PRWeek he believes brand manager naivety is to blame for this trend.
"The thing about influence is that it is based on social relationships. Imagine how weird it would be, if I came up to you after this presentation and said, 'hey do you know what, #ad, these guys give me 50 bucks a week to tell you how amazing this phone is.
"If you have an influencer with a million followers, that's not like a TV channel with a million viewers – it's a person with a million one-to-one relationships. Our task has to be to strengthen those connections and not trying to put an influencer into a position where those social connections are going to be weakened by a ham-fisted commercial approach."
A recent PRWeek study found many senior marketing and PR figures view influencer marketing as more important than traditional celebrity endorsements and, in some respects, even media relations.
Aside from being ineffective and costly, poorly designed, product-led influencer marketing comes across as forceful advertising rather than subtle influencing.
It is for this reason that Trippenbach said an advertising model in influencer marketing is "fundamentally flawed" and that the craft is more closely aligned with PR.
"Advertising in its most common expression is the interruption of a content stream with messages that are not related to that content stream," he said. "For me an advertising mentality sees Kylie Jenner for $10m – where you are buying assets to interrupt a stream of content."

---
Yet to receive the results you'd like from your influencer marketing efforts? Learn how to choose the right influencers, create and maintain long-lasting relationships and discover best practice for measuring campaign success at PRWeek's Influencer Breakfast Briefing this September.