After 20 years, Honest Tea has in some ways outgrown its namesake.
More than half of its sales don't come from tea. They come from its organic kids juice, Honest Kids, according to cofounder and self-styled "Tea-EO" Seth Goldman.
"We don't only think of ourselves as a tea brand, but also as a global health and wellness brand," Goldman says.
"If I just talk about iced tea or organic drinks, I'd be limiting the opportunity."
For its 20th anniversary, Honest Tea rolled out 15- and 30-second TV spots, featuring Goldman's narration and product shots.
But beyond that, the company continually hammers home its commitment to sustainability, with lush shots of India tea gardens and surrounding communities.
"It's funny now that I look back," Goldman notes. "We've done different ads, some of them in retrospect a little silly, because they were trying to be cute or gimmicky. But there's nothing more beautiful than those gardens as a way to tell people we're a good tea. This is a nice regrounding of our credentials and what we're doing."
Honest Tea has come a long way since 1998, when its office space was a kitchen with a countertop and kettle. You won't find a rogue tea leaf floating in a bottle.
When Coca-Cola bought a minority stake in 2008, it was the first time it decided to invest in a brand rather than acquire it outright, which spoke volumes about its confidence in an 83-person company that did $38 million in annual sales.
Since then, Honest Tea embraced its corporate partner and all the perks that came with it. In 2011, Coca-Cola bought the rest of the company. From there, the latter rode a jet stream of growing enthusiasm in organic foods and recorded $222 million in sales last year.
With a coffee in Spain, a lemonade in Switzerland, and a sports drink that comes in lemon, berry, and orange, Honest Tea now stands well and truly for more than just tea.
"That was obviously the hope and dream, but we didn't have an appreciation at the time of what it would take to make that happen," Goldman says, laughing.
Victory is just a little sweet
Add one teaspoon of sugar into your tea and it takes away the bitterness. A second — and a third — adds a touch of sweetness. But anything more and it becomes a case of declining marginal utility. In other words, overkill.
That was one of the key insights that drove Goldman to launch Honest Tea in 1998 with Barry Nalebuff, his former professor at the Yale School of Management.
And much like its early days of taste testing, the company's been on a constant journey smoothing out its language.
Honest Tea's first label was "freshly brewed and barely sweetened," Goldman recalls. "The problem was some people read it as 'freshly brewed and barley sweetened.'"
Eventually, it retired its linguistically impaired misfire and moved onto "Real tea, real taste. Honest." Accurate, if not "inspiring or compelling," he says.
"Now, we're more straightforward," Goldman explains. "The messaging is, 'Delicious, organic, honest.' All those things are true. You always want to continue to work and find the right message and how to connect to people."
The brand has had a lot of success connecting to a younger audience through its kids juice. Ironically, the success of Honest Kids didn't start in the aisles of a farmer's market, but in fast food — specifically, Wendy's. That 2015 deal led to Subway, Chick-fil-A, and McDonald's carrying Honest Tea products, which collectively represent 45,000 locations nationwide, a spokesperson says.
"I'd be willing to bet Honest Kids would be the first organic product for millions of people," Goldman says.
When we think of the way we're helping these younger palettes toward lower-calorie drinks, that's a development that could have long-term ripples.

Seth Goldman, Cofounder, Honest Tea
Now, the consumer demographic Honest Tea targets is moms between 25 and 39, of higher income, married with kids, who are starting to take their product-buying habits more seriously, a spokesperson explains.
"Everybody is on a journey toward better health, and we want to be partners for them on that journey," Goldman notes.
As a $200 million-plus company now wholly owned by Coca-Cola, the way Honest Tea views its place in the world has shifted. Scale isn't inherently bad, but it does lead to more waste, Goldman admits.
"Selling more means putting more packages out there," he explains. "So we have to be mindful of what happens to those packages after we sell."
In parts of Europe, the company uses plant-based or recycled material for its bottles. Germany recycles the glass bottles, Goldman says.
Before Coca-Cola purchased a 40% stake in the company, Honest Tea invested $30,000 back into its supplier communities. In 2017, that amount increased to $530,000.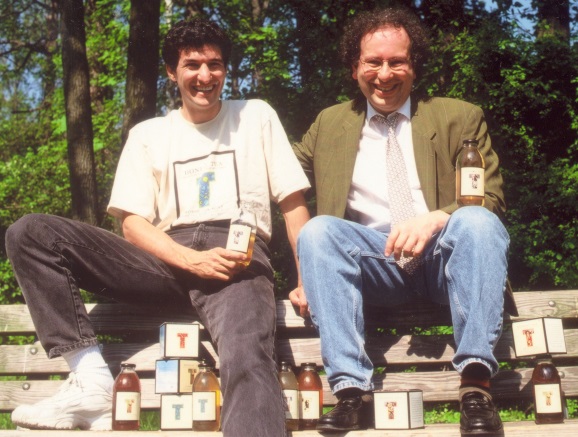 Seth Goldman launched Honest Tea with Barry Nalebuff (right,) his former professor at Yale
The responsible way
"When we were a smaller, independent company, consumers gave us the benefit of the doubt," Goldman says.
"These days, we recognize we're part of a much larger company. We won't have the same individual conversations with every consumer."
But having third-party verification helps, he notes.
Applying for a Fair Trade Certified credential opens up a brand to "rigorous" scrutiny from the eponymous nonprofit, which examines labor conditions, environmental impact, and other things, a spokesperson says.
"With any company that's part of a much larger company, there's bound to be a level of suspicion," Goldman explains. "We don't ask anyone to take our word for it. We're letting them rely on Fair Trade USA, put it through their system. That is the responsible and best way."