Social and digital media channels have created comms environments built on data. PR agencies, in competition with ad agencies, consultancies, and social media giants, are under pressure to support their work beyond vanity metrics.
Reputation is no longer just driven by earned media, but also owned, shared, and paid, CSR, crisis comms, and a host of other factors and stakeholders, from "fake news" to employee advocates.
How is the industry meeting all these challenges and opportunities? PRWeek and Boston University partnered to produce one of the most comprehensive surveys ever of the comms industry — polling 1,500 in-house, agency, and other practitioners.
The PRWeek/BU Communications Bellwether Survey provides a detailed picture of what the industry looks like and values. It indicates where PR has strength and which critical areas need improvement for comms to flourish for decades to come.
Survey results are represented in median scores of 1 to 5, with 5 being strong agreement/importance. A score of 3 and below would indicate low agreement/importance.
For the sake of clarity, Boston University has in some cases converted the number into a percentage.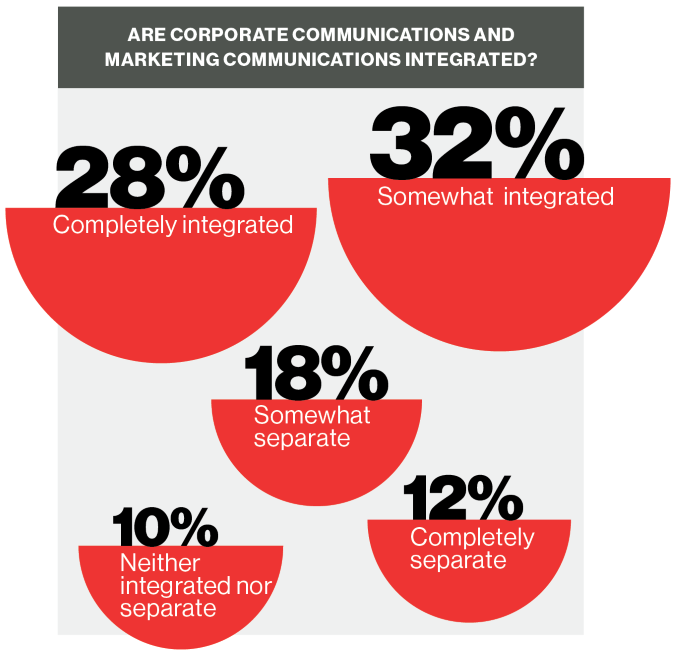 Integration success elusive
Organizations appear to be taking on media and stakeholder fragmentation with an integrated front. Almost 60% of survey respondents said their organizations had "completely" or "somewhat integrated" the PR/comms and marketing functions.
Yet almost 14% of practitioners characterized the collaboration between the two functions as unsuccessful. Another 26% characterized it as neither successful nor unsuccessful.
In other words, 40% of respondents perceive the comms function is failing to benefit from integration.
On top of that, practitioners ranked the importance for the next generation of communicators to understand paid media (3.69) and media buying (3.32) significantly lower than all kinds of other disciplines, including experiential (3.85) and social listening (4.40).
"A big issue for the industry is learning how to get onto the same boat. One way to do that is for PR and marketing to better understand one another," says Ray Kotcher, professor, practice of public relations, Boston University's College of Communication. "But PR doesn't seem to understand everything marketing does."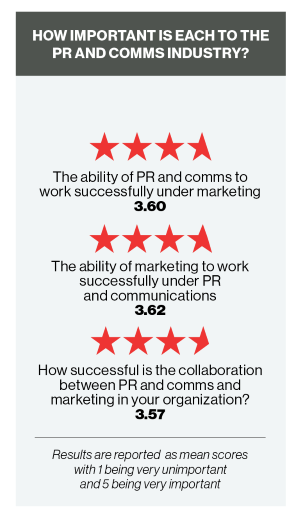 "It's increasingly common in most global markets to have a program that blends PR, social, and other disciplines," explains Aedhmar Hynes, CEO at Text100. "But we still find clients who are siloed, and in some cases we're executing integrated programs to clients who don't actually connect with one another."
"Alignment and integration are getting better, but it's a process that requires a great deal of change management on behalf of brands," she adds.
In some organizations, marketing sits on top of comms, while others have been advocating for PR to sit on top, but the survey found no clear preference for one organizational structure over the other. The ability of PR/comms to work successfully under marketing and vice versa had basically the same mean scores of importance (3.60 and 3.62, respectively).
"Communications and marketing naturally go together, but the challenge of true integration stems from the fact both disciplines are incredibly dynamic," notes Jerilan Greene, global chief comms officer at Yum! Brands, which owns KFC, Pizza Hut, and Taco Bell.
"Leading integration of the two takes a leader focused holistically on results and one who can understand — and match in real time — the needs of a constantly changing consumer, media, and stakeholder environment with the right internal focus and capabilities of the comms and marketing department," Greene continues. "The most successful leaders of integration are equal parts symphony conductor, data strategist, and transformation coach."
It is increasingly common in most global markets to have a program that blends PR, social, and other disciplines.

Aedhmar Hynes, Text 100
Communications practitioners agree it is important for PR/comms to have reporting lines directly into the C-suite (4.37), as well as access to the CEO (4.49). Meanwhile, fewer said it's necessary for the CCO to report directly to the CEO (3.83).
"As long as the reporting relationship doesn't hinder the dialogue you need to have with the C-suite, there is no issue with having comms report to marketing," explains Paul Cohen, SVP and head of global comms at Visa.
Cohen, who reports to the CMO, is a key member of the financial service company's extended management team. Every regional comms leader for Visa also sits on the management team with the regional president, he says.
Others see the direct reporting relationship as critical for the message it sends to the rest of the functional leaders.
"If a headhunter was to call me with an opportunity, the first question I would ask is, 'Who do I report to?' If the answer is somebody other than the CEO, I would automatically say, 'I'm not interested,'" says Pete Marino, chief public affairs and comms officer at MillerCoors. "Being in a role of a table of equals and seeing what it can do for a business has really shaped my perspective on it."
Rise of measurable performance
The profession has also been working to focus comms measurement on ROI and provable business impact.

Donald Wright, Harold Burson professor and chair in public relations at BU's College of Communication, notes the ability of PR pros to measure behavior/outcomes, and not just comms outputs, scored very high in importance (4.30).
"In fact, I have never seen it score this high," says Wright.
Evan Kraus, global president and MD of operations at APCO Worldwide's Washington, DC, office, says this is an area the industry can't let slide. "Industry bodies such as the Institute for Public Relations and some practitioners and teams are doing pioneering work in this area, but there has not yet been widespread adoption of measures," he explains. "This is an area in which PR must massively improve if it is to stand firm as a peer to marketing and other disciplines."
Sarah Gavin, VP of global comms at Expedia, says comms outputs have been working against the industry. However, she warns "there is also a risk in going way too far in the other direction and measuring PR only as a direct sales channel, such as how many transactions or traffic a particular earned media piece generated."
"But the role we play is to build much longer-term trust and confidence in our brand," adds Gavin. "When we had our CEO transition last year, the metric we cared about wasn't sales, but can we keep our stock stable. Our success in that regard was very much driven by PR."
Boston University sliced some of the survey data based on age, gender, and organization type, and found interesting disparities between agency pros' and corporate employees' perceptions on aspects of their workplace and what is important to them.
As long as the reporting relationship doesn't hinder the dialogue you need to have with the C-suite, there is no issue with having comms report to marketing.

Paul Cohen, Visa
For instance, agency people consider application of new tech to be more important as an expertise area (3.95) than do corporate employees (3.69).
Agency and in-house divide
Arunima Krishna, assistant professor in BU's public relations department of mass communication, advertising, and PR, says that trend holds across specific questions about AI, AR, VR, and blockchain.
"Agencies seem to be more advanced in using tech than corporations to drive PR and marketing," notes Krishna, who points out that may be because agencies are playing more of a consultative, incubator-like role for clients.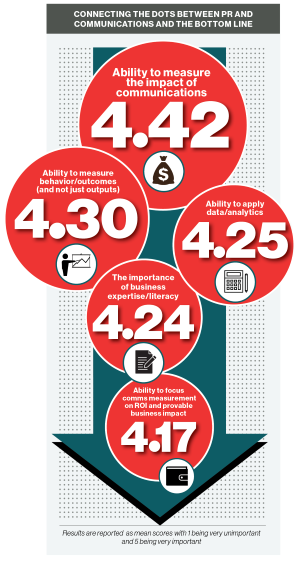 It also helps to explain why they report operating in environments with more speed and agility than in-house communicators. To the statement, "The demands to operate with speed and agility are hindered by your organization's corporate culture," agency pros reported significantly lower agreement than those at corporations (2.71 versus 3.39).
Kraus observes: "We are seeing a lot of the routine functions of PR, including some core digital competencies such as social media platform management, moving in-house, and a growing reliance on us for strategic advisory services."
He says this advisory capacity includes helping clients understand new technologies and deal with business disruptions. To that end, APCO initiatives have included opening an experimental technology lab in Dubai focused on, among other things, AI and blockchain.
At Visa, Cohen says, "We are increasingly compensating agencies for their perspective on where trends are going, because internally you get caught up in the priority of the day or the week. We plug and play agencies based on our specific needs and their expertise, because it is hard to find everything in an AOR."
Perhaps because of their growing status as advisers, in-house pros ranked an agency of record relatively low in importance (3.24).
"We use agencies on a very tailored basis for their brain power, not their arms and legs, and for limited engagement," explains Matt Furman, chief communications and public affairs officer at Best Buy. "We don't turn to agencies to supplement our existing infrastructure."
Expedia, which also owns Hotels.com, Travelocity, and Hotwire, among other travel booking sites, is testing a strong in-house comms model with one of its brands, a heavily reliant PR agency model with another, and then a model somewhere in the middle for yet another.
"I don't know where we'll ultimately net out, but we are sharing our learnings across each of those different experiences," notes Gavin.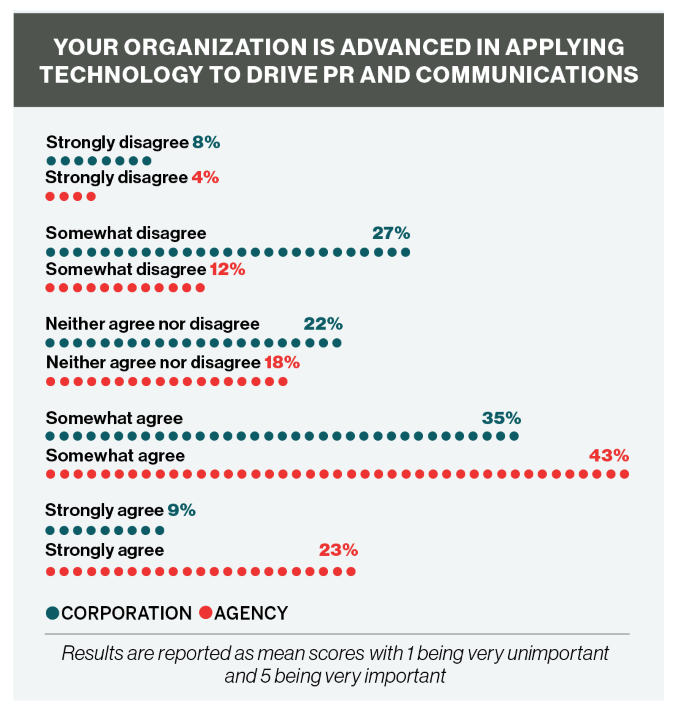 Skill sets growing in importance
The ability to recruit and retain talent (4.50 and 4.53) netted some of the highest scores among the PR pros.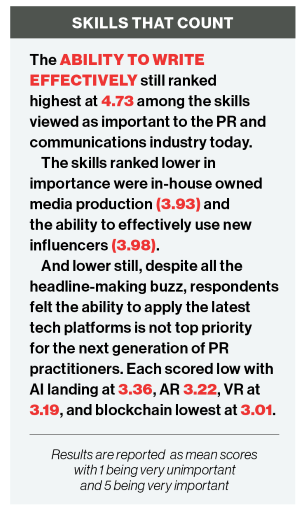 "The war on talent is a huge issue and has never been harder," says Bret Werner, president of MWWPR. "I am not just in competition with other agencies, but also corporate America, and the Googles and Facebooks of the world. They, too, want people with strong analytics skills who can produce content."
The skill sets survey respondents deemed the most important for the next generation of PR pros were: writing (4.79), listening (4.70), and creativity (4.54), with possessing business acumen (4.40) also up there.
"Being able to elaborate on a point with senior leadership and demonstrating a facility of the business you are supporting is important," he says. "I want people on my team to have a deep understanding of how the company makes money."Marino completed his MBA to sharpen his business acumen and says it's helped in his additional role as president of MillerCoors' craft and import beer business, Tenth and Blake.
And right behind the lead group was global mindset, which also ranked high in importance (4.04).
"PR pros also need to be socially aware, and I don't mean in terms of social media, but what is going on in the world around them," explains Furman. "There was a time when you could operate in your own bubble, but the world in which we operate now is fraught with hazards, and you have to identify them."
Find out more
Study results will be the subject of a panel session at PRDecoded on Oct. 18 in Chicago. A premium edition with in-depth data will be available to purchase online at the end of October.
Reserve your copy now of the expanded 60+ pages "Premium Edition" of this survey.