Breck's Last Game is a short film which depicts the way in which a seemingly innocent relationship formed over a gaming platform ended in murder.
Breck Bednar (pictured below), a 14-year-old from Surrey, was groomed and murdered by 19-year-old Lewis Daynes in 2014, when the two met up after forming a relationship via an online gaming platform.
The four-minutes-and-20-seconds-long film charting Breck's demise is intended to warn teenage boys about the risks and dangers posed by people they may come into contact with online.




It contains the chilling voice of Daynes (pictured below), from the recording of the 999 call he made after murdering the youngster, and was shown today at a private screening to journalists and invited guests at a Leicester cinema.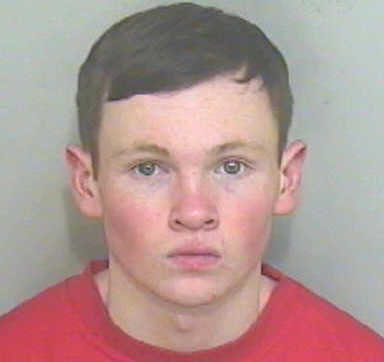 Breck's Last Game features Bednar's mother, Lorin LaFave, who plays herself.
About £30,000 has been spent on the film, which was made for Leicestershire Police by Affixxius Films of Loughborough.
It has been funded by Leicestershire's Police and Crime Commissioner, Lord Willy Bach, with additional contributions from Surrey, Essex and Northamptonshire police forces.
The film is to be shown to schoolchildren in the four police force areas from this week.



LaFave said: "I hope through the 'Breck's Last Game' campaign, young people will take on the real life lessons from Breck's story so they are able to look after each other, keep safe, and reach their full potential. Our intention is to educate young people so they are empowered to make safer choices for themselves online."
Rob Nixon, deputy chief constable of Leicestershire Police, commented: "We recognise that boys are less willing to report CSE [child sexual exploitation] and we hope that this film will resonate with them, encourage anyone who is the victim of online grooming to report what is happening to them, and to generate conversations about the dangers posed online, not only in the classroom but also at home."
The full version of Breck's Last Game, which carries a warning that, if it were to be screened at a cinema, it would carry a 15 certificate, will not be released publicly until 2019.
This is to enable it to be shown to secondary school pupils as part of planned lessons, according to police comms chiefs.
Lesson plans have been produced for schools and a version of the film which does not include a knife scene has been produced for use with younger schoolchildren.
The new film comes two years after Leicestershire Police produced Kayleigh's Love Story, a film about the grooming, rape and murder of 15-year-old Kayleigh Haywood that has been viewed by an estimated 36.6m people worldwide and won eight national industry awards.


---
Click here to subscribe to the FREE public sector bulletin to receive dedicated public sector news, features and comment straight to your inbox.
Make sure you register for the site to access more than one story per month.
To submit a news, comment, case study or analysis idea for the public sector bulletin, email Ian.Griggs@haymarket.com