The battle between PRWeek's five favourite campaigns in August was won comfortably by Deliveroo's clever recreation of the iconic 'Lunch Atop a Skyscraper' photo. Produced by agency Talker Tailor Trouble Maker, the food delivery distruptor's competition ended up with a dominant 396 votes in our poll – more than three quarters of the total number.
In runner-up spot, with 64 votes, was HTC's parody of Kim Kardashian's selfie obsession featuring Gemma Collins from The Only Way is Essex.
See the full results below and find out more about the winning campaign: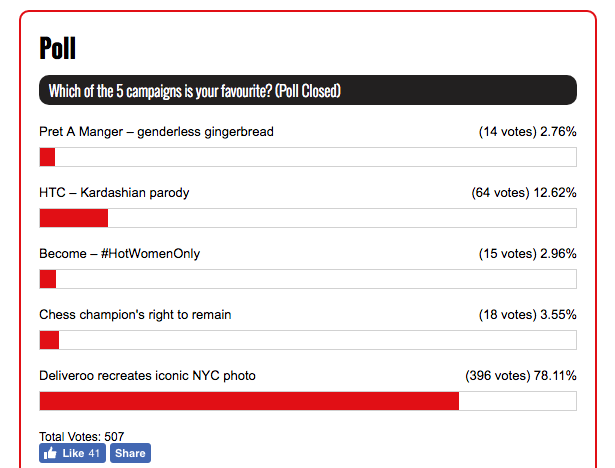 Deliveroo recreates iconic NYC photo
The food-delivery brand ran a competition inviting members of the public to dine along a metal girder 450ft up in London, recreating the famous 'Lunch Atop a Skyscraper' image of workmen taking a break in New York City in 1932 – but this time, with safety harnesses.
Yesterday we launched our re-creation of the world's most famous lunch, serving brave Londoners a delicious Deliveroo lunch – at 450ft in the air! Read more: https://t.co/FAPSSOzhaF #EatUp

— Deliveroo (@Deliveroo) 22 August 2018
The campaign, executed by agency Talker Tailor Trouble Maker, was launched to celebrate a 210 per cent increase in orders during the recent UK heatwave. It generated coverage across media outlets including the Daily Mail, Mirror and Metro. Deliveroo launched the sky-high meal after commissioning research that found millions of British workers have fallen into a cycle of boredom when it comes to office lunches.
In case you missed it: Five Campaigns We Liked in July 2018: your winner revealed
Read next: Five Campaigns We Liked from the Cannes Lions winners