Niki and Sammy are charm personified. The YouTubers, 'content creators' and, latterly, BBC Radio 1 podcasters, greet me with the enthusiasm of puppies at the London office of their publicist, Chris Charnley.
On the surface, the 26-year-old Albon twins fit the 'influencer' mould to a tee. Bubbly, smiley, photogenic and supremely chatty, they made their name on YouTube, starting in 2013, with a series of videos about anything from music to food and dating tips to university, combining wit and enthusiasm with increasing professionalism and a knack for an enticing title (this author's favourite: "Watching strippers with your mum").
From our influencers special: Exclusive survey – what PR and marketing chiefs really think about influencer marketing

But there's nothing shallow about the duo, whose YouTube channel has almost 200,000 subscribers and has attracted nearly 18.5m views at the time of writing. They are insightful, intelligent, hard-working and have clearly given much thought to their business.
They may be fresh-faced, but Niki and Sammy now represent the mature end of influencer marketing, having moved from amateur vloggers to bona fide presenters via their Peachy Podcast for BBC Radio 1, currently in its third series, where they straddle the line between old and new media. One could also call them merchandise-shifters, brand ambassadors, and charity supporters through their work with the Alzheimer's Research UK, Stand up to Cancer and Childline. Interviewing then-Labour leader Ed Miliband (below) before the 2015 general election is among their other notable feats. They have also avoided the kind of controversy that has dogged some of their peers.
From our influencers special: Malala shows the power of influence wielded with clarity and care

PRWeek sat down with the Essex twosome to discuss their rise, working with brands, perceptions of influencers and what the future holds for them and the genre they occupy.
When did you start uploading videos to YouTube and how did you build a following?
Niki: As we graduated uni, a few months before trying to actually have a normal adult job, I did it as a hobby, uploading my own videos. Sammy is in one. It terms of views, it did really well… [so] we made Nikki and Sammy, and it went from there.
I studied history and journalism, Sammy did classical civilisation. They were quite vague areas. I didn't really have a massive journalism grounding, but I'd like to think the stuff I know does help me.
Sammy: We fell into it by accident. Everything we do is self-taught, like production, camera, lighting and stuff. Fortunately it went from strength to strength when it started, and we reached about 100,000 subscribers relatively quickly, around 2014. That's when we decided to take a chance on it and commit to it, and hopefully it will work out.
What was the next stage?
N: We looked for a talent agent to help us develop what we were doing. We needed to bring in money. I believe that having an agent helps to professionalise the process as well. Brands would reach out to YouTubers, influencers, often offering them something that should be valued slightly higher, or the package wasn't what it should be, and the agent can help that process.
Further down the line [in 2015] we did a livestream [for] Stand up to Cancer (below). It was a 12-hour livestream; every hour a new set of hosts would host the main segment and we would host a party room. It was baptism by fire – a live broadcast. We loved it. It spurred on this passion we now have to want to be presenters.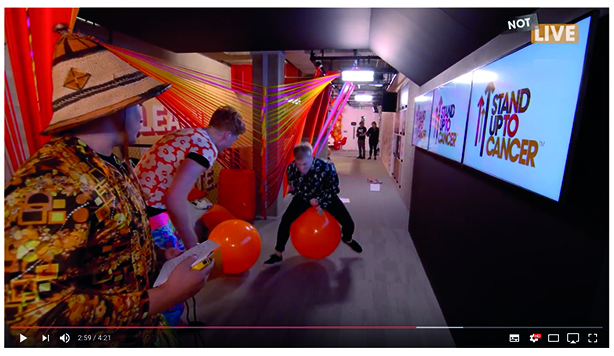 S: It was a lot of fun and that was the first time we'd done anything live. From that, we thought: OK. We had worked with a producer on the livestream and he was great. It was about bringing together ideas that we have as content creators and then what worked on TV for a 12-hour livestream. And from there, we were, like: OK, we enjoy working for a producer, the lighting, sound… It was really fun. It took that out of our hands and we could just focus on presenting.
Then we worked with Radio 1 on the Internet Takeover [in 2015]. Radio and TV is on a pedestal for us. What I found is that we can develop our ability to entertain by talking to each other, which technically is what our YouTube channel was, but we didn't realise it.
It took the process away from us, but we can do the creative – that's the part we enjoy the most.
How did the Radio 1 podcast come about?
N: We had been submitting demo tapes to radio through our previous talent agent, but I think, in hindsight, that was the wrong way to go about it. What we were not was radio DJs, in the narrow sense. We produced our own content, we did everything ourselves.
Radio 1 came to us at the end of last year saying: 'We've got this idea, a podcast, it's a big thing now for young people because they're not tuning into TV or tuning into radio as much… so let's not lose that audience, let's bring two things that work well together – online influencers (I hate that word) and podcasts – and see what happens.'
For us it's great because it means Radio 1 and traditional media companies are taking a chance in the right way working with influencers. That doesn't just mean they're here for an Instagram picture or a tweet – they are producing content that our audience really enjoys and that's transferring over.
Do you consider yourselves 'influencers'? If not, which other word would you use?
N: My problem with the word is it kind of lumps together everyone who has a social-media following under one umbrella. I don't know what I'd call myself. I just think 'influencer' sounds a bit like you're calling yourself God. The word influencer [as] bandied about on traditional media also has a lot of negative connotations. You see people coming from reality TV shows and then start Instagramming to hundreds of thousands of followers and suddenly it's: 'Influencer!'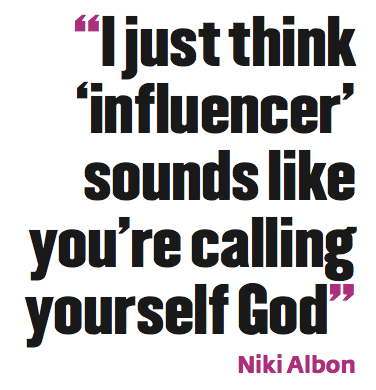 What are people like us influencing? To me, if you say you're influencing viewers, that means I've suggested some negative behaviour we want them to follow. I'm very comfortable with the term 'content creator', but humans like to have labels.
I think if you have, for example, a photographer on Instagram versus someone who made short films on YouTube and a comedian on Twitter, they are all being called influencers, but that really dumbs down what they're offering to the world. Sometimes we've found instances where we've been thrown into the mix with these, that we're purely influencers regardless of what we can bring to the table.
I don't think influencer is going to be a word that sticks around forever. We need to work towards [another] word that is appropriate and helps define each individual thing.
Where is this industry going? Will there be a shakeout of some of the more vacuous influencers?
S: I don't see there being a massive watershed moment where suddenly people aren't posting half-naked pictures – that's always going to be there, because vanity is always going to exist.
I think there's always going to be an appetite for our content. You digest an image 10,000 times faster than you do reading a sentence. What we're seeing with traditional and online [media] is a convergence. Love Island is an exception, but with things like mainstream TV [and] news, there's a massive drop-off and these companies are looking elsewhere to try and find it.
BBC and ITV and all these channels used to be in competition with each other, but they've now realised that they need to build this alliance where they can maintain viewership, whereas online is converging. You have the podcasts, which are great – technically on-demand radio. You have Netflix, which is beating TV; Amazon Prime, which has bought rights to the Premiership – that's amazing.
I think we're going to see more of a synergy between online and TV, because they haven't really got a choice.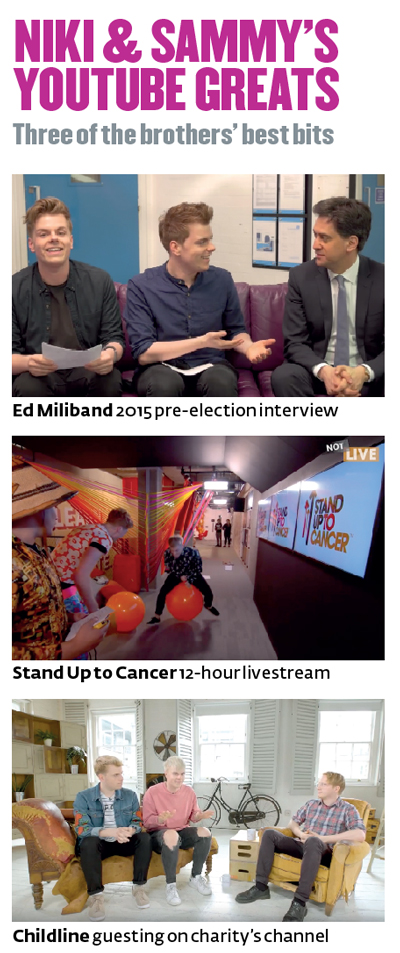 N: YouTube is very keen, and has been for the past couple of years, on wanting content that has TV [production] values. Maybe the next step is more well-produced content with perhaps more traditional TV values, because the people that are making it grew up listening to BBC Radio 1 or watching ITV.
My heart of hearts says YouTubers, as 'a thing', will be pushed out. Well, they'll be marginalised. To sit there talking about your day into a camera isn't necessarily what the kids on YouTube want.
S: I don't think YouTube will shake it off. I think their decision [about influencers] will force that to happen.
What kind of brand collaborations do you do and what do you find works?
N: We're lucky to have worked with really notable brands like McDonald's, Disney, Spotify and Fanta. We don't inundate our audience with ads. Obviously branded deals do make up a large percentage of our income.
We try to keep our revenue diverse because we think that's good for any self-employed business. YouTube has absolutely no loyalty – no platform does – to its [content] creators, so if they were to completely change the algorithm, which they have done many times, it can completely screw up our business models, our income, overnight.
What brand collaborations have you done that you consider particularly good?
N: It's always interesting to do brand work that isn't on our channels. We did a sponsored deal with McDonald's last year – 'McFlurry Good Surprises'. We had a backpack and they filmed us going up to random people in Clapham Common. We pulled a string on the backpack and it turned into a mini drive-through and we dispensed McFlurries to people. It was really fun. It went on our socials, but didn't go on our YouTube channel because it's wasn't a good fit for what our channel was.
We had input on what that creative was. They spoke to us about how we would do it, what we thought would work well with our audience. It had 100,000 views on the McDonald's channels.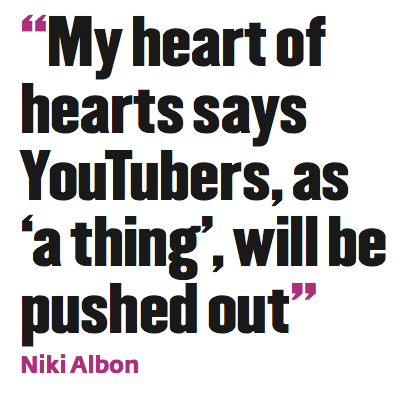 On our channel most recently we did Spotify, where we interweave a run-through of how to download the new Spotify app, and then, because we talk about Korean pop music on our channel quite regularly, we interlink that with pages that we listen to, music we enjoy and recommendations of our followers. It's getting a really good response. That was fun as well. [Spotify] is an app that I use – it's always great to work with brands that I use in my life or have used, so it's an authentic process.
S: My favourite is a video we did with Twitter. They approached us to do a video to drive our audience onto the platform, for the community vibe. We let them decide our day for us [and set us] some challenges. It was gross.
N: I just remember I ended up sitting in a man's armpit…
S: As part of a challenge, they voted for Nikki to put his face in a man's armpit.
It great to have that interactivity with our audience. I guess it's that, at the end of the day, which differentiates us from TV celebrities, traditional celebrities, and online influencers. Because we get as much from that communication as our viewers do, or our followers do, because it is a constant chat, which is great.
Have you been contacted by brands or organisations where your response has been: 'That won't work'?
N: Nine times out of 10, it's the emails where someone is saying: "We've got this really great opportunity where we need you to post on social, all over social… social, social, social…" And when you start talking about the budget or the fee, or the commitment to deliverables, the conversation goes silent, or "that wasn't their intention".
This isn't just us. This is the same with most YouTubers, influencers who I know. There's a hard line… the line where you're happy to do something because it's something to get excited about.
For example, I was invited to go to a chamber where you can't hear sound, which I was excited about. There was no request for deliverables, it was just an experience that, if you wanted to tweet about it, you could. However, if someone comes to you, and it's not a brand you would naturally have synergy with, but you can see yourself working and making a great end product, you would expect to be paid for that – because, at the end of the day, it's how we pay our rent. This is a business we're involved in, and I think it's a slow learning process for us and PRs, where you need to define that grey area a bit more.
S: There's learning on both sides. But the harsh reality is that we do need to pay our rent and we can't spend hours and hours on content that isn't going to pay our bills.
Which platforms are the most important to you now?
N: I always see YouTube as where everything starts from. But Twitter is my most important, I think, because it's the most public one. What we do is engage with popular culture and it happens fast on Twitter, whereas with YouTube you've got production, filming, scripting, everything involved. It's a slower process.
One thing I don't use much is Snapchat. I just found it hard to use.
Where do you see yourself in five years?
S: My mum asked me this a lot! We would like to continue to develop our presenting skills, our live skills. Radio is a big passion for us because we engage with pop music and culture on our channel and audiences are there for that. That's just a natural progression for us. Whether or not that's the route we'll take, I think we'd need to have a traditional agent to pursue things like that because we don't have knowledge in that area.
There's a perception of what YouTubers can and can't do based on previous experience. One thing that really sticks out to me is when we did a media-planning panel, a guy came up to us and – his actual sentence was: 'I didn't think YouTubers could string two sentences together.' Wow, that hurt. But I got it, because of their previous engagement with YouTubers may have been unfruitful for them or not necessarily life-changing.
S: They think all we're interested in is online, and if we were to do anything traditional all we'd want is money. That's a very negative attitude because it's not at all where we're coming from, but, understandably, people coming to us may not have been interested in traditional [media]. However, their experiences have closed a lot of doors to us.
We find that we're having to re-educate these traditional companies and production companies and studios as to what our passions are, what we believe and what our work ethic is. We're very happy to have sleepless nights putting work into production of a podcast. That's my passion, that's my priority.
Could you see yourselves going more down the route of traditional TV presenters?
N: Screen tests are few and far between now. I don't know why; there's maybe less opportunity out there. We use our YouTube channel and our content online as kind of a constant screen test.
If you were going to start again, is there anything you would do differently?
S: With YouTube, definitely. What you're seeing now is people being more narrow in the content they're creating and being more niche. Unless you're massive on YouTube already, the way to grow your channel is to home in on a niche and create content in that niche.
We have friends who used to do comedy, but now they do videos about English language and grammar. It might seem strange, but their channel's doing really well because of it.
We're narrowing our niche too. I talk about Korean pop music because I'm genuinely interested in it, so we talk about that – that's our niche we're occupying.
---