The influencer marketing industry is under increasing scrutiny amid growing concern over the prevalence of fraud. And, as PRWeek discovered, in the absence of firm action being taken by regulators, trade bodies are taking steps to address the issue of many influencers not being all they claim to be – buying up followers, likes and views to artificially boost their profiles in a bid to attract lucrative endorsement deals from brands looking to reach their supposed audiences.
From our influencers special: Exclusive survey – what PR and marketing chiefs really think about influencer marketing

These fakes are costing companies dear. US marketing agency Mediakix estimates that the losses could be up to $100m (£73m) a year.
It claims the influencer market could grow to be worth $10bn (£7.3bn) by 2020, in what the agency's chief executive, Evan Asano, describes as a "gold rush".
Now, in the wake of revelations in recent months over the sheer scale of the problem, comms trade bodies are demanding urgent action to combat fake influencers.
The lines between advertising and traditional PR have become "blurred, with most PR and communications agencies employing earned- and paid-media strategies," according to Francis Ingham, director general of the PRCA. "Therefore, the PR and communications industry should act in order to crack down on this issue. Brands and agencies have a responsibility to educate themselves about influencer marketing and share best practice."
He adds: "In the past, regulators such as the CMA [Competition and Markets Authority] and ASA [Advertising Standards Authority] have argued that the issue of fake influencers does not fall within their remit, but in our view it clearly does and it is time that they act and produce meaningful guidance on the issue."
Taking a lead
In the meantime, the PRCA is looking at this issue as part of a wider piece of work addressing ethical standards and digital communications – Ingham says: "More will be announced in this area shortly."
His concern is echoed by Sarah Hall, president of the CIPR, who says: "Handing over cash without careful research is at best a waste of money and at worst [threatens] the brand's reputation."
A major problem facing the wider marcoms sector is a lack of leadership when it comes to whose responsibility it is to crack down on fake influencers, with clients, agencies and regulators all having an interest.
Over the past year, Mediakix has exposed just how easy it can be to cheat the system, by creating totally fake influencers who secured brand sponsorship deals and offers of free stays at hotels and meals at restaurants.
PRWeek has previously revealed how this kind of fakery has been aided and abetted by companies that provide Twitter followers, targeted Facebook likes, Instagram followers and even YouTube views.
Influencer advertising is regulated, but the fundamental issue of whether influencers are even real, or what they purport to be, is not.
The CMA recently announced an investigation into whether influencers are being clear about when they have given endorsements as part of a commercial arrangement. But it has yet to do any specific work on fake influencers.
As for the ASA, a spokesperson remarks: "We don't regulate 'fake influencers' buying followers. We would potentially regulate marketing claims they made about the number/scope of their followers, but the practice of buying followers is not an advertising practice and therefore doesn't fall under our remit."
Advertising trade body ISBA is drawing up new contracts to help its members take a tougher line against fake influencers.
Debbie Morrison, the organisation's director of consultancy and best practice, says: "Early feedback from our membership indicates that they do not currently have clauses in their terms which deal with this issue, so we are breaking new and practical ground here for the industry."
These contracts will include clauses such as the influencers in question pledging not to engage in any practices that "artificially increase the perceived engagement".
A persistent problem
Social-media companies are under increasing pressure to take a decisive stand against fakery. In July, Twitter embarked on a purge of fake followers and bots that has removed millions of dubious accounts.
Nonetheless, the problem of fake influencers on social-media platforms remains.
In a OnePoll survey of almost 300 senior decision-makers in UK communications and marketing, commissioned by PRWeek, two-thirds of the respondents agreed that fake influencers are a problem and think it will get worse over the next two years.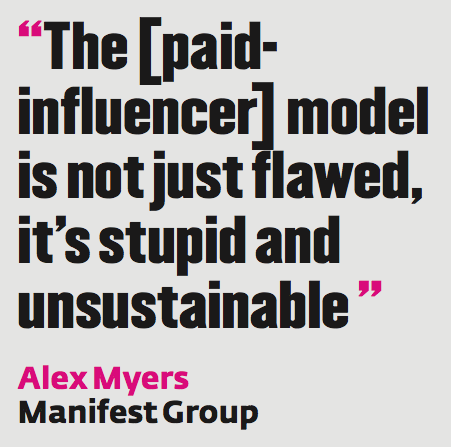 The problem is not confined to Twitter and Instagram. YouTube has indicated to PRWeek that billions of views each year are fake. The Google-owned video-sharing platform would not disclose a precise figure, but says: "Our teams work very hard to manage spam views to less than one percent of all views." In the US alone, that one per cent equates to more than five billion views.
In the US, a new trade body – the Influencer Marketing Association – was recently established in response to the threat from fake influencers.
And clients are increasingly concerned about being deceived by influencers.
Keith Weed, chief marketing officer at Unilever, drew a line in the sand earlier this year. He announced in June that Unilever would not work with influencers who buy followers, that its brands will not buy followers, and that the business will prioritise partners who "eradicate fraud and support increased visibility and transparency".
There is a proliferation of firms selling software and analytical tools to help detect fakes, looking at tell-tale signs such as individuals with a very low proportion of their audience based in the UK, unexplained leaps in follower counts and unusually low engagement rates.
But Stephen Farrell, influencer marketing strategist at The Communications Store, warns: "It seems that those pushing the bots are one step ahead of those cracking down on them and that threatens to destabilise the thriving influencer marketing economy."
The number of followers or likes an influencer has should not be regarded as a reliable measure of success, according to industry experts; other factors such as engagement and ROI should be considered.
From our influencers special: The business of influence: how savvy are today's stars of social?

Farrell adds: "The PR industry is the discipline that can help influencer marketing reach the next level and elaborate a framework for success. As PR agencies, we are capable of mixing insight, brand narrative, content and authentic influencer relationships."
Alex Myers, chief executive of Manifest Group, comments: "The elephant in the room with the fake-influencer debate is that if an agency is doing its job properly, fake influencers aren't really an issue."
He adds: "The model of finding the people with most followers and paying them to post something positive isn't just flawed, it's stupid and unsustainable, even when you're working with real people."
Facebook is taking steps to "increase authenticity and transparency" of pages and announced in August it will force those with large followings to go through a new authorisation process to "make it harder for people to administer a page using a fake or compromised account".
Instagram is poised to introduce similar features, and said these will allow people to see more information about accounts with large audiences.
Quantity vs quality
Recent studies have highlighted the extent of the problem.
Research done by Hype Auditor for PRWeek, analysing more than 7,000 UK influencers, reveals that about half the followers of influencers with up to 20,000 followers are "low-quality", due to the inclusion of mass followers, bots, and other suspicious accounts in their followers' ranks. It found that more than four out of 10 engagements with this group of influencers are "non-authentic".
A major study of UK influencers by analytics company CampaignDeus, looking at almost 700,000 posts from the first half of 2018, found that 12 per cent of UK influencers had bought fake Instagram followers.
Companies should check out prospective influencer partners in the way they would when taking on a member of staff, according to Scott Guthrie, an independent strategic adviser on influencer marketing.
He says: "When selecting a new employee you undertake background checks. You gather references; check qualifications. You do digital due diligence. You look through the candidate's LinkedIn, Facebook and Twitter accounts. You check that nothing potentially damaging sticks out, and that the person is who she says she is. You do it because this candidate-employee would be representing your firm. Well, influencers are representing your brand, too. So you need to check an influencer's appropriateness for working with your client."
It may be daunting, but there can be no delay in dealing with fake influencers. As Unilever's Weed has remarked: "We need to take urgent action now to rebuild trust before it's gone forever."
---

---
Yet to receive the results you'd like from your influencer marketing efforts? Learn how to choose the right influencers, create and maintain long-lasting relationships and discover best practice for measuring campaign success at PRWeek's Influencer Breakfast Briefing this September.