The evolution of influencer marketing has ushered in a new generation of social-media entrepreneurs.
Far removed from the 'bedroom bloggers' of the past, they have moved beyond the second wave of skilled content creators with a more focused approach to platforms and output – combined with clear and ambitious business goals.
From our influencers special: Exclusive survey – what PR and marketing chiefs really think about influencer marketing

PRWeek caught up with three of them at Twitter's London HQ to discuss their ambitions, working with brands, and what the future holds. In the hot seats were:
Fran Bacon – a fashion writer, stylist and blogger who posts as The Fashion Lift.
Miguel Barclay – AKA One Pound Chef, famed for posting videos of himself cooking meals that cost no more than £1 per head.
Kahmal 'Kay' Spencer – going under the name Kay, the actor-comedian specialises in comedic and satirical videos.
Also present was Jo Burford, creator partner manager at Twitter-owned Niche, which helps match influencers with brands.
From our influencers special: 'YouTubers will be pushed out' - influencers Niki and Sammy get serious

How did you get here?
Our influencer trio took very different paths to social-media fame.
Spencer, who divides his work between acting and social-media activities, was inspired to build his online presence initially through modelling work. Barclay, an entrepreneur with no formal training in cookery, started producing meals for £1 as "a little game", but things took off when he began posting them on Instagram. A katsu curry video he made reached 30,000 views, netting him an appearance on ITV's This Morning. A book deal followed.
Bacon's social-media rise happened "by accident". The former clothing buyer for John Lewis was persuaded to start a fashion blog when other mothers from her children's school started asking about her clothing choices.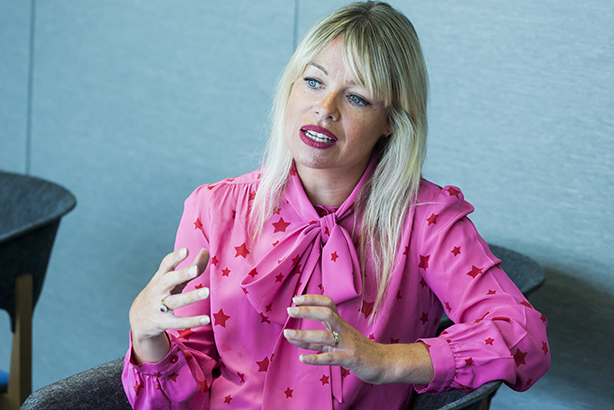 What is your business model?
"It has changed massively," says Bacon (above). "I started off working for free, completely, for two or three years. I'd stay up until two in the morning. I didn't have a massive following. That's where I got my money: affiliate links, people clicking through on the blog.
"I would say it turned last year. [Brands] would come to you directly rather than through affiliates. It's grown from there. Now brands want to build up relationships with me."
She has a monthly contract to provide Marks & Spencer content on her channels, "which I love because I know where the content can fit in and I can weave it in naturally".
Bacon admits she worked with "too many brands" at one point, leading to "too many ads" on her feed. She reduced the numbers this summer, working only with "brands I love that I would naturally go to". About 80 per cent of her posts are not linked to a brand activity, she says.
Barclay's primary focus is selling his recipe books (three have been published in 18 months). He currently undertakes "hardly any promotional activity, maybe less than one per cent of my posts", he says. "I'll get a tinned tuna company saying: 'Can you use my tuna?' I just turn it all down. I do very few things, but by turning down all the small things it means you get more money for the new things."
Spencer's income, meanwhile, is derived equally from acting work and influencer brand deals/product placement. He has created videos for brands including Nerf, the toy brand, and a dating app.
Burford comments that attempts by influencers without acting training to move into acting roles "can fall really flat". "With Kay, his content was very good because he had an acting background. If I was an actor these days, the first thing I'd want to do is do what you're doing."
She adds: "It's brilliant when I see someone who is actor-trained because I know I can put them into much more difficult and much more creatively challenging scenarios."
What have brands asked for that definitely doesn't work for you?
For Bacon, the first rule is: no scripting. "If I'm told to say something I'll just say no," she stresses. "They sometimes ask me to wear the brand head to toe; I'll try to negotiate that. It's got to be authentic."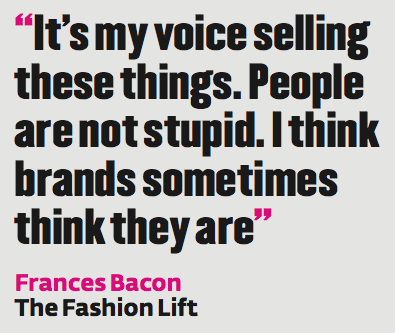 She recalls a "jarring" episode, wearing clothes that did not suit her image during a trip to the races. "I won't be told by the brand to make it work on my Instagram, because it's my business – it's my voice selling these things. People are not stupid. I think brands sometimes think people are stupid."
Burford says it was a "challenge" to deal with such demands in the earlier days of influencer marketing, citing some "over-excited marketers" as the problem. "We pushed back… we could be quite ballsy and say: 'We won't have any scripting, we only allow one round of edits' – if we have any more rounds of edits, they have to pay for them themselves.
"That comes, potentially, from them not really understanding their brief. We will often get briefs that are written for TV, which is pretty hilarious. We will take that brief, pull it apart and make it right for social."
Spencer builds on this theme. "I think that with TV, the product is front and centre. It's just not the same experience online." For example, he's less comfortable starting a video with a scripted product placement for a T-shirt brand ("you feel like you're being pitched-to, and no one likes that"), preferring to discuss the T-shirt he's wearing if viewers comment on it. "It just has to be natural, it has to be native to the platform, because you don't want to sell yourself out." He adds a caveat, however: "A guy's got to eat!"
From our influencers special: Malala shows the power of influence wielded with clarity and care

Spencer highlights one successful influencer who regrets not "cashing out" with lucrative brand deals earlier in his career. "He wanted to remain so pure, but he found people forget very quickly."
This highlights a dilemma for professional influencers: how to make money but not appear compromised by commercial activities.
Spencer argues that younger audiences are more "open-minded" on this point, and Burford agrees: "Younger audiences are quite behind young creators getting on the ladder and earning money for what they do. I think older generations are more sceptical of the 'selling-out' thing."
"…and almost jealous," interjects Bacon. "Why should you be looking after your kids and doing this? Why should you have it all when I don't?"
She says a "shift" is under way among the older generation, however. "As long as you're true to yourself, they will accept it."
What brand activities have you undertaken that really work?
Barclay's first brand work was with a super-market group, contributing to its magazine and having his recipes posted on its Instagram account. The activity was kept away from his own Instagram feed, which Barclay says is "really clean", with just one ad posted.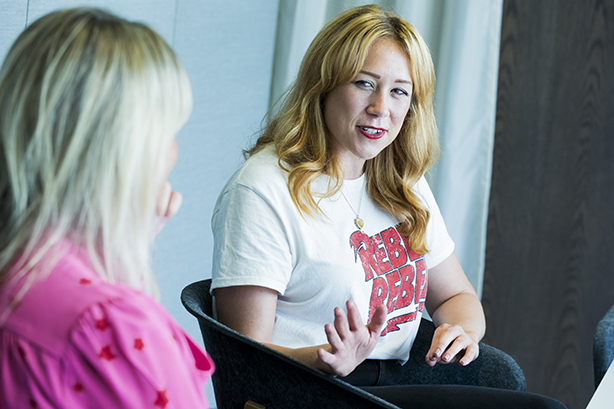 "This is where things are going to evolve," says Burford (above). "People are using social in a way that's directional to their other places to earn money: the 'merch', the book, etc."
Barclay is keen to diversify his income, however. "I'm trying to get more into being paid to do stuff because I'm asking myself: 'Why am I doing this?' I was doing it because it was fun. I've got my followers through not having ads, so they trust me. And I guess now it's time to cash in."
What do you think of the term 'influencer'?
"I don't describe myself as an influencer," says Spencer. "I would call myself a personality. I influence, but I feel it's a detachment from people I'm trying to be close to if I say if an influencer."
He also cites the danger of appearing pretentious. "When you tell people you're an influencer at my age you get a few looks."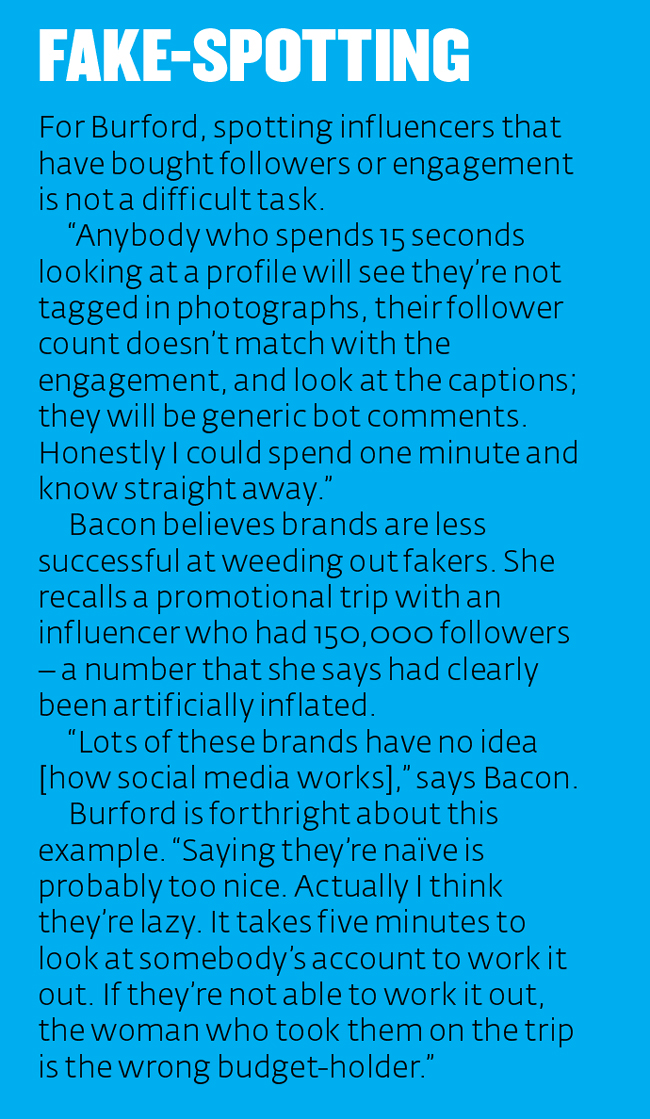 Burford says Niche doesn't use the term 'influencer' – although she admits that it can be confusing when talking with industry figures who use it constantly.
"We call them 'creators'," she says. "For us, the difference really is that you guys are creating original content." She contrasts this with former Love Island contestants, for example, who use their social presence for brand promotions. "Their influence is very much around a moment of celebrity – they have cultural influence within that moment, whereas you guys will continue to create great content, to write blogs, to cook food and create videos."
Bacon is another who wouldn't call herself an influencer – for the same reason celebrities don't refer to themselves as celebrities. But she is more relaxed about the term.
"Influence is definitely, from my side of things, what you do. I influence people to buy something I love. If I wear an outfit I'll scroll up my feed and see the next day 50, 60 women wearing a glittery skirt and a jumper. I've influenced them, which is good, which makes me happy. That's what I'm there for – I find it really flattering."
Barclay, meanwhile, says he has referred to himself as an influencer only twice – on both occasions, when he was inquiring about being sent free items.
"I used it because everyone knows what it means and it's very difficult to describe what I want concisely, so just by using the word it's obvious I want to work with the brand," he adds.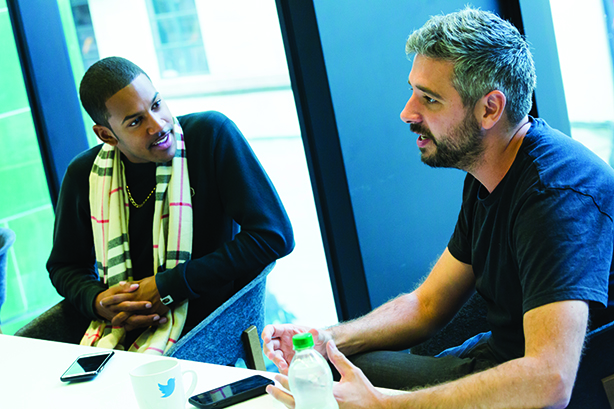 Kay Spencer (left) and Miguel Barclay
How will influencer marketing evolve?
Burford predicts that other sectors will catch up with beauty, which she says "now exists predominantly on Instagram".
"Right now you see a lot of the creator stuff happening at the end of the campaign; a film gets released, everyone goes to the premiere, and [the influencer activity] sits right at the end.
"The exciting times ahead will be where people like you guys are set at the front – where you're helping style the set, you're going to do things on the catwalk, you're going to create content for it, you'll be doing food."
Her vision of the future chimes with Barclay.
"I'm looking to have meaningful and substantial relationships [with brands]," he says. "I don't want it to be [a situation where] someone has just released a range of something, they've done the ad campaign, and they've got a little bit of money left over. I want to be the face of that product and that's how I'm positioning my Instagram."
What are your favourite social channels?
"I'm not a fan of Facebook anymore," Bacon says. "There are too many ads – I find it off-putting."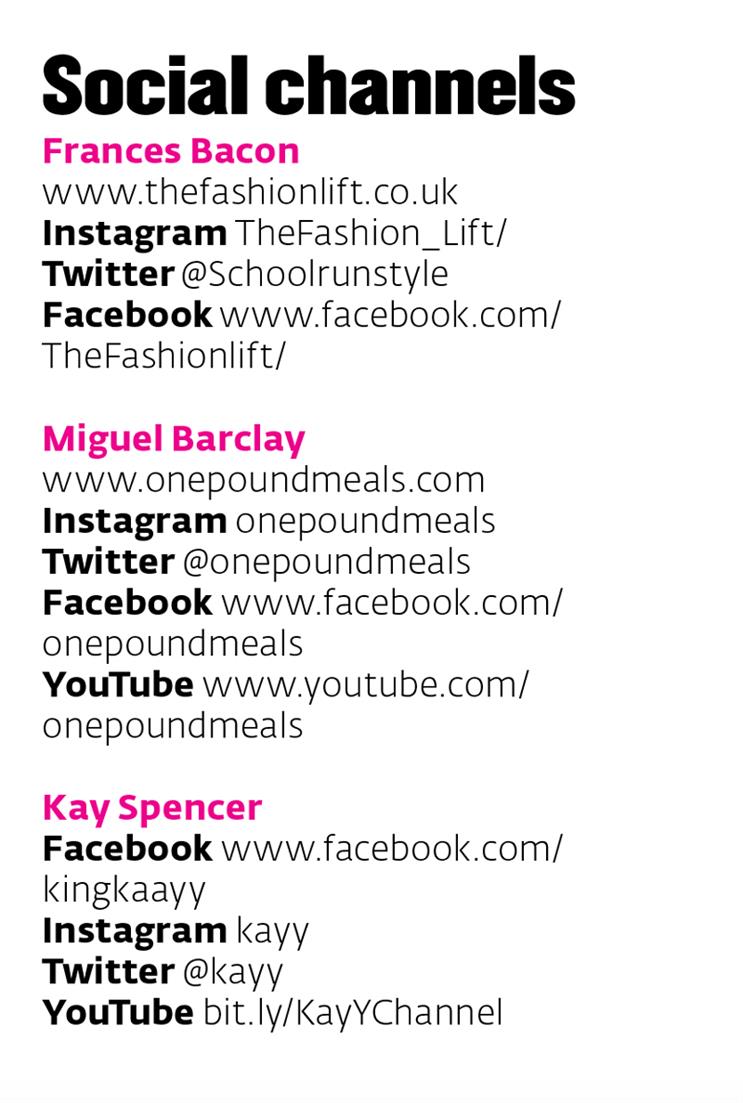 It's not all bad news for Mark Zuckerberg's empire, however. Bacon says that Facebook-owned Instagram is her favourite site; hardly surprising, given the visual focus of her fashion work. She prefers the "sharp, snappy" Instagram Stories for videos, as opposed to Instagram TV, which she sees as being better suited to more long-form content.
Barclay takes a similar view. "I use them all, but Instagram is the main one, purely because what I do is so visual."
What of Twitter? Barclay is less keen, describing himself as "not really the most eloquent writer".
Spencer notes of Twitter, however: "I love the live aspect of it. You don't really get that on other platforms."
He adds: "My favourite is YouTube, because you can push the boundaries – I love creating long-form content".
What are your personal ambitions?
Inspired by a trend in the US, Spencer wants to "build a team of elite influencers". "I'm trying to pool resources of creativity, of camera equipment, to give us more power to approach big brands and producers and really build our network."
"They're operating like mini agencies… an elite agency of producers," says Burford.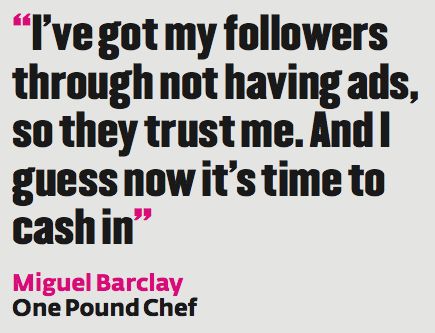 They need social circles. They need to get each other to like and to share and to comment and engage [with the content], and tap into all those different audiences. That does elevate you and it does lead nicely, when you get older, into working for an agency. You may want to go back behind the camera and advise someone in your shoes what to do."
Pursuing more acting roles is another of Spencer's aims. Crucially, he views his social-media presence as something that can help, rather than hinder, this ambition.
"I believe I've got good enough ability to go into acting, and I think that with a high social-media standing you give yourself an extra foot in the door and it's a lot easier to go through."
It's noticeable that all three influencers see their social-media status as a means to an end, of some sort, in career terms.
Barclay's aim is to "leverage my following and success into creating a recognisable brand and business that I can be the face of".
Bacon, meanwhile, is eyeing brand collaborations, currently working with a cashmere brand on producing her own range. She says the insights gained from being in her role can be a big help for brands to stay in line with trends.
"Brands have cottoned onto it, but you can't under estimate the power of influencers – and it's to their detriment if they do."