A slightly one-sided contest between PRWeek's five favourite campaigns in July was won at a canter by NOWTV's #JurassicJeff stunt. The Jeff Goldblum 'statue', produced by Fever PR, not only captured the public's imagination, but ended up with 343 votes in our poll – more than two thirds of the total number.
In runner-up spot, with 65 votes, was Kit Kat's clever bit of social interaction after one poor consumer had been publicly ridiculed for eating one the wrong way. All's well that ends well, however, with the smart bit of PR resulting in a romantic, chocolate-based marriage proposal.
See the full results below and find out more about the winning campaign: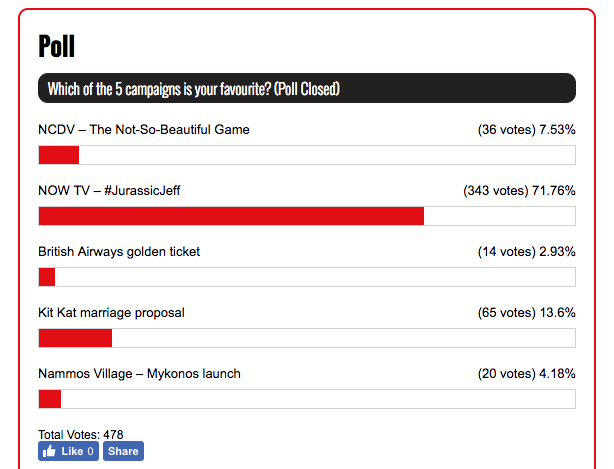 NOW TV – #JurassicJeff
Sometimes the 'plonk a massive object next to the Thames' school of PR stunt can feel as clichéd as floating a large item down it. But Fever PR's decision to place a giant statue of Jeff Goldblum in seductive reclining pose from a scene in the original Jurassic Park, to publicise the film's 25th anniversary on behalf of streaming service NOW TV, generated astonishing coverage.
25 years ago, Jurassic Park (and one of the best moments in movie history) was born ????

A quarter of a century later, we introduce you to #JurassicJeff ????#JurassicPark pic.twitter.com/8yFZY5AtCU

— NOW TV (@NOWTV) 18 July 2018
With more than 100 separate pieces of global broadcast coverage, from the BBC to Buzzfeed, Twitter Moments and Fox News, and even The Late Late Show with James Corden - claiming a reach of 342 million - the numbers are certainly impressive. Celebrities including Caitlin Moran, Noel Fielding, David Baddiel – and Goldblum himself – were also tweeting about the campaign, which succeeded as an original and entertaining take on a much-used formula.
In case you missed it: Five Campaigns We Liked in June 2018: your winner revealed
Read next: Five Campaigns We Liked from the Cannes Lions winners