"Sesame Street" will be a bit emptier next year. Some of its beloved muppets are leaving the neighborhood - temporarily - to travel across America, visiting kids on their own streets.
For now, "Sesame Street" is keeping the identities of the traveling characters top secret. However, the countrywide hike is a major component of the show's 50th anniversary campaign, which is set to kick off next February and run until December.
"Our campaign will mirror what's going on within Season 50," says Steve Youngwood, president of media and education and COO of Sesame Workshop, the nonprofit behind "Sesame Street." "We think [the traveling muppets] are symbolic of what 'Sesame Street' is: it is for everybody, everywhere."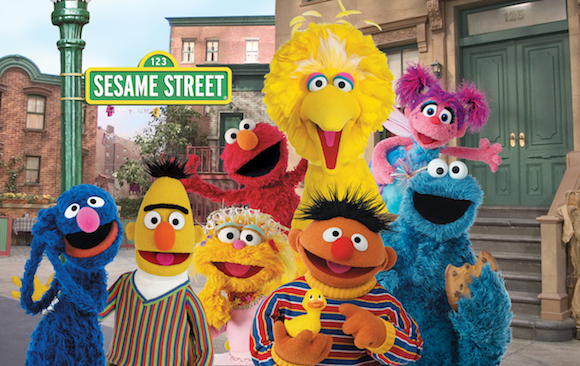 (Clockwise: Big Bird, Abby Cadabby, Cookie Monster, Ernie, Zoe, Bert, Grover, and Elmo).

With the brand's half-century birthday approaching on November 10, 2019, let's count the numbers: The show has 100% brand awareness globally; reaches more than 190 million kids in over 160 countries; 75% of parents watch "Sesame Street" with their child; one in three parents have heard about the show in the media in the last month; 1 million kids play with "Sesame Street" toys each day; and 86 million adults watched the show as children.
A stroll through the Upper West Side headquarters of Sesame Workshop is testament to that fact that the show has fans of all ages. Workspaces are piled with enough Elmo and Cookie Monster toys and stuffed animals to make a five-year-old as green as Oscar the Grouch with envy. One desk has a Lego structure that reaches the ceiling. Some staffers wear hoodies and t-shirts featuring the show's iconic characters.
Chalkboard-lined hallways hint at anniversary plans, one year in the making.
"The unofficial slogan is, '50 years and counting,' a nod that we are still going strong," says Youngwood.
The comms team has been busy pinpointing what stories to tell to media outlets on a global scale, looking all the way back to the show's PBS debut in 1969. DKC is providing PR support.
"There's so much to look at and a wealth of opportunities for reporters from different kinds of outlets to cover various moments," says Lizzie Fishman, Sesame Workshop's strategic communications VP. "We have a list of 61 story ideas. We will probably whittle that down to 50."
Campaign activities will be phased to sustain interest throughout the year. Aside from the cross-country journey, the show is publishing a study on the state of kids and families, which it will use as a guide for how it can help children. Stay tuned for a Sesame Street Jazz at Lincoln Center event and a primetime special on PBS and HBO on the show's anniversary about the show's cultural impact.
Celebrities such as Patton Oswalt, John Legend, and Solange Knowles will join anniversary celebrations. Youngwood explains that celebrity involvement with the show is organic; they are not paid to promote "Sesame Street."
"Sesame Street" will celebrate with more than 140 licensees, including long standing partners such as Hasbro, SeaWorld, Beaches, Random House Children's Book, and Procter & Gamble. Other lifestyle and trend partners with dedicated collections include Uniqlo, Zara, H&M, Crocs, and Puma.
"Sprinkled throughout 2019, we will have 'milestoney' activities related to the work we are doing," says Youngwood. "The milestones reinforce the timeless value Sesame abides to, which is that every kid deserves respect and opportunity, all with a little bit of fun."
The show, which airs in more than 150 countries, is also using its anniversary to tell its global story.
"We don't just make the show in the U.S. and dub it to other languages," says Youngwood. "Our show is organic and reflects the society it is trying to educate. We create local muppets for that market."
Fishman says the anniversary is also an opportunity to tell people everything they don't know about "Sesame Street."
"Many people don't know we are global and nonprofit," she says. "Nothing we do would be possible without philanthropic funding."
(L-R: Cookie Monster and Fishman)

Aside from children, the brand is targeting multiple audiences with the anniversary campaign: caregivers, millennials who grew up with the show, educators, and policymakers.
"We care deeply about the future of childhood education to the extent we can help influence how that is shaped," says Youngwood. "We have philanthropic partners and commercial partners. Our PR and marketing campaign will evolve the message based upon who we are talking to."
Since "Sesame Street" straddles education, media, philanthropy, and social impact, the campaign team needs to be creative and talk to "unexpected partners," adds Fishman.
"We have outlets we have never worked with before," she says. "They will help us reach audiences we haven't in the past."
Although "Sesame Street" has a "menu" of stories it wants to push to outlets, Fishman, a former CBS journalist, is cognizant that reporters sometimes go in unexpected directions with coverage.
"It is not just about pitching, it is listening and shaping your stories accordingly," she says. "That has enabled us to land really important and meaningful features about Sesame. We want to do that in a robust way for our 50th."
A social media campaign is also planned to help the brand reach multiple generations. On the whole, "Sesame Street" has 24 million "friends" on social. Even its individual characters have large followings: Cookie Monster has 9 million followers across social media platforms, and Elmo has 5 million.
Always experimenting
"Sesame Street" started with the idea of giving all kids equal access to high-quality education. It initially focused getting preschoolers prepared for kindergarten with reading, writing, and arithmetic. It has since evolved to getting children ready for life.
"The past couple years, we've had a curriculum focus on kindness and inclusion. We are looking at softer skills, which are enablers to learning," says Youngwood, who adds that the company regularly conducts research to identify education trends and gaps and ensure the show is having its desired impact. "If you don't have emotional intelligence, you are not going to learn how to read or write."
"Sesame Street" was groundbreaking from the start. A show featuring a multiracial cast living on the same street in the 1960s "was a statement in itself," says Youngwood.
It still makes statements. Last year, Julia, a muppet with autism, joined the cast.
"Doing that legitimized and destigmatized the concept of autism to those with it and those who have friends with it," says Youngwood.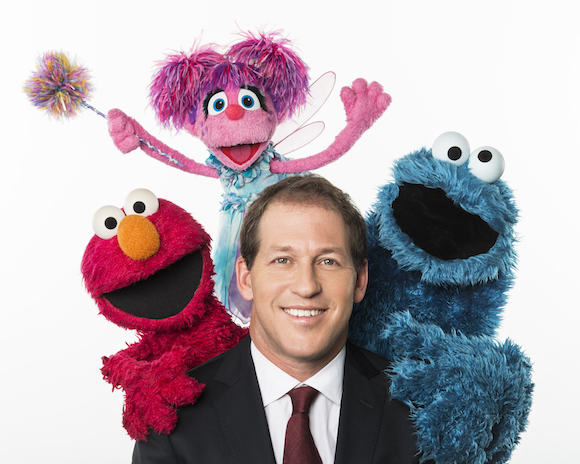 (Clockwise: Abby Cadabby, Cookie Monster, Youngwood, and Elmo)

Julia furthers the program's mission to help all kids grow smarter, stronger, and kinder, he adds.
When the show premiered, 70% of kids were at home and 30% were in school. That number has flipped, so
"Sesame Street" is taking its "educational impact and creativity" to school curriculums, says Youngwood. Starting next fall, the brand is partnering with McGraw-Hill Education, which is best known for school textbooks.
After running for more than four decades on PBS, the show started airing new seasons on HBO in January 2016. "Sesame" is now the second-highest-rated show on PBS Kids among children aged 2 to 5, according to Nielsen data from June. On HBO, for children aged 2 to 5, its reach for Season 48, which ended in June, was up 28% from Season 47.
The company also has an increasing focus on YouTube, where "Sesame Street" has 3.6 million subscribers. Songs, parodies, and anything involving Elmo gets the most engagement on YouTube, says Youngwood.
The show's YouTube channel has received over 1.2 billion views year-to-date, a 70% improvement versus last year. Videos have been watched for 3.2 billion minutes year-to-date, a 107% increase over 2017.
"Sesame Street" is making more content specifically for YouTube. For instance, videos of human cast members reading books.
To contend with children's dwindling attention spans, the show was cut from one-hour to 30 minutes in fall 2015.
"It had more engagement and impact as a half-hour," says Youngwood. "Given today's viewing habits, it fits lifestyles."
The show's flexibility is one of its biggest reasons for success. Fishman says "Sesame Street" remains relevant because it evolves as kids' needs change.
"Even though we are the oldest children's TV show around, we are always experimenting," she says. "And there is that workshop culture here that remains, even as we are an august institution."