There are many resources the American Red Cross cannot do without — medicine, bandages, and vaccines. But there is one that trumps all others: blood.
While the Red Cross raises an extraordinary amount for cancer patients, disaster victims, and everyone in need of a blood transfusion, its reserves need continual replenishment, as the number of first-time donors decreases by 80,000 people every year.
"Name a blood type and we need it," says CEO and president Gail McGovern (below). "The need is so constant, it's unbelievable."
To drive awareness around the blood shortage, the Red Cross rolled out a campaign called Missing Types. On June 11, the letters A, B, and O disappeared from corporate brands around the world. Anheuser-Busch was truncated to "_nheuser-_usch," IBM extinguished its B, and it was the "New Y_rk Y_nkees" donning the pinstripes. People also joined in the vigil-like display to show every donation and blood type matters.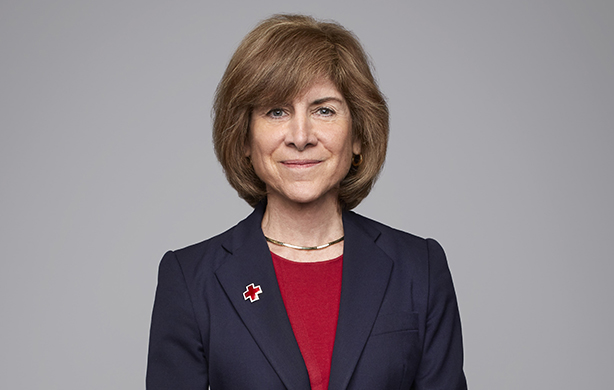 In the U.S., 37% of the population is eligible to donate blood, but only 3% ever do in a given year, McGovern says.
"We're timing it now because we get a lot of blood from colleges and universities, and they close during the summer," she explains. "It's the perfect blood storm, because they're closed and that tends to be the time of the most trauma, accidents, and the need for blood spikes."
Immediately following the campaign's launch, donation appointments increased 24% over the prior week, with new donor appointments up 43%. Visits to redcrossblood.org jumped 49% over the prior week, while visits to redcross.org were up 21%.
Inspiration for Missing Types came from the 2015 effort by the National Health Service Blood and Transplant campaign, which netted 30,000 new blood donors in the U.K.
Preparing for the unthinkable
For years, the Red Cross ran tabletop exercises to prepare for the unthinkable, never believing it could happen.
Then in 2017, four consecutive Category 4 hurricanes slammed into the Gulf. In addition to the hyperactive hurricane season, California was set ablaze by the most destructive wildfire on record and Las Vegas suffered the deadliest mass shooting in the U.S. — all within 65 days.
"This past year taught me the unthinkable does happen," McGovern says.
Stretching its resources across the Gulf, the Red Cross logged 2.5 million miles on its fleet of emergency response vehicles during that period.
As climate change fuels more extreme weather, the 137-year-old organization is forced to re-examine its operations and find new ways to meet the rising surge.
McGovern says she's optimistic. Despite the political acrimony, she rebukes the view that America is a divided country.
After Hurricane Harvey made landfall, McGovern visited Houston and gave a speech. She inquired how many deployments the volunteers had been on, asking for a show of hands.
"How many [are] on their first deployment? A few hands went up," McGovern recalls. "Then I say: Is this your second, third, fourth — I kept adding the number and one had her hand up at 34. Her 34th deployment."
Later, the woman accompanied McGovern to the shelter, where they visited victims cot to cot, and she served as the CEO's Spanish translator.
"A question that gets thrown around a lot is, 'What if people have disaster fatigue?'" McGovern notes. "I hear that all the time: disaster fatigue," she repeats, as though she tasted something unpleasant and bitter.
"And I worry about it just like anybody else," she says. "But this year, collectively, we raised $750 million for Harvey, Maria, and Irma [the storms that caused the most damage]. There's no fatigue there."
Red Cross operations are cyclical, with its own distinct seasonality. Fundraising peaks during and after a crisis in a period known as "gray sky" giving. Now, much like its blood drives, it hopes to increase donations during the "blue sky" period by actively pursuing corporate and individual benefactors.
That approach highlights McGovern's brand of financial acumen and tech infusion, which has come to define her career.
When she was hired in 2008, it was called a "corporate takeover." She was tasked with turning around an organization ridden with scandal and a $209 million deficit. Hundreds of chapters were closed and thousands of employees laid off over the course of seven years. Today, the Red Cross has a surplus.
In 2010, the organization introduced the then-groundbreaking innovation of donating by text, which raised $43 million for the Haiti earthquake.

Its fundraising methods continued to expand across channels and technologies, ranging from Salesforce to Amazon Echo, which allows users to ask Alexa to make a donation.
Tech to the rescue
Logistics pose another daunting challenge, whose heavy costs the Red Cross hopes to relieve with the Red Cross Visual Interactive Event Wizard.

Following the 2016 Louisiana floods, case workers used the RC View to call people in the affected areas, connect them with the resources they needed, provide financial assistance, and perform virtual damage assessment. The initiative saved the organization $4 million from that storm alone. Those savings were reinvested in financial support for victims.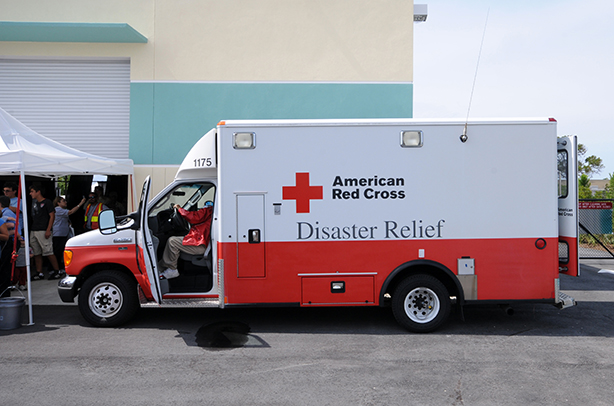 RC View will be opened up to FEMA and the Salvation Army, McGovern says.
Over the years, the Red Cross assembled a bevy of experts and resources to tackle its most pressing problems. Google scientists embedded within the organization to experiment with big data. Dell gifted four data operations centers.

In another indication the Red Cross would double down on technology, Sajit Joseph was named chief innovation officer in 2017 to experiment with emerging technologies, such as chatbots and blockchain, McGovern notes.
"I don't know if you ever saw the movie Slumdog Millionaire, where the kid wins the quiz show because all his real life experiences led him to answer the questions correctly. But I sometimes feel like the slumdog millionaire," she explains.