A thrilling tête-à-tête between PRWeek's five favourite campaigns in June was won convincingly by soft drinks brand Oasis, with its video send-up of bad cause marketing, produced by The Corner, garnering an impressive 405 votes.
In runner-up spot, with 222 votes, was controversial bookmaker Paddy Power's World Cup LGBT+ donation campaign in partnership with Attitude magazine, which highlighted Russia's 'policy of discrimination'.
See the full results below and find out more about the winning campaign: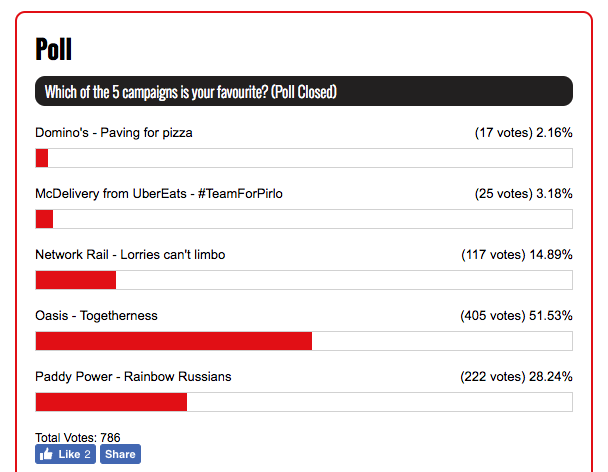 Oasis - Togetherness
Badly handled cause marketing is a trend that's ripe for sending up (yes, we're looking at you, Pepsi, Mastercard et al), and PRWeek enjoyed this effort from soft drink brand Oasis.
Seemingly influenced by Heineken's (largely) well received Open Your World campaign from 2017, it shows pairs of individuals hilariously trying to drink in unison from an Oasis bottle with openings on both sides, to represent "togetherness".
The video, from ad agency The Corner, hits the right tone for the irreverent brand – and acts as a satirical warning for the marcoms industry.
In case you missed it: Five Campaigns We Liked in May 2018: your winner revealed
Read next: Five Campaigns We Liked from the Cannes Lions winners