Getting the right balance between creativity and business performance has long been the holy grail for PR firms.
That might seem obvious, but how many 'buzz' agencies have shone brightly before stagnating, as the challenge of translating creative thinking into bottom-line growth hits home?
Brands2Life, the tech-focused London agency, has arguably been finding that balance better than most during its 18-year history. Revenue at the group rose 18 per cent to £13.8m in 2017, as it climbed to 22 on in the PRWeek Top 150 consultancies table. Growth has been steady for several years (see box), and it is now among the UK's biggest independent PR shops, employing approximately 130 people. Virgin Mobile, Nokia, Groupon, Dell and Premier Inns are among the clients, with 70 per cent of business retained and 40 per cent international.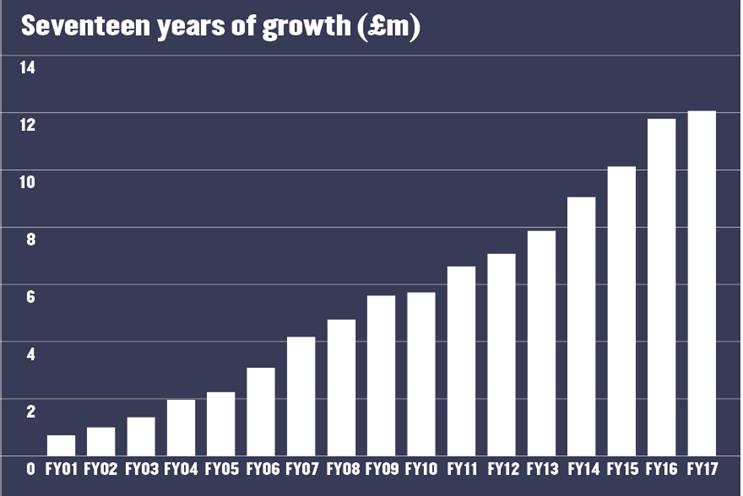 Speaking to PRWeek from the resplendent new(ish) office on Bankside, co-founders Giles Fraser and Sarah Scales recall how the head and heart combination has been part of Brands2Life's fabric since the early days.
Fraser and Scales cut their teeth on major tech clients at Hill+Knowlton in the 1990s, starting their own venture, initially from a tiny room in Battersea, amid the growth of tech firms at the turn of the century.
"It was a big bet," says Fraser, admitting that the founders sunk a lot of their own money in the new business. "There wasn't a plan B."
"There were a lot of agencies starting then – a lot of them aren't here now. What made us quite different was we had a real sense of purpose in terms of getting results.
"We had our offering: big agency thinking, the nimbleness of a start-up, and that commitment to results. The business head, I think, enabled us to keep moving and growing when maybe other agencies reached a bit of a ceiling."
In practice, it meant encouraging clients to share data around their own performance targets – for example, click-throughs, footfall or sales – to help the agency focus on their goals.
Look after the money
But Brands2Life was equally eager to keep a close watch on its own performance.
"We got a finance person in quite early," says Fraser. "We always believed that if we ran the financial and operational side the right way – we were paid on time, and so on – it meant we would have the resources available to, first of all, reward the clients and staff well, but also invest in the future and be able to do new things.
"One of the things we've always tried to do is make sure we can keep innovating. If you're an independent like ourselves, a lot of that is about being very tight in terms of how you run the core business, and that means we can do all the new things we need to do."
Early clients included T-Mobile, which stayed with the agency until 2012, and the firm was "galvanised" after being named New Agency of the Year at the PRWeek Awards.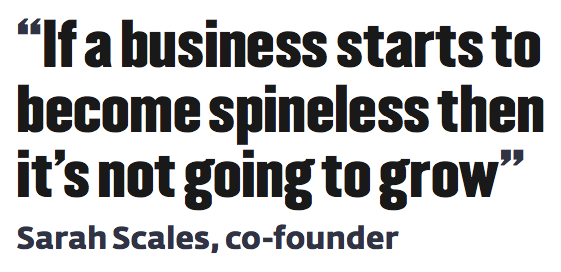 Times were good, as Fraser explains: "About two years in we had a period of time when suddenly a lot of bigger clients were starting to get frustrated with their bigger agencies and they were looking for better value for their buck, they were looking for a bit of innovation, a bit more creativity in how they did things. We started to see a lot of well-known brands start to ask us to do work for them in the UK and internationally.
"A couple of years after that we started to get into digital, online and then onto social. Our tech heritage has allowed us to start seeing that stuff coming through quite a lot earlier than other agencies."
Cisco was another big early client, from around 2005, and its arrival coincided with a move to larger office space in Earl's Court. Integration began "paying off big time" around this point, Fraser notes. Consumer, b2b tech and digital/online brand support were among the early offerings, with public affairs, crisis and issues management added in subsequent years. He claims the agency was among the first to offer filming facilities around 10 years ago: "We started to play in the big boys' environment."
Its sector base has also expanded, with clients in retail, entrainment, financial service, energy and travel.
Moonpig appoints Brands2Life as retained consumer & social PR agency 'to evolve perceptions of the brand'

The agency's work with LinkedIn is as an example of its current integrated approach. Last autumn Brands2Life's London team handled a billboard campaign for the social media platform on Highway 1 in the US. "At the same time, we were doing an integrated campaign, pulling together PR, social and experiential for the UK operation," says Fraser. "The work that we do steps into marketing services, the digital agency world, into classic advertising in some isolated instances.
"That model has enabled us to really grow the relationship across the big clients and access all kinds of budgets, all kinds of stakeholders."
New blood
The business has restructured four times in total, with new sector MDs appointed over the years to provide leadership for the new specialisms. New practice directors were brought in, and operations teams expanded, to give extra support to the creativity and growing workload.
This approach has been crucial, Scales explains: "If a business starts to become spineless it's not going to grow. You've got to put some backbone in."
Meanwhile, Fraser says the single P&L structure has made it easier for clients to buy multiple services, and for staff to move from discipline to discipline; that variety has encouraged employees to stay.
The duo are clearly proud of their approach to staffing and working practices. Twice-yearly employee reviews, informal monthly chats and sabbatical opportunities are offered.
This year the group introduced 'life stages' staff loans of up to £1,000 per year to help with hefty outlays such as rental deposits. Around 30 per cent of the workforce started on Brands2Life's graduate scheme. The agency has also partnered with two business schools to provide leadership training.
It is not just altruism; staff retention has been crucial for Brands2Life's growth, given the founders' reluctance to expand via acquisitions. "We've steered away from them," says Fraser. "What we do is hire really good senior people to add to our skills set."
Significant senior appointments in recent years have included Alan Parker, of ad agency MullenLowe, who joined as MD, digital; Katy Stolliday, former director at Unity and now deputy MD, consumer; and Claire Rudall, ex-Salt and currently MD, corporate.
Brands2Life launched its first overseas office in San Francisco last year, led by Rene Musech, who previously worked in the business and technology practice in London. The US team is now seven strong, with nine clients. Highlights include working on Renault's driverless car technology.
"The stars were aligned," says Scales of the US launch. "We had been thinking about it, [Musech] was available, we trust her, we think she's a great leader and so it just made sense.
"We try to do something new every year and that was our new thing for the year. We just feel very strongly that in this sort of agency world you keep things fresh, you need to do something new, to innovate in some way – keep moving it along.
"We have a three-year and a five-year plan that we keep reviewing. San Francisco hadn't been in that plan for the next few years but it just worked at the time."
Fraser says there are "no plans at the moment" for more openings, but explains: "We're always reviewing where our footprint should be, particularly with everything that's going on with Brexit – that needs close attention."
Fraser says Brands2Life is "approached very often" about a possible sale and "we've always said no". Could this change one day? "Who knows?", he replies. Having built a business on their own strict principles, one suspects the founders would be cautious of ceding control.
"We like doing what we're doing," Fraser concludes. "We've got the strength and the firepower to do pretty much what we want to do."