The seventh annual Digital News Report, based on a YouGov survey of 74,000 people across 37 countries, including the UK, the US and Malaysia, found that Facebook was particularly affected by the slump in use to access news.
The decline of Facebook usage for news
This was mainly due to changed algorithms, but users told the survey they were also worried about privacy and toxic nature of debate on the platform, as well as how to distinguish between real and fake news.
Only 23 per cent of those surveyed said they trusted news on social media, compared with 34 per cent for search and 51 per cent for news sources they chose themselves, while 44 per cent said they had trust in news overall.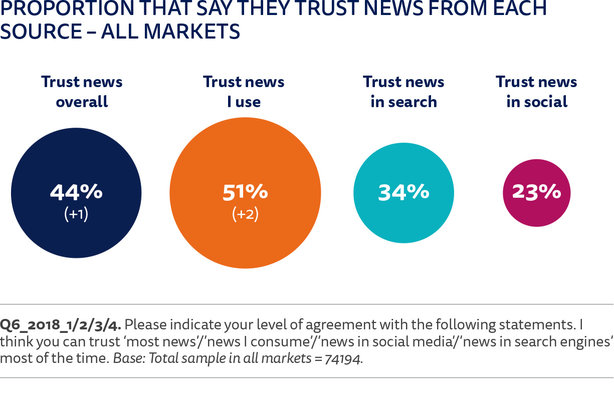 Overall use of Facebook remains high, the report found, but the number of people who use it for news is declining in most markets.
In the US, news consumption via Facebook was down by nine percentage points compared with 2017, and by 20 points among younger audiences.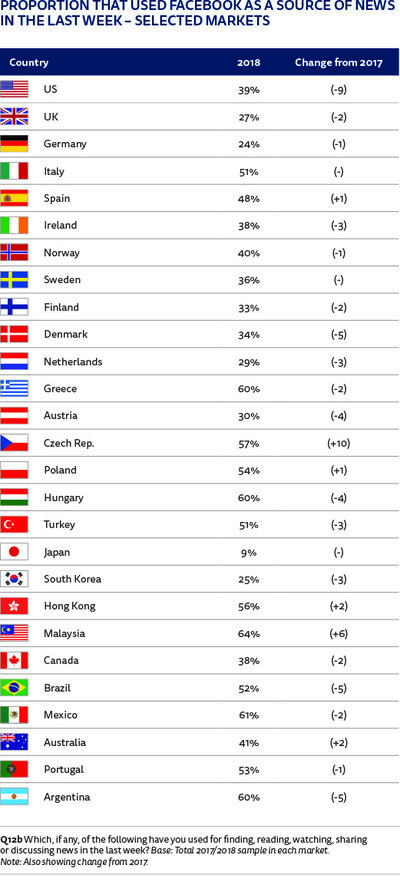 However, there was a rise - from a comparatively low base – of the usage of other social networks, such as WhatsApp, Instagram, and Snapchat to access news.
For example, WhatsApp use for news has tripled, on average, in four years to 15 per cent across the survey, but it was higher in countries such as Malaysia and Turkey where it was more dangerous to express dissent on open networks.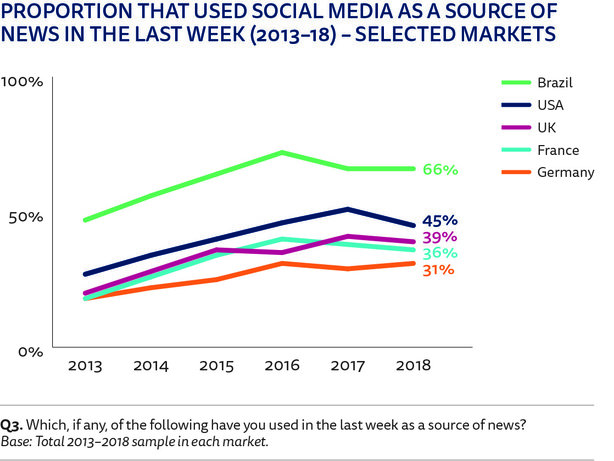 While Facebook algorithm changes have clearly played a part in the downturn, as the platform prioritises interactions with friends and family and tries to limit the impact of fake news, focus group evidence in the report suggested consumer behaviour was also changing.
Respondents spoke of finding stories on Facebook or Twitter before posting them to a WhatsApp group for discussion with a smaller group of friends.
The report's lead author, Nic Newman, said: "We are seeing many switching their focus to more personal, private spaces like messaging apps for sharing and discussing news. This gives people more control over where and how they engage, but also potentially makes public debate and news distribution even more fragmented and opaque."
Concern about misinformation spreads worldwide
More than half of those polled said they were concerned about whether news on the internet was real or fake, and this was highest in countries where there was polarised political debate, combined with high social media use.
In Brazil, 85 per cent said they were concerned by the distinction between real and fake news, and in Spain 69 per cent said the same, while 64 per cent expressed their concern in the US.
However, fear of misinformation was lowest in the Netherlands, at 30 per cent; and in Germany, with 37 per cent expressing concerns.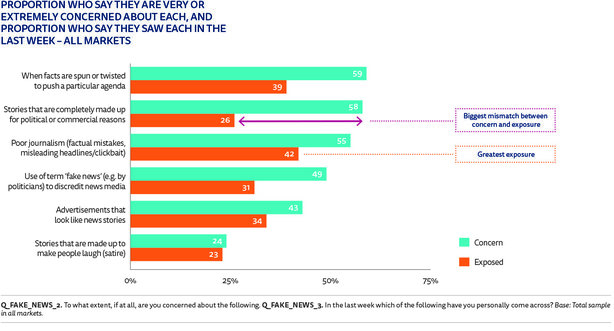 Three quarters of respondents said it was the responsibility of publishers to fix the problem of fake or unreliable news, and 71 per cent said social media platforms should take responsibility.
The report said public demand was aimed at publishers and platforms because the majority of the news they complained about was in mainstream media rather than intentional disinformation distributed by foreign powers.
But public support for government intervention over misinformation varied.
It was highest in Asia, at 63 per cent, followed by Europe at 60 per cent, but lower in the US where only 41 per cent supported intervention.
Professor Rasmus Kleis Nielsen, one of the report's editors and director of research at the Reuters Institute for the Study of Journalism, said: "Many clearly hold the major platform companies responsible for problems of disinformation, but even more see publishers as responsible for unreliable news. The whole discussion around disinformation is about digital media, but the frequent use of the dangerous and misleading term "fake news" resonates with a longstanding crisis of confidence, where much of the public does not feel it can trust the news, especially in countries with highly polarised politics and where many media are vulnerable to undue economic or political influence.
Business models for publishers evolve
There was mixed news for publishers looking to build sustainable online revenue models for their business.
The Nordic countries saw significant uplifts in the proportion of people prepared to pay for online news, with Norway the highest at 30 per cent, up 4 percentage points from the previous survey.
But in more complex publishing markets across the rest of Europe, there was little subscription growth, despite increased attempts to charge for online content.
However, last year's significant increase in digital subscriptions in the US - the so called Trump Bump – was maintained and donations to media outlets in the US, as well as in the UK and Spain began to emerge as a significant alternative for publishers.
Donations were closely linked with political persuasion and came disproportionately from younger people, with the Guardian leading the charge for this model in the UK.
Two thirds of respondents told the survey they were unaware of the financial crisis facing the news industry and believed that most news organisations made a profit from online news. Donations and subscriptions were higher among those people who were aware that digital newspapers were making a loss.
Brand Trust
The survey revealed that brands with a broadcasting background or a long heritage were the most trusted media outlets.
This was significant because Facebook intends to incorporate brand trust scores into its algorithms, which means that less trusted brands could become less visible on social media in the future.
In the UK, the BBC led the way on trust, scoring just over 7 out of ten. The top five in the UK were completed by ITV News, Channel 4 News, local/regional newspapers and The Times.
The least trusted was the Sun, with a score of 3.91.
In the US, local television news was most trusted, with a score of 6.5, followed by the Wall Street Journal, ABC News, CBS News and NPR News.
The least trusted was Breitbart, with a score of 3.69.
Professor Nielsen said: "The verdict is clear: people find that some news is worth paying for, but much of it is not. The challenge for publishers now is to ensure that the journalism they produce is truly distinct, relevant and valuable, and then effectively promoting it to convince people to donate or subscribe."