Coca-Cola rolls out 'score packaging' & Being Ready campaign
Coca-Cola's World Cup campaign – with the help of agency Mercado McCann – is launching in 200 countries and features four films based on the Being Ready message. The third in the series (above), called Uplifting Alex, is a video game/advert crossover that features Alex Hunter as the brand's first virtual ambassador.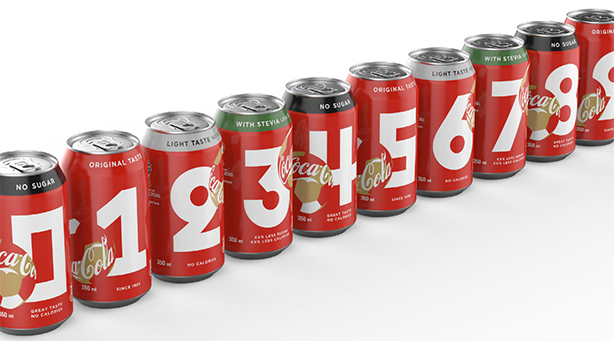 The soft drinks behemoth is also launching a special edition of Coca-Cola cans (above) with the numbers 0 to 9, the idea being that fans will share score predictions before each match with their friends on social media platforms.
Adidas picks superstar team for Creativity is the Answer
Leo Messi, Mo Salah, Caroline Wozniacki, Pharrell Williams, Paul Pogba and David Beckham are among 56 superstars selected by Adidas in its new campaign running across mobile, social, digital and broadcast. The story extends through these unique 'creator' voices on their personal social channels with a range of tailored content – demonstrating how creativity makes a difference maker in each of their own fields.
Carling launches golden can promotion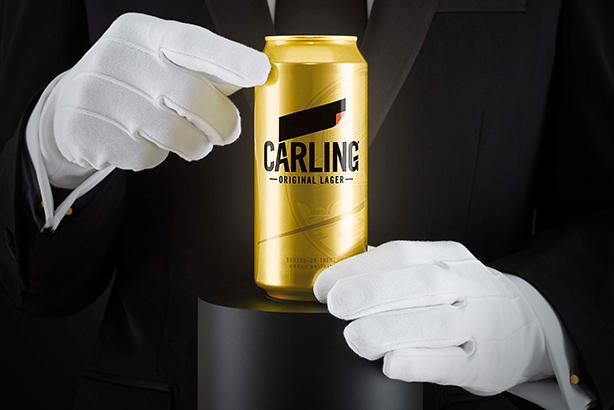 For its part in this summer's football-fest, beer brand Carling has hidden 100 limited-edition golden cans within random packs of Carling Lager and Carling Apple Cider. If consumers find one, they'll 'score themselves' a cool £1,000.
Nicole Scherzinger covers 'Dancing in the Street' for Qatar Airways ad
TV star and singer Nicole Scherzinger has recorded a cover of soul classic Dancing in the Street to celebrate Qatar Airways' sponsorship of the World Cup. The all-singing, all-dancing 60-second spot features cabin crew, passengers and even a goldfish miming to the song.
The big kids meet the little kids in Lidl's England spot
Lidl is marking its status as the official supermarket of the England team with a 60-second spot from TBWA\London in which World Cup squad members Gary Cahill, Kyle Walker and Raheem Sterling banter with a group of young players. It highlights the retail brand's support for the grassroots game.
New Balance goes hell for leather with demon-inspired football boots range
New Balance has launched the Otruska Pack: the brand's first combined global football and lifestyle footwear. The product name has been inspired by the mythical two-headed hellhound, Orthrus, and boots from the line will be worn by New Balance sponsored players at the World Cup. Yikes.
Budweiser wants to "light up" the World Cup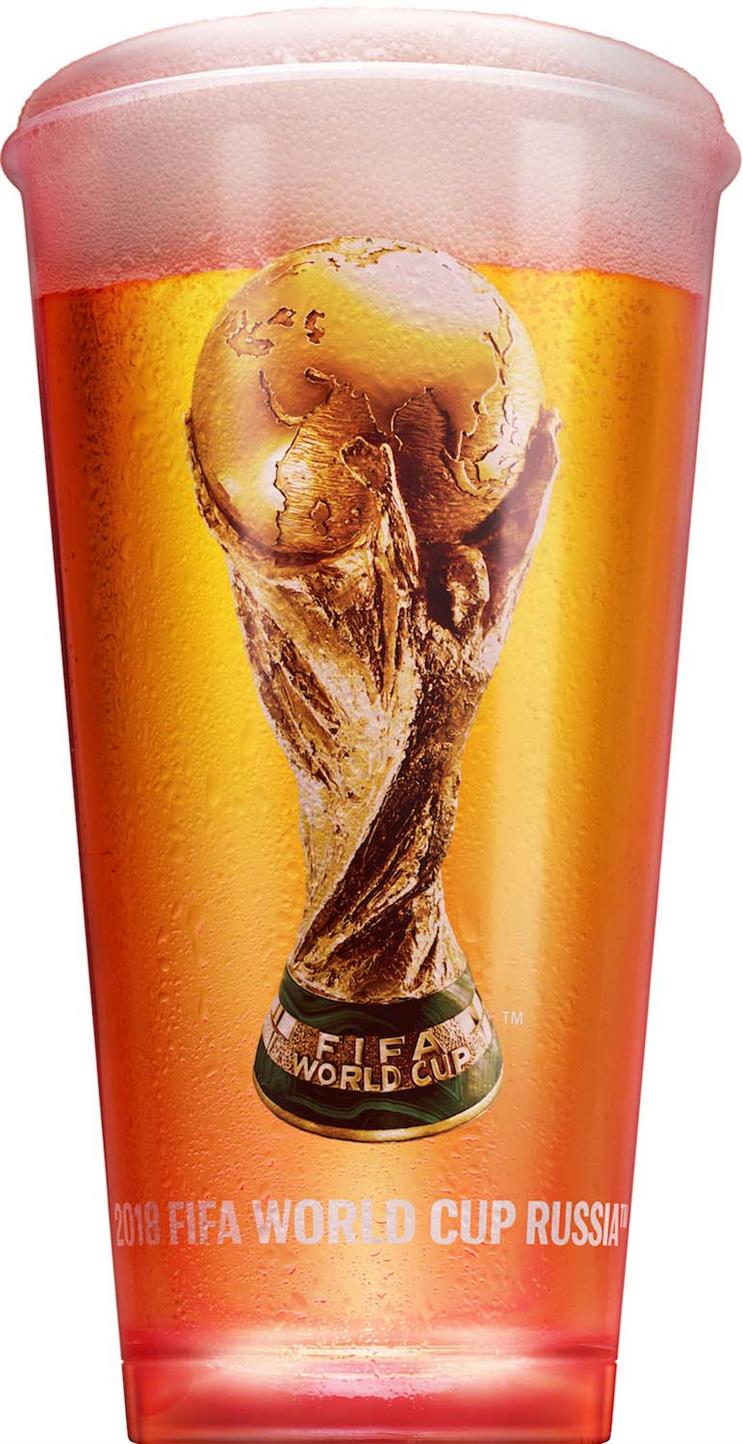 Described by AB InBev as its biggest ever commercial campaign, Budweiser's "Light up the world cup" includes an epic film created by Anomaly featuring a fleet of drones carrying bottles of the beer from its brewery in Missouri to spectators around the globe, including in the Luzhniki Stadium in Moscow.
Along side this, there is a raft of expereintial activity. The brand is distributing eight million Budweiser red light cups globally, which contain audio detectors and LED lights that glow brighter when the sound level increases.
The Bud Bot, created for the UK, is a chatbot offering a range of tools designed to augment the fan experience, from providing a platform to vote for the official man of the Match, to offering home deliveries of Budweiser. And the Bud Boat will make its home on the river Thames, hosting screening parties, DJs and bars for football fans in London.

Currys PC World brings back TV giveaway for World Cup
As any long-suffering football fan knows, one of the worst things about the "beautiful game" is having to sit through the soporific post-match player interviews - there is no cliché too predictable for these lads. But that hasn't stopped Currys PC World adopting the post-mach interview for its World Cup ad campaign for its "Get your TV for free" campaign, created by Abbott Mead Vickers BBDO. So it's out with Harry Kane, and in with an anonymous Currys PC World employee to wax lyrical about how his team's hard work in training has paid off on the shop floor.
Icelandair creates 90-minute experiences works with Iceland footballers
Euro 2016 watchers will remember Iceland's outstanding performance, when a country with a population of less than half a million defeated England to reach the quarter-finals, beyond anyone's expectations. So no surprise that Icelandair is marking Iceland's achievement of becoming the smallest nation ever to qualify for this summer's World Cup. The "Icelandair Team Iceland stopover" activation will be available for all passengers between May and June, and include activities around culture, fitness and well-being. The campaign has been created by The Brooklyn Brothers.
LG recruits England players in Gogglebox-ish campaign
England star Eric Dier, under-21 forward Dominic Calvert-Lewin and ex-England captain Terry Butcher are shoehorned into a living room to watch some footballon a new TV that LG is promoting. It's sort of like Channel 4's Gogglebox, except without memorable cast members or interesting TV shows. So almost nothing like Gogglebox, in actual fact, apart from the sofa. The video is series is part of the electronics giant's £5m above-the-line "Live the game" campaign.
Stars Group launches Freddie Flintoff into space
Pokerstars owner The Stars Group is an online poker company that is serious about becoming a major sports betting player. Andrew "Freddie" Flintoff is cricketing legend who is serious about becoming a major celebrity. And these ambitious forces have combined to promote The Stars Group's £100m World Cup challenge, where players can win big by predicting correct World Cup scores. An ad campaign, created by Crispin Porter & Bogusky, sees Flintoff transformed into a tacky human billboard and "catapulted into space".
Still, it's not the most embarassing trip Flintoff has ever taken...
Zlatan Ibrahimovic signs as new face for Visa global campaign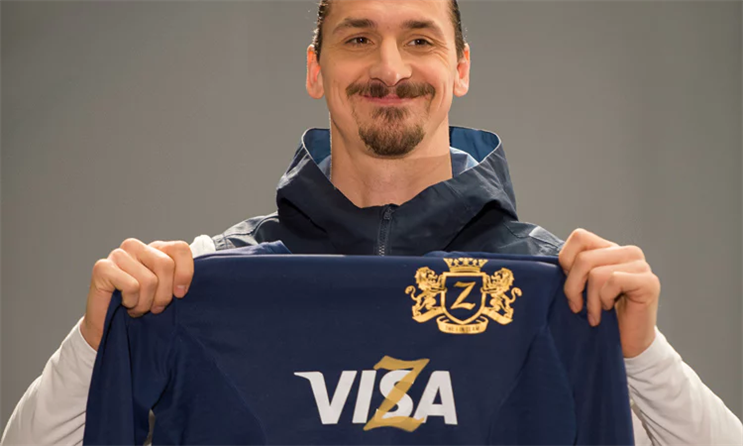 Zlatan is a character to say the least. Whether he's viewed as one of the most prolific goal scorers of all time, abusive teammates of all time or made some of the most outlandish comments, most people will have a strong view of the former Manchester United star one way or another. Visa is an official partner of the Fifa World Cup 2018 and has made Zlatan the face of its summer campaign. This controversial personality has a reputation of showing out on the biggest stage win or lose and surely Russia will be no different.
Copa90 teams up with Snapchat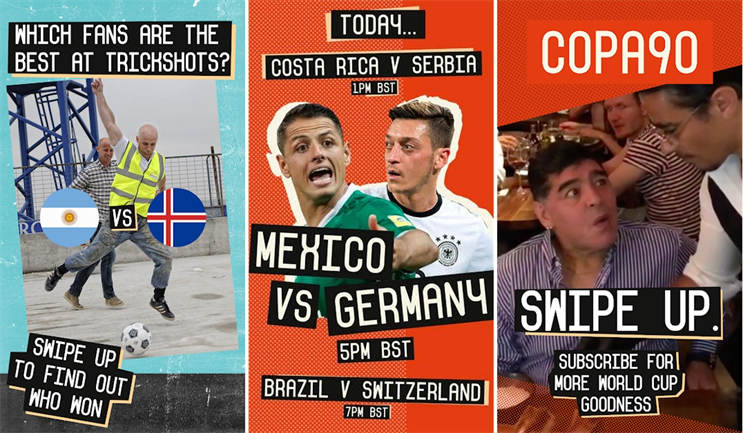 Copa90 has teamed up with Snapchat to bring daily stories live from the World Cup this summer. Getting up close and personal with some boisterous fans is what the duo aims to bring to subscribers from the relative comfort of their homes. Copa90 is scouring its extensive fan base to find Snapchat correspondents to report on their World Cup experience which will run for 45 days.
This article first appeared on PRWeek sister title Campaign and is being added to by PRWeek