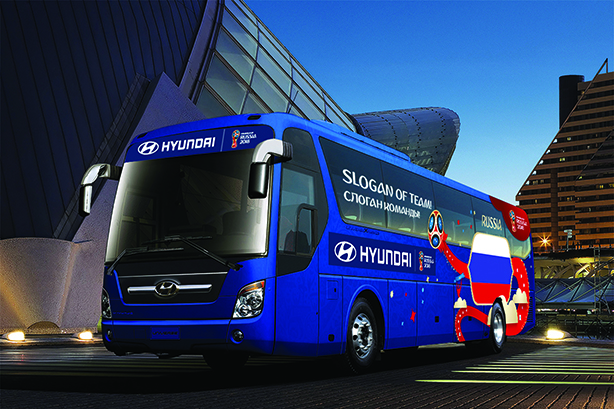 Hyundai and Kia juice up tournament fervor with activations
The South Korean auto companies are inviting fans to immerse themselves in the World Cup as active participants
By: Sean Czarnecki
Hyundai Motor Company and Kia Motors, both part of Hyundai Motor Group, have a clear message to World Cup fanatics globally: Rev up your chants, tune up your soccer skills, let your colors fly, and you, too, can represent your country in Russia.
The South Korean carmakers started their own tournament in March, the Kia Champ into the Arena, pitting teams of six against each other. In this five-a-side event, with one substitute available, 16 teams from 16 countries will compete in regional and national finals for the chance to play in Moscow on June 30 and watch a Round of 16 match.
The activation, which started in 2014, is just one in a series that not only taps into soccer's obsessive fandom, but also enables it by allowing them to directly participate in the experience.
"Soccer fans are more than just supporters of the game — they are diehard, loyal fanatics for their teams and countries," says Jim Trainor, director of communications at Hyundai Motor America.
A FIFA partner since 2002, Hyundai is the official automotive partner of the 2018 FIFA World Cup Russia.
"As the industry leader in customer loyalty, Hyundai knows a thing or two about passion. We love how soccer brings people together, causes emotions to rise, and provides fans with unexpected moments. We like putting Hyundai in the middle of all this," explains Trainor.
To kick off the event, the South Korean auto giant is launching its Be There with Hyundai slogan campaign.
Between December 2017 and February 2018, fans submitted slogans for each of the 32 national teams competing and voted for their favorites at worldcup.hyundai.com.
The winning slogans will have prime real estate on the side of each of the national team buses and a seat aboard an official Hyundai convoy vehicle accompanying the team bus convoy. They will also get to watch their team in a World Cup match.
Following that activation is the Hyundai World Football Heritage exhibition, where fans can submit their country's cheering culture. The winning country will be the one whose fans submit the most cheers. Each country's chant will "compete" on the day their respective teams play.
See also: Kicking and streaming: Social media, experiential campaigns, VR transform World Cup 2018 | PRWeek
Selected culture concepts will be featured in Hyundai Motorstudio Moscow and at the FIFA World Football Museum in June and July.
At the end of May, Hyundai FIFA representatives and celebrated former players were to be given vehicles for their personal use at an event in the Luzhniki Football Stadium in Moscow.
Fans can also submit voice chants as part of the Hyundai Cheering Stadium by Fans to be combined into one huge cheer.
In keeping with its longstanding tradition, Kia selected 64 children from 28 countries to be the Official Match Ball Carrier to make the handoff with referees during the pregame ceremonies. Along with that, Kia released a short promotional video.
Soccer enthusiasts are also invited to enter the Kia Lucky Drive to Russia, a competition to win a trip to Russia and a chance to watch a match.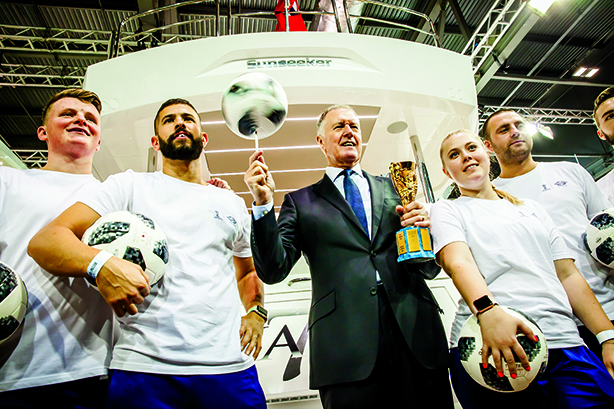 Sunseeker International sets course on new direction
Yacht brand is leveraging the event to position itself as a high-performance sports brand
By: Chris Daniels
Seven companies are signed on as FIFA World Cup partners, including Adidas, Coca-Cola, and Visa. But some are less than household names, such as Wanda Group, a Beijing-based multinational conglomerate and the world's largest real estate holding company.
Wanda Group also owns a number of consumer brands, including Sunseeker International, a British-based manufacturer of luxury motor yachts and a nautical-themed clothing line. Like the rest of its competitive set, much of the company's marcomms budget has historically gone in support of boating shows and competitions around the world.
But, via its parent company, Sunseeker is leveraging FIFA World Cup 2018 for "our largest marketing initiative, and probably the largest ever seen in the marine industry," explains Simon Clare, marketing director at Sunseeker. "There is the opportunity for us to create some wonderful content and PR through this, strengthening the brand across an even wider global audience."
In fact, the company has recently charted a new course in its brand narrative on high performance, innovation, and sport, given the company's history in powerboat racing.
With the tagline "official partner of winning," Sunseeker announced its FIFA association during an event at the London Boat Show in January. Famed footballer Geoff Hurst — who is often described as the "hat-trick hero" of the 1966 World Cup win for England — was Sunseeker's special guest.
At various boat shows that followed, the brand debuted a number of performance and environmentally enhanced models such as the Predator 74. That included the Miami Yacht Show, where Sunseeker generated coverage in magazines including Forbes and Haute Living with its World Cup association as a key news hook.
U.K. agency McKenna Townsend is providing PR support for Sunseeker.
Given its yachts and powerboats cost millions of dollars, Sunseeker will be targeting its affluent audience with an activation at the World Cup that will offer unique experiences money can't buy.
"Along with the obvious branding opportunities, a significant part of our activation is around client hospitality," explains Clare. "We are creating once-in-a-lifetime experiences with amazing behind-the-scenes access for our guests to get up close to the action."
"Along with the obvious branding opportunities, a significant part of our activation is around client hospitality," explains Clare. "We are creating once-in-a-lifetime experiences with amazing behind-the-scenes access for our guests to get up close to the action,"

Simon Clare, Sunseeker
Specifics of the activation were still being ironed out as of press time, but Lisa Norman, an account director at McKenna Townsend, notes it will include a component that involves Sunseeker's CSR partners.
The company has two key partnerships: Blue Marine Foundation and Macmillan Cancer Support.
The first organization is dedicated to protecting the seas by creating large-scale marine reserves. The second is one of the largest cancer care and support charities in Britain and has come to the aid of several Sunseeker staff.
Expect this to be the first in a number of World Cup activations for Sunseeker. Wanda Group's sponsorship deal with FIFA — reportedly valued at hundreds of millions of dollars — runs until 2030 and includes four World Cups starting with the 2018 competition in Russia.
But soccer isn't the only sport Sunseeker has been getting behind to widen its reach and anchor the brand among competitive sports enthusiasts. It is also now connected to Formula One racing through Red Bull Advanced Technologies, the innovation arm for Aston Martin Red Bull Racing. The two have partnered on designing and engineering a new fleet of high-performance sports boats between 30 feet and 50 feet.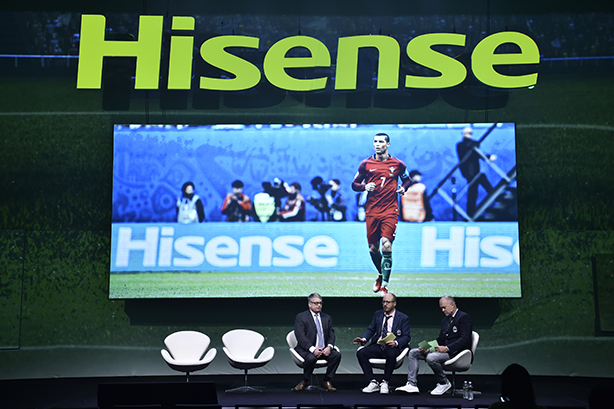 Hisense wants fans to #SeeTheIncredible
Smart TV maker hopes new app enhances World Cup viewing
By: Aleksandra Vayntraub
FIFA sponsor Hisense is using the World Cup to boost its presence in the highly competitive consumer electronics space. The smart TV maker will offer a Hisense Fox app built into most of its units, exclusive World Cup-themed content, and the ability to watch the tournament like never before.
"With one click, users will be able to select from 37 different angles," explains Mark Viken, VP of marketing at Hisense USA. "Hisense is the only TV with direct access to 4K content."
At this year's CES, the company unveiled more of its World Cup plans.
"Our most-watched and praised appearance was when we partnered with soccer commentators Men in Blazers to host our press conference, helping Hisense unveil its 2018 slate of products and introduce the Phenoms documentary it sponsors that will air on Fox before the 2018 World Cup," Viken notes.
Hisense is working with global sports marketing and entertainment agency Lagardère Sports on creative campaigns for its overseas markets and fan activations in Russia.
"During the World Cup, the Hisense global team will launch a content series featuring past stars, as well as special interactions between stars and fans on social media," Viken says.
For its global campaign, the company partnered with PR agency Kwittken.
"Our program is built on #SeeTheIncredible, a global campaign we launched last year that's all about getting consumers to recognize the difference between our exclusive ULED tech and the competition," he explains. "That inspired Kwittken to craft a PR and social media strategy that takes it to the next level."
Viken says Hisense has activations and exposures built into the World Cup itself, including "a certain number of minutes on the LED board on the pitch in all matches. It's a big investment, and we're excited about the impact on a global basis."
---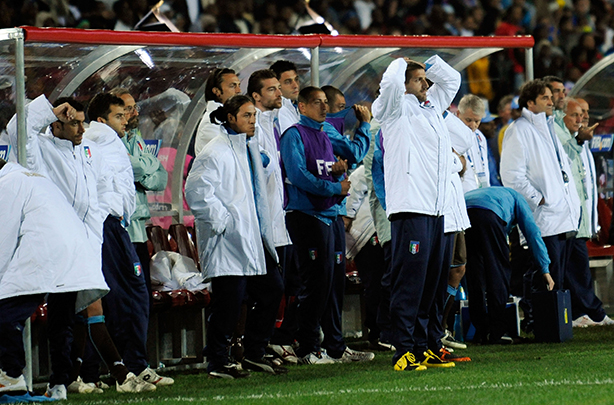 Some brands staying on sidelines for World Cup
By: Diana Bradley
Fewer brands are lining up to sponsor World Cup 2018 in Russia. Currently, five companies are listed as FIFA World Cup sponsors: Budweiser, Hisense, McDonald's, Vivo, and China Mengniu Dairy.
The figure is a drop from previous World Cup events: There were eight sponsors in 2014 and six in 2010.
A controversial host country may be to blame — or FIFA itself, which has a disastrous corporate reputation following its 2015 corruption crisis.
PRWeek sat down with Rick French, French|West|Vaughan chairman and CEO, and Shawn McBride, EVP for sports at Ketchum Sports & Entertainment, to discuss if it's worth it for brands to get involved in this year's World Cup.
What makes the World Cup a tricky proposition for brands?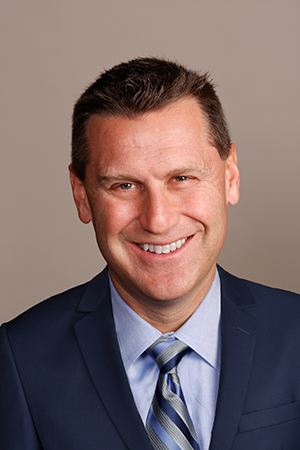 Rick French: American interest in this year's World Cup seems to be at a 20-year low with the U.S. team not qualifying, the ongoing FIFA bribery scandal, geopolitical issues with Russia, and consumer angst over the Facebook/Cambridge Analytica privacy disclosure and how it was exploited by Russia for political gain. In short, many U.S. brands that might have considered hitching their wagons to the global popularity of soccer are steering clear.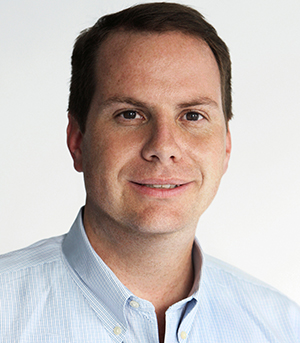 Shawn McBride: From the overarching scandal that has engulfed FIFA, which includes corruption charges related to Russia's bid, to incidents of racism at soccer matches in Russia, as well as attitudes toward the LGBTQ community, there are going to be a lot of sensitive topics that will factor into storylines this summer.
How would you counsel a brand looking to get involved for the first time?
RF: Carefully. A brand needs to show it supports soccer and the idea of sportsmanship bringing together different countries and ethnicities, while not appearing to support a scandal-ridden FIFA or Russia. It's a very tricky balance a brand must strike unless it's already endemic to the sport, where it probably gets a free pass for past support.
SM: In addition to having a detailed issues preparedness plan, for any brands that want to get involved for the first time, I'd counsel them to be eyes-wide-open to the playing field, have complete internal alignment on their goals, objectives, and risk tolerance, be laser-focused on their strategy, and then be ready to pivot should anything arise that might be a threat to their brand reputation.
Is it better for a brand to go all in as a sponsor, brandjack, or steer clear?
RF: I would counsel them on the risks and suggest they limit their engagement to social media marketing that honored sportsmanship and the beauty of the game.
Multinational brands such as Visa, Coca-Cola, Adidas, and others can probably go all-in because the U.S. market is only one sales territory and interest in other countries participating in the tournament will be high.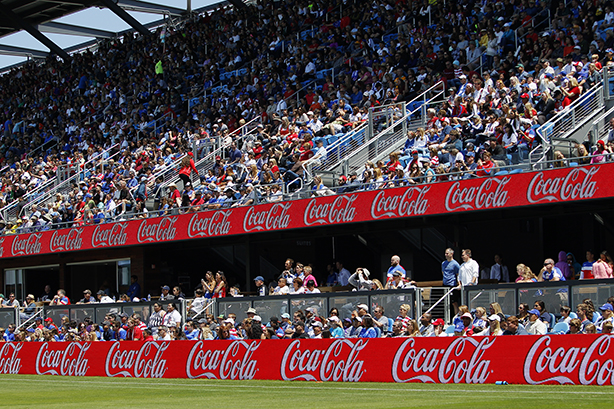 SM: We can expect to see a more muted approach by sponsors and fewer companies will attempt to brandjack the event.
This isn't to say the World Cup will be the soccer equivalent of a massive tree falling with no one around to hear it — this is still one of the world's most popular and viewed sporting events.
However, I don't expect record numbers from the standpoint of ratings or overall engagement.
Is this a good opportunity for brands to align themselves with?
RF: I don't think anyone is pointing a finger at the sport and saying it's wrong to get behind it or enjoy the tournament.
The issue is FIFA's leadership, or lack thereof, and how Russia acquired the games, and those same two issues are already extending to Qatar in 2022.
SM: For official sponsors, there is a massive, and often longer term, investment that needs to be taken into consideration, not to mention the need to defend their status from category competitors who might want to tap into a halo effect.
There are also variables such as overall marketing campaigns and how FIFA plays into them, target audiences, and priority geographic markets, all of which could make it worthwhile for brands to strongly consider utilizing this property.