Make way for the teens who are turning the gun debate on its head.
In a few short months, hundreds of thousands marched to end gun violence, the debate exploded on social media, and thousands of teenagers added their voices to what has largely been a movement led by adults.
Of course, some of those teens are the student survivors from the mass shooting at Marjory Stoneman Douglas High School in Parkland, Florida. Their names and faces, and the names and faces of the 17 students and faculty killed, were plastered across every news channel, website, and social media network for weeks as they built the #NeverAgain movement to end gun violence.
What we've overlooked is this generation of students is very savvy with social media and marketing,

Brandon Wolf, Pulse nightclub shooting survivor
Many have praised the students, including seasoned activists, for being so adept at advocacy without even graduating high school yet.
Brandon Wolf, a survivor of the Pulse nightclub shooting in Orlando in 2016 and now a LGBTQ and gun reform advocate, says it's different this time because the opposition simply can't keep up with the students' strategy.
"What we've overlooked is this generation of students is very savvy with social media and marketing," Wolf explains. "It's almost as if they're social media marketing geniuses and they've never had to take a class in it. You're watching them go up against this old-world way of thinking — that is the NRA and our current generation of lawmakers — and they're totally bewildered by how to keep up. These students can meet in the living room, eat chocolate chip cookies, and change their message on a dime."
Building buzz and keeping the public involved is just half of the equation when it comes to making change. With an issue such as gun reform, which often requires legislative solutions, politicians also need to be moved.
What's changed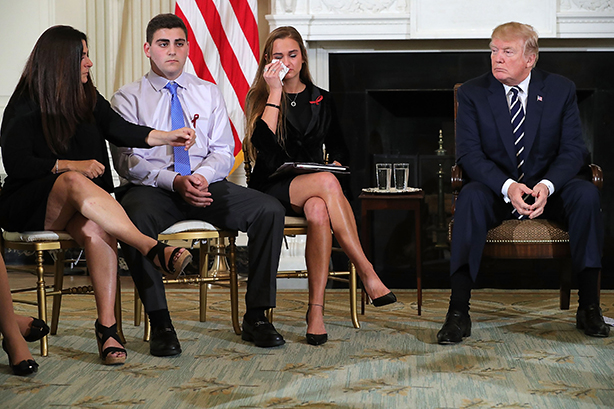 The gun reform movement has always had authentic voices, whether it's a survivor of a mass shooting or a victim's loved one, but the Marjory Stoneman Douglas students brought an extra edge because of their age.
"The biggest thing that changed is the voice," notes Nicole Hockley, cofounder and MD of anti-gun nonprofit Sandy Hook Promise. "The voices of government officials or adults have led movements, but this is the voice of the teenagers, of the kids that have been affected. People have become a little desensitized to the same adult voices all the time, whereas this is fresh and breaking through in a bigger way."
Seeing people of their own age reflected on the news has also galvanized other teens across the country. School walkouts were set up after the shooting and students in every state demonstrated, leaving their classrooms for 17 minutes one month after the Parkland shooting. Teens began taking on politicians and gun advocates online with Parkland students leading the way.
"It's bringing a new generation of people into this movement," Hockley explains. "The way they're using social media isn't something we've seen done as effectively within this movement. That was because of Generation Z. They have grown up with the epidemic of gun violence, and this is the first time they've used their voice for it."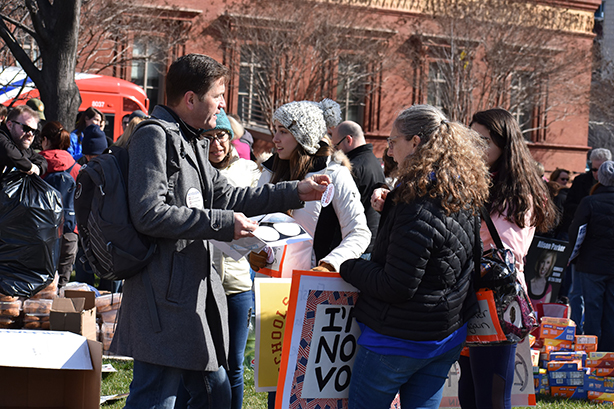 Amid the change, Sandy Hook Promise has mostly maintained its usual communications strategy, while helping to amplify the Parkland students' voices, Hockley says. For example, she attended the White House listening session on gun violence with President Donald Trump along with several of the Parkland students. But, she adds, the nonprofit has been careful not to get in the students' way.
Another gun reform organization, the Brady Campaign, has worked to amplify young voices since Parkland as well. Brady Campaign co-president Avery Gardiner says there's simply a different tone the young activists have that has resonated more with the public.
"Young people are not jaded, they are not disappointed by seeing lack of action and failure by politicians in the past," she explains. "They tend to be quite idealistic and believe that if they speak truth to power, they will win. That conviction is a powerful one and it comes through as they talk in a way that's different."
The environment is also different, Gardiner notes. In the six months before Parkland, there were two of the worst mass shootings in U.S. history: the Las Vegas concert shooting and the Sutherland Springs, Texas, church shooting.
She has seen a "tidal wave" of changing opinions with so many mass shootings in such a short period of time.
"There was a bit of a change in the American mindset about how horrific these events are and how they can happen so quickly," Gardiner says. "Then when Parkland happened, just a couple of months later, people were already on the cusp of outrage."
What works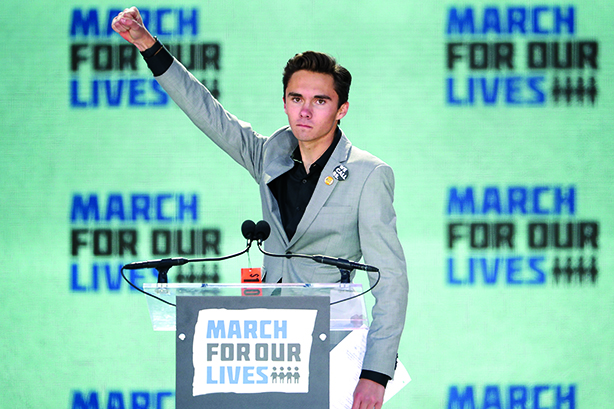 Different gun reform organizations have different message strategies. Most advocate for political solutions to gun violence, but each has a certain area of focus. For example, Sandy Hook Promise focuses its messaging mainly on education to prevent gun violence, and Brady Campaign has messaging and legal action focused on companies within the gun industry.
But the messages that work with each of these audiences are often different.
Sandy Hook Promise's education campaigns focus on schools and the public. The organization's PSA strategy is known for being jarring, including its 2016 Cannes Lions-winning video "Evan" that ended with a student shooting his classmates and a PSA released shortly before the student-led March for Our Lives from the point of view of a school shooter.
"We like to push the envelope on our marketing," Hockley notes. "[Our PSAs] were phenomenally successful at changing the narrative on gun violence prevention."
Despite the controversial imagery, the main focus of the organization's PSAs is to educate people about the signs someone is planning a shooting, such as isolation, obsession with guns, or certain social media posts.
Brady's messaging has several prongs, but one that stands out from others is its legal action against companies within the gun industry. The organization routinely files lawsuits against "bad actors."
Gardiner says it's all part of showing that Brady is not out to take away everyone's firearms, a common argument against gun control, but that the organization is taking action against those who use and sell guns illegally.
"The hardest part is breaking down this false dichotomy of either you're pro-gun or anti-gun, because most people who are doing this work are anti-gun violence," Gardiner explains. "They're anti-people shooting each other with guns. But it's been reduced to that shorthand for so many years."
See also: No NRA Money campaign gets push from Parkland student activists | PRWeek
Another way Brady tries to reach people who fall on that pro-Second Amendment side of the debate is by using veterans and police officers as their advocates in certain areas.
"Veterans are incredibly powerful to talk to gun owners about gun safety because they immediately have that respect and credibility," Gardiner says. "In our messaging, we work with law enforcement officers and veterans who believe in what we're doing to try to bridge some of those divides and reach people with a messenger they're willing to hear from."
The last important audience is politicians. The Parkland students have largely targeted elected officials, with events including the CNN town hall with Florida Sen. Marco Rubio and the march in Washington, DC.
Wolf recently joined a campaign that is also focusing on politicians, No NRA Money. The campaign is publishing how much money the NRA has donated to local, state, and federal elected officials in an effort to expose their ties to the group and encourage politicians to sign a pledge not to take money from the NRA.
The NRA did not respond to a request for comment.
What's next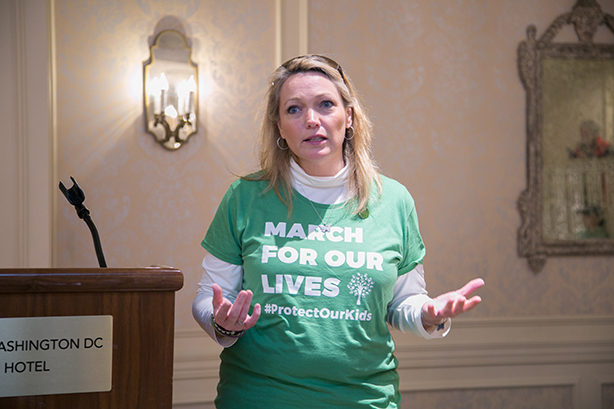 The biggest challenge around the gun debate is keeping up the momentum. With a 24-hour news cycle, major media organizations and the public's attention move on if nothing new is happening. If the public isn't being reminded of gun violence every time they turn on the TV or read news online, then it drops out of the public consciousness.
Much of the messaging is pushing ahead to the midterm elections in November, but with nine months between the Parkland shooting and those elections, the biggest challenge for the student activists is to simply keep up the energy.
"The students were incredibly clever in choosing a date for the march that was about six weeks after the massacre," Gardiner explains. "That forced the news media to keep this in the headlines for about six weeks and then for a couple of weeks after."
But even with attention waning, the students are continuing to organize school walkouts to keep the momentum going. Hockley says it's about maintaining a balance between keeping it in the public eye, but not so much that it becomes too common or "wallpaper."
Her advice was to plan a campaign for each month, and to have a goal achieved each month, to keep up the steady drumbeat the students have already started.
Wolf believes the power of social media and grassroots engagement can sustain the movement until the midterms.
"Grassroots organizing groups have got to do voter registration and get out the vote drives in every congressional district across the country," Wolf notes.
"We as citizens have to go out, drag our neighbors out to get them registered to vote, and take them to the polls with us. That's the way we keep it going. The news story of the summer could be these students dedicating their summer vacation to registering their peers to vote and making it easy for them to find their polling location."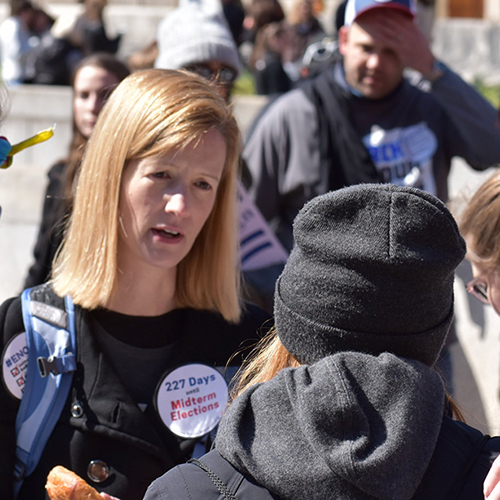 Hockley, who lost her son at Sandy Hook, and Wolf, who lost his best friend in Orlando, gave similar advice to the students about keeping up their morale and activism, even when media and politicians ignore them.
"I remember early on I spoke to one of the kids and said, 'What's your plan for March 15? Because once the media turns away and the light's not on you, it's how you sustain your voice in the silence that's going to make the biggest difference,'" Hockley recalls. "And that's the lesson I had to learn the hard way."
Wolf's advice was similar.
"I told the Parkland students, 'You're not going to win every time,'" he says. "There are going to be days that don't feel good. There are going to be days where you feel people aren't listening. This is a deeply rooted issue in American politics, so we can't get discouraged on the one day, one week, one month out of the year that we don't make progress. Be patient because change will come. It may not come tomorrow, but it's coming."