The body of the unidentified newborn was found on the morning of Wednesday 4 April in woodland in Heywood, Rochdale. But with no CCTV, no witnesses and little forensic evidence, the police force decided that local media would be the most viable means of gaining leads.
Realising the importance of press relations, detective chief inspector Lewis Hughes from GMP's major incident team worked closely with press officer Vickie Custy from day one.
The force decided it was vital to discourage sensationalistic and speculative reporting that might undermine the investigation and damage the chances of the people coming forward.
After consulting a behavioural psychologist about how to encourage the mother of the dead infant to come forward, a detective constable was selected to be the face of the appeal, adopting an open, approachable and empathetic tone of voice and providing a mobile number that the mother could call or text.
With barely any information coming in, a second appeal led by Hughes asked for anyone with information to come forward, and reiterated an offer of help to the mother. The baby was given the name of Pearl, a name chosen for its meaning of 'precious'.
"We felt it was only right to name the baby girl as it is important that she is given an identity," Hughes said. "We also felt that the name had an appropriate meaning; every child is precious and Pearl is no different."
Local media reported the story without embellishment, with Hughes describing the coverage as "balanced". "They understood the need to be sensitive to support the work we were doing," he said.
But a Sunday Times report, headlined 'Mystery death of "Baby Pearl" evokes Victorian age", clearly ignored calls for impartiality, opting instead for speculation and embellishment.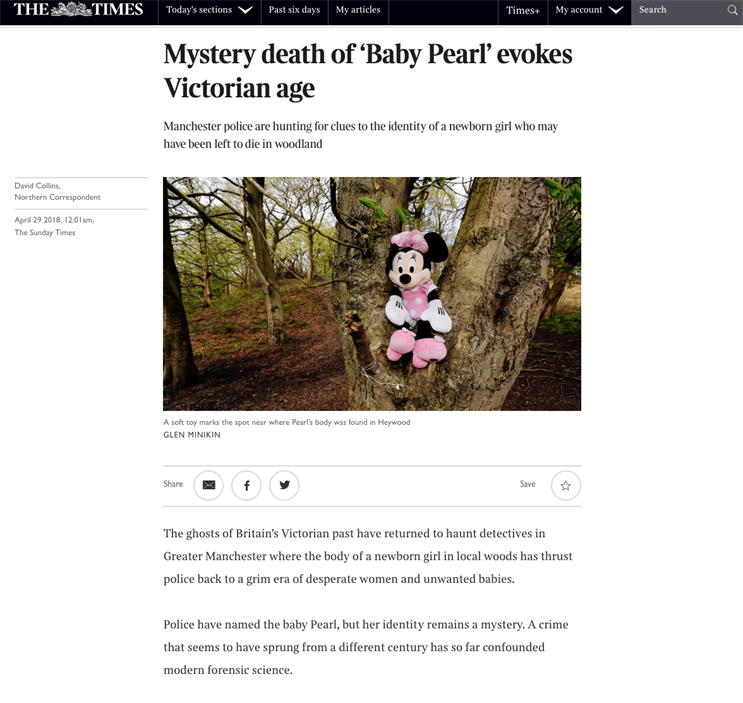 "I lost a lot of trust in the journalist and was concerned about the impact on the investigation," Hughes said. "We couldn't let this report create a barrier so we worked with the local media, which provided a balanced report. They understood the need to be sensitive to support the work we were doing."
GMP said that it was starting to "get some calls in now". "The challenge has been getting the appeals out with the right messages and to avoid sensational reporting," Hughes said. "It is a very emotional case and our local media relationships have really helped."
The force said it recognised the role that local media can play in helping solve investigations by conveying information. Its relationship with the press sees it work closely with local reporters, news editors and editors through regular meetings and a quarterly media consultation forum.
---
Click here to subscribe to the FREE public sector bulletin to receive dedicated public sector news, features and comment straight to your inbox.
Make sure you register for the site to access more than one story per month.
To submit a news, comment, case study or analysis idea for the public sector bulletin, email Ian.Griggs@haymarket.com