Naming rights (and wrongs)
Which in-house bigwig recently got in touch with PRWeek to take issue at being referred to in print as 'communications director', rather than their correct job title of 'director of communications'? Flack's lips are sealed (and eyes rolling, for that matter…).
Romancing the apple, US-style
Strongbow, the not particularly upmarket cider brand, recently talked through its plans to target global markets. Brand owner Heineken's global director of cider Sharon Walsh said: "In new markets, the risk is that it becomes seen as an alcopop," she said. "So it's really important that we talk about 'romancing the apple.' Orchards and nature play a big role in that."
Flack isn't quite sure of Walsh's romantic intentions, to be honest, but is rather tickled by a transatlantic marketing contrast highlighted on Twitter by freelancer Jasmine Scott.
Dying at the difference between Strongbow's UK and US marketing pic.twitter.com/dfvHeFf7sc

— jasmine scott (@jasminetdscott) May 9, 2018
Royal PR shoehorning takes the cake
Had enough of Harry & Meghan-themed promos? You're not alone. Flack was tickled (and a bit depressed) by these observations from freelance personal finance journalist Emma Lunn:
Bad PR hook of the day declared already: Press release on Hackney house prices, to "celebrate" it being the borough where Harry and Meghan's wedding cake is being made. Please make it stop.

— Emma Lunn (@emmalunn) May 10, 2018
More from the Hackney release: The borough has played host to some exciting events in the past - the Olympics (that was good, admittedly), and now a cake being baked (erm... not so exciting).

— Emma Lunn (@emmalunn) May 10, 2018
Diversity riddle
It can be a tricky area, diversity.
One senior agency figure told Flack this week that her company was visited by folk carrying out tests for unconscious bias. Despite concerns about some elements of the process – is it really beneficial and fair to remove people's academic qualifications? – the agency chief was in favour of prejudice being removed from recruitment.
A shame, then, that on entering the office, one of the anti-bias experts commented on how many Guardian-reading lefties were on show.
The agency source pointed out that, actually, The Guardian isn't her favourite newspaper - and isn't it unfair and inaccurate stereotyping among the things they are supposed to be combating?
Raining cats and...
To Battersea, now, and the hardy folk at PR agency Talker Tailor Trouble Maker braved a recent downpour when they took part in the "Stray Over" scheme for the famous Cats & Dogs Home.
The aim was to sleep outside for the night with just a piece of cardboard and a plastic cover to protect from the elements. "We got up to some doggy tricks and trials and had a tour of the kennels ahead of a rough night's sleep in the pouring rain – just how strays are forced to ahead of being rescued," said senior account exec Kim Allain.
Well done, guys. Flack is tempted to say something about raining cats and dogs... but frankly such an obvious pun is way beneath him (too late - sub ed).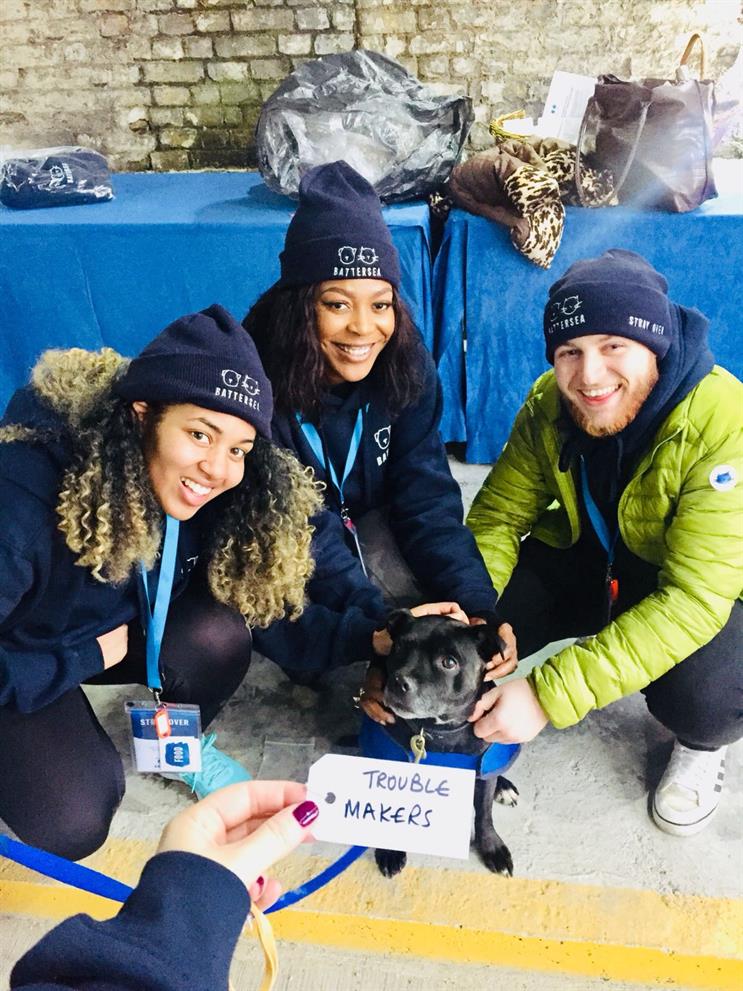 Rich Leigh shows a bit of comms muscle
Chaps of PR: don't you just hate it when your Chris Hoy-esque thighs don't fit into your suit trousers properly? Or when your biceps, worthy of Arnie in his prime, keep ripping through your shirts in a scene reminiscent of the Incredible Hulk?
Step forward Oxcloth, described as a "high-end clothing brand for muscular men… who otherwise struggle with ill-fitting clothing", a newly won client of Rich Leigh's agency Radioactive.
Is former gym instructor and personal trainer Rich Leigh one such man, Flack wonders?
"I'm not in terrible shape, and I do love the gym - even though it's currently just losing the battle with my love for good food," the big man told yours truly. "But let's just say that nobody's ever accused me of being fashionable! I rotate five t-shirts, and it hasn't gone unnoticed in the office. Here's hoping that, with a couple of months of more serious training and putting the cookies down, Oxcloth could help me look a lot less like I get dressed in the dark."
We'll drink (a protein shake) to that!
Our summer collection has arrived early! Time to hit the curls and get the girls. Available now. https://t.co/vsjTBNc9vh pic.twitter.com/FtrJhi9nox

— Oxcloth™ (@Oxcloth) April 19, 2018
A, B, C...
First Ed Balls. Then Kanye. Now, PRWeek...
D

— PRWeek UK (@prweekuknews) 10 May 2018