The contest between PRWeek's five favourite campaigns in April went viral and was eventually won by Hostelworld's Even Divas Are Believers, with a whopping 1,768 votes. The spoof film – featuring legendary songstress/diva Mariah Carey – ran online only and was produced by Lucky Generals, with Hotwire looking after PR.
Taking silver, with an impressive 658 votes, was Taylor Herring's campaign to promote Now TV's latest series of Westworld. It involved sending an ultra-realistic '55-year-old' humanoid robot into a British pub and filming punters' reactions.
See the full results below and find out more about the winning campaign: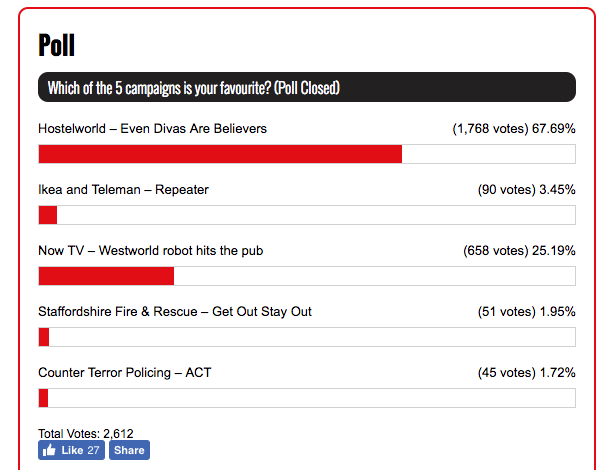 Hostelworld – Even Divas Are Believers
Hostelworld continues to prove that casting a high-profile celebrity in your campaign can earn you extra column inches. After Chris Eubank then 50 Cent, the hostel-booking website convinced chart-topper Mariah Carey to star in a three-minute film that secured coverage from Cosmopolitan to The Daily Mail.
The Hostelworld ad plays on the singer's diva reputation to show that hostels are higher quality than many people think. Carey's involvement in the fiction that her entourage had accidentally booked her into a hostel extended to tweeting a link to a blog post about it to her 21 million followers on Twitter.