Brand films are becoming an increasingly important part of the marketing toolkit as organizations attempt to reach current and potential consumers at a greater scale. Even among brands that are reluctant to jump on the bandwagon, a rising number of them are doing their reconnaissance to gauge the potential applications of the tactic.
The brand film is still a relatively young platform that few, if any, have fully mastered.
Still, some are impressively close – and many of those were honored last Thursday as PRWeek and Campaign US presented the 3rd annual Brand Film Festival in New York City. These offerings have great entertainment value, of course, but they work because they elevate their brands by telling compelling stories.
So, what's the secret sauce? The BFF Workshop that preceded the evening gala sought to answer that question through live panels and open discussion groups.
Two such gatherings were convened by The Dow Chemical Company and were led by Mike Kolleth, senior director of global corporate affairs.
Last September, Dow and DuPont merged in one of the largest transactions in corporate history. The plan is to split the company into three entities that will focus on agriculture, specialty products, and materials science – the latter being Dow's focus.
As Kolleth noted, a key company objective is to take this opportunity to rebrand Dow and shift the focus away from "chemicals" and toward "materials science."
How do brand films play into that plan? For starters, they elicit emotion, which should be the goal for any brand, whether b-to-b or b-to-c. "Your end audience, your viewers, if you will, are still people," noted one participant. "If you can move them with your film, you've helped your brand."
When asked to elaborate on how to create that emotion, the ideas flowed. One such suggestion: highlight what a good partner your business can be, which can be particularly effective in the b-to-b arena. Hyping the "cool" factor was another. In the case of a company such as Dow, there's a lot of fascinating science behind its products and solutions. "There are a lot of 'wows' to be found there," offered one participant.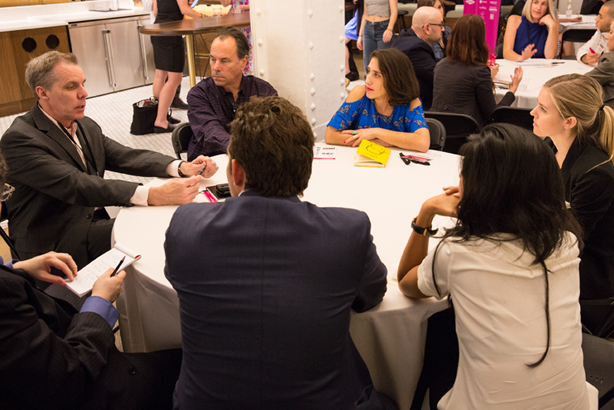 In roundtables led by Kolleth (l), participants highlighted the need to elicit emotion

Education is another key objective. A particularly effective way to inform through brand films, according to the roundtable participants, is to be frank, recognize consumers' impressions of your brand, then use the platform to turn that opinion around.
As one panelist counseled, "Create a film around the concept of 'You thought you knew us, but that's not the full story. This is who we really are.' It's respectful of the audience. And that respect leads to a receptive audience."
Tactics were a main element of discussion throughout the workshops. And much of those, as Kolleth noted, underscored that brand films – emphasis on the plural – are a process, not only in their individual creation, but in the fact that brands need to produce several to impact consumers.
In the case of Dow, for example, there are a quartet of main brand pillars: innovation, sustainability, customer centricity, and inclusion. Once shared with the group, it was suggested that an episodic series of films, each one focusing on one of the four traits, could prove very effective.
From there, the conversation turned to ROI. All agreed that it remains a particularly tough nut to crack, but valuable advice was offered.
"Your tactics and method of deployment are crucial factors that can help with ROI," counseled one participant. "The quality of the film is very important, of course, but the meticulous planning of the how, when, and where of deployment is just as vital, especially if you seek to prove bottom-line impact."
Perhaps one of the day's most interesting takeaways, highlighted during the Dow group discussions, was the evolution of the brand-filmmaker relationship. It is clear that filmmakers are increasingly being chosen for more than their creative prowess.
"More than ever, legitimate influencers can be found everywhere," opined one participant. "Certainly, more and more filmmakers qualify. They have followers, reach, and channels on which they are particularly strong. In turn, if brands choose wisely, they will find the right filmmaker can be an even greater partner for them," not only because of their creative talents, but who they can help you reach with the films they produce.
In one of the day's earlier panels, Breakwater Studios CEO Ben Proudfoot offered an insightful comparison between two key disciplines. "Marketing," he said, "is a withdrawal from your audience. Branding is a deposit with your audience." Marketing's goal is to get you to purchase a product or service. Branding's goal is to build sentiment and emotion within an audience. It's in creating this impact on the audience that brand films come into play.