The report is the result of an analysis of 250 million images published on Twitter and Instagram between 1 December 2017 and 1 April 2018.
The Adidas logo appeared on average in 154 new images every minute over the period, while last year's victor McDonald's was relegated to eighth in this year's ranking.
Other brands to be knocked out of the top 10 since last year's report was published included Amazon (which came eighth in 2017 and twelfth this year). The most pronounced fall from grace was for Sky, which in 2017 came 10th, but fell to 28th this year.
Meanwhile, in second place, Nike accrued an average of 5.1 million images per month, followed by Google (3.9 million), Emirates (2.8 million), Puma (2.7 million), Coca-Cola (2.5 million) and Starbucks (2.3 million).
Sports apparel was the highest-performing industry, generating an average of three million images per brand per month, followed by technology (one million), entertainment (0.8 million) and retail (0.4 million).
Top 10 newcomers in 2018 were Starbucks and Disney, in 7th and 9th respectively, climbing from 15th and 18th.
2017's report saw McDonald's ranked first, followed by Nike, Adidas, Coca-Cola, Emirates, Google, Apple, Amazon, Puma and Sky.
Punching above their weight
Brandwatch also collected revenue data from each company that featured in either the 2017 or 2016 reports in order to identify those brands commanding a strong social presence with smaller budgets. From this data it compiled a top 20 of brands that accrued the most images for every dollar of revenue collected.
Puma came top, achieving a 'revenue per image' of £154, followed by Under Armour, Adidas, BBC, Vans, Nike, Louis Vuitton, Starbucks, Subway and McDonald's.
Brandwatch said the BBC's strategy of watermarking all its content, even when BBC does not appear as text, contributed to its performance, while Louis Vuitton has benefited from its high-performing influencer strategy.
Sporting might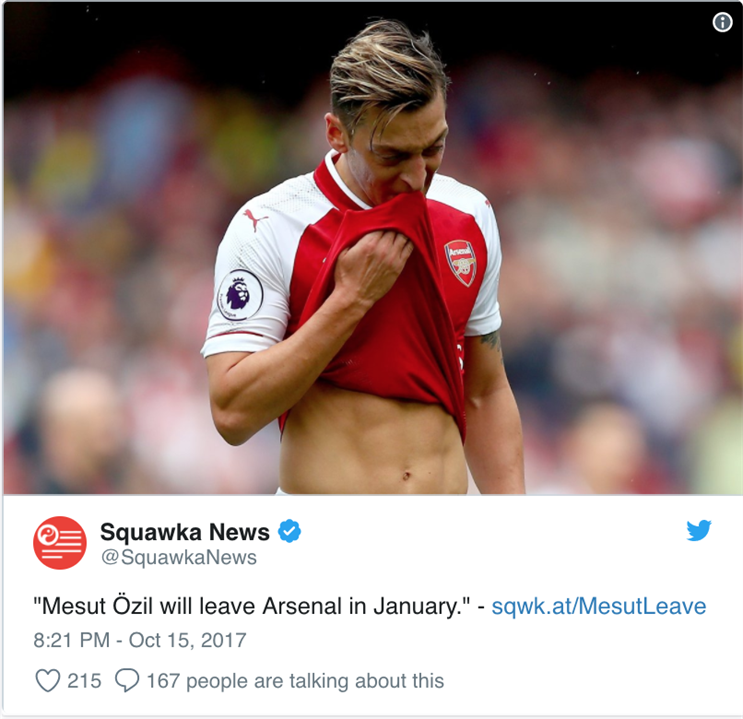 The company also used data to identify those sports brands that achieved the best ROI in football sponsorship. It did this by totalling the number of images each sponsor generated for each of its allied clubs and divided it by the amount of paid for those deals.
Puma's sponsorship of Leicester City came top, followed by the brand's sponsorship of Arsenal. Adidas came third, with its association with Manchester United, followed by Manchester City's Nike sponsorship.
Positive vs negative sentiment
Brandwatch also analysed the accompanying text in the posts carrying each image, gauging sentiment to distinguish between positive and negative posts.
Burberry gained the highest percentage of positive text mentions, followed by Swarovski, Tory Burch, Moët & Chandon and Nutella.
Faring less well, FedEx's association with the National Rifle Association led to a lot of posts containing negative sentiment.
Gender divide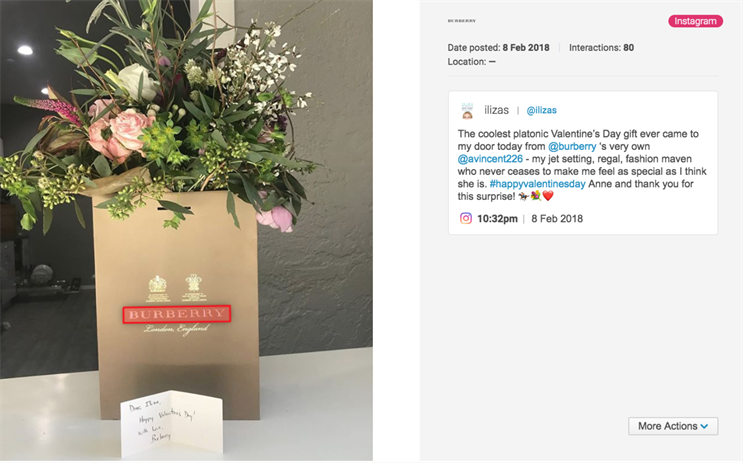 Gender responses were analysed, too, with Dell, Carlsberg and Standard Chartered generating the highest number of images from men; a factor Brandwatch attributed to their sponsorships of male-dominated sports. Meanwhile, brands including Burberry, Boots and Primark were predominantly generated by women, thanks to influencer engagement via models and YouTubers.