The new plan also contains an innovative plan which could bring strategic communicators and policy makers together for the first time across government.
The running theme throughout the new plan will support the Prime Minister's narrative for the Government, which is: "Building a country that works for everyone: a Britain fit for the future."
Campaigns in the coming financial year will support the main theme under four sub-themes: "A stronger, fairer society"; "A more caring society"; "A global Britain"; and "A strong new relationship with Europe".
Launched by the Government Communications Service at the headquarters of the recently created National Cyber Security Centre, in London's Victoria, the event was attended by comms professionals across central Government and beyond.
In the document, Alex Aiken, executive director of the GCS, sets out eight key professional challenges across central Government comms, which he revealed exclusively to PRWeek in January.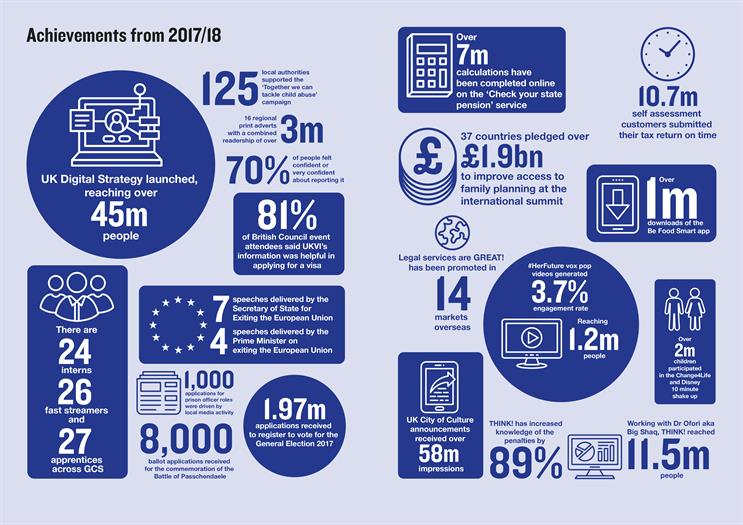 Eight comms challenges across government in 2018/19:
1. Enhance two-way communications, using active listening to build trust and to better all major Government campaigns.
2. Build a rapid-response social-media capability to deal quickly with disinformation and reclaim a fact-based public debate with a new team to lead this work in the Cabinet Office.
3. Raise standards by ending opaque digital marketing, with a focus on value, safety and transparency, creating greater accountability for the Government – this will be at the heart of the new Media Buying Contract to be implemented by the end of the year.
4. Maximise the role of Government comms in challenging declining trust in institutions through honest, relevant and responsive campaigns.
5. Demonstrate the role of communication as a valuable strategic tool that can deliver cost-effective public policy solutions; partly through a new approach to strategic communication that will be implemented from June and is part of the GCS Improvement programme.
6. Work harder to master the techniques of behavioural science and start considering audiences by personality as well as demographic – it will update its guidance in this area early in the year, publishing a new guide in Liverpool in March.
7. Create engaging content that will be shared and owned by audiences – pictures, videos and facts.
8. Transform the mass of data about audiences into actionable insight, which will be used to improve Government campaigns. It is already analysing data from campaigns to improve its content and make it relevant to its audiences.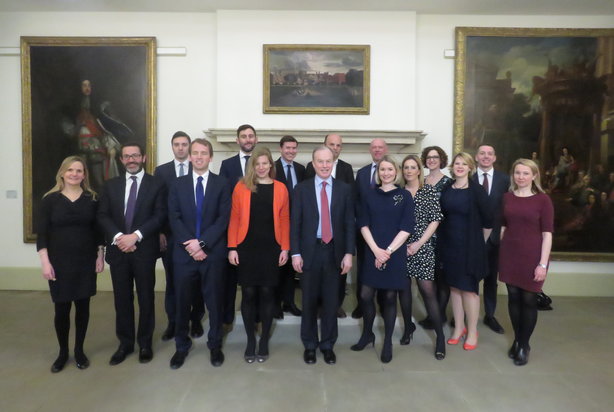 A quiet revolution across government comms?
Within the fifth challenge lie the seeds of a quiet revolution in government communications.
PRWeek understands that the intention to create a new approach to strategic comms, from the summer, will see top government communicators begin to work with policy makers across all departments for the first time.
Senior government sources told PRWeek that comms was sometimes used to provide a fix to policies once they were out in the public domain, but that being reactive or tactical was not the true value of comms.
Instead, comms professionals will work with policy makers to make sure they engage the public from the outset by providing strategic input and audience perspectives, in order to bring the outside in.
This is already happening in certain Government departments but the aim of the strategy is to implement a systemic change across all of them.
The initiative, which will be implemented from mid-June, could address a perennial bug-bear of senior comms professionals, which is that they are rarely invited to sit at the 'top table' where decisions are made but are then brought in on a more reactive basis when problems occur.
Partnerships with public, private and third sectors
The new plan also sets out how Government comms will build on its partnership work with other elements of the public sector, third-sector organisations and commercial partners to reduce costs and amplify the reach of its campaigns.
A public service joint communications council, established last summer, has brought together central and local government, health, emergency services and wider public services to support cross-public-sector comms.
Planned subjects for collaborative campaigns in 2018/19 include celebrations marking the 70th anniversary of the founding of the NHS, cyber security, public health and winter preparedness.
Additionally, the 'GCS Local' team will continue to work across the country with the NHS, local authorities and blue-light services by adapting national campaigns to be relevant to regional and local audiences.
Commenting on the new plan, Aiken said: "Over this next year, we have a lot to do and we must continue to challenge each other, ensuring every government communicator delivers exceptional campaigns.
"Each campaign must make the best use of public funds and generate return on investment."
---
Click here to subscribe to the FREE public sector bulletin to receive dedicated public sector news, features and comment straight to your inbox.
Make sure you register for the site to access more than one story per month.
To submit a news, comment, case study or analysis idea for the public sector bulletin, email Ian.Griggs@haymarket.com