The survey by RepTrak found British people are less likely to give firms the benefit of the doubt in 2018 than they were one year earlier (27 per cent, versus 40 per cent in 2017).
They are also less likely to say something positive about them (37 per cent, against 48 per cent last year), trust them to do the right thing (37 per cent versus 47 per cent) or recommend a company (38 per cent versus 47 per cent).
The last time there was a fall in trust for companies was 2008, when the financial crisis destroyed the reputation of financial services and big business in the UK, RepTrak said. The findings are based on more than 31,000 ratings collected in the first quarter of 2018 from the UK public.
The survey also found the public is increasingly 'neutral' in their perception of companies' corporate governance and citizenship practices. This year, 69 per cent of people surveyed were neutral about the former, and 74 per cent about the latter. In 2017, the proportions were 64 and 67 per cent respectively.
Products & services was named as the biggest factor to have an impact on reputation – 20.3 per cent of the public chose that reason. This was followed by governance (17.2 per cent), citizenship (15.5 per cent), innovation (12.4 per cent) and leadership (12.2 per cent).
Harry Foster, Reputation Institute director of consulting, said: "Neutrality or uncertainty around companies' governance and citizenship initiatives means that despite significant investment in this area, these programmes and initiatives are not resonating with people. In addition, the growing perception is that companies are not communicating often, or providing sufficient information about what they are doing.
"It's harder to stand out from the crowd, and harder to appear genuine about what you say and do."
Communication shortfall
This year has also seen a decline in the public's perception of how firms communicate, the survey also suggests.
There was a significant fall in the proportion of people who believe companies welcome open discussion with outside audiences about its activities (15 per cent, against 28 per cent in 2017).
The same trend occurred around the question of whether firms provide sufficient information about their activities (22 per cent, down from 35 per cent); communicate often (19 per cent, down from 31 per cent); stand out from the crowd (34 per cent, down from 46 per cent) and appear genuine about what they say and stand for (36 per cent, down from 48 per cent).
However, the firms with better reputations overall scored better in relations to these questions: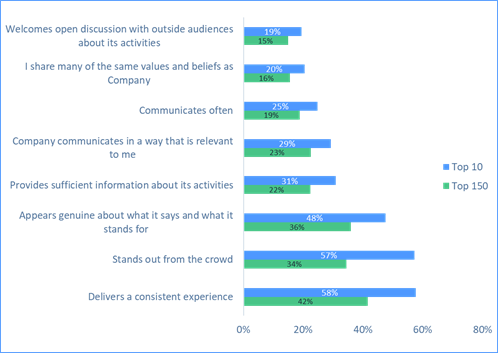 Best reputations
RepTrak has produced a list of the firms with the best reputation among the UK public, based on a score out of 100 (with 80 and over deemed "excellent"):
Rolex
LEGO Group
Bosch
Dyson
Nintendo
Rolls-Royce Aerospace
Sony
Amazon.com
Samsung Electronics
The Walt Disney Company
The following companies have seen the biggest improvement in their reputation score between 2017 and 2018:
L'Oréal (+10.9)
Merlin Entertainments Group (+9.7)
Nintendo (+8.6)
Amazon.com (+8.3)
ASDA (+8.1)
Wickes (+7.8)
Severn Trent (+7.3)
EE (+6.8)
Greggs (+6.7)
Sports Direct International (+6.7)
And the following have seen the biggest reputational decline in that time:
Delta Air Lines (-11.4)
Uber (-11.2)
Ryanair (-10.6)
LinkedIn (-10.3)
888 Holding (-10.1)
Sanofi (-8.8)
RSA Insurance (-8.7)
Whirlpool (-8.7)
Intel (-8.1)
Vodafone (-7.9)
Foster said: "It is fascinating to see companies like Merlin Entertainments Group (in the wake of the Alton Towers ride injuries), Amazon (following a data breach scandal in 2017), and Sports Direct (following the 'Victorian workhouse' scandal) be amongst this year's biggest movers.
"For those including Uber, Ryanair and betting firm 888, who were amongst those to have suffered the greatest reputational declines since 2017, following well-documented leadership and abuse-of-trust issues, it should be something of an inspiration. Where companies are prepared to make genuine change to better themselves, and communicate this effectively through the right channels, they can rebuild their reputations and rebuild consumer trust."