The winners in each category are:
Large Agency (100+ UK employees)
Gold: Instinctif Partners
Silver: FleishmanHillard Fishburn
Bronze: Lansons
Mid-Sized Agency (30-99 UK employees)
Gold: Citypress
Silver: Mischief
Bronze: Octopus
Small Agency (2-29 UK employees)
Gold: Manifest
Silver: Dynamo
Bronze: Forster
Competition for PR talent is as fierce as ever, so creating a culture that will attract – and crucially, retain – the best employees has become a vital element of running a successful agency.
It's no surprise, then, that this year saw a record number of entries to Best Places to Work, with many agencies showing strong dedication to employee welfare and innovation to create great working environments.
Our research ahead of the launch of Best Places to Work 2018 revealed a great appetite for insights and data into working practices across the industry. This year we have done just that – produced an in-depth report, available for purchase, which uses survey results collected from the 68 PR agencies of all sizes that entered the Awards, and from written answers and telephone interviews designed to get to the heart of what a winning PR agency culture looks like.
Crucially, the report lets agencies benchmark their own policies against the average across all agencies as well as those in their size categories.
Three focuses
We have used the data to collate insights into current trends in Culture, Reward and Organisational Health – three key constituents of a good place to work. For our research measurements, we've defined 'culture' as how well an agency supports its staff, leaders and clients, and how it responds to feedback about them. We've also looked at what makes a good company culture in the eyes of the participating agencies themselves.
'Reward' explores not just the monetary aspects of agency work, but also the financial and wellbeing benefits on offer, as well as how agencies decide what benefits to offer their staff. In the section on 'organisational health', we've looked at how well agencies address diversity and inclusion, what they do to look after their staff, and the ways in which they are finding and developing the PR talent of the future.
Every business will have its own balance between culture, reward and organisational health. That will be based on business needs, as well as criteria such as location (and the associated competition for talented staff that might create), agency specialisms and ownership structure.
However, there are many underlying factors that are every bit as relevant to a small, specialist agency outside London as they are to a large, multinational business in the capital. We've looked into those similarities and differences.
It really is a must-read guide for any agency that wants to be ahead of the curve as an enlightened employer. To purchase a copy of the report, please email richard.rowe@haymarket.com or call 020 8267 4697.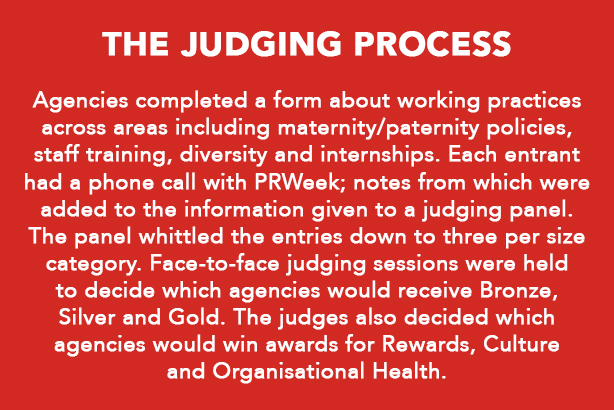 In addition to the usual Bronze, Silver and Gold awards in the three agency size categories, this year the judging panel has awarded three extra accolades – for Culture, Reward and Organisational Health, taken from the nine finalists.
Congratulations to all our winners and thanks to the Best Places to Work judges: Louisa Baczor, research associate at CIPD; Claire Foster, deputy head of news at Direct Line and vice-president of Women in PR; and Trevor Morris, industry consultant and PRWeek's 'Agony Uncle'.