The comms drive, which launched on 5 March, stresses the dangers of trying to tackle a fire yourself, remaining inside to gather belongings or pets, or going back into a burning building. Instead, people are reminded that they should leave their property as soon as possible and wait for fire crews to arrive on the scene.
One of the campaign's sobering messages is that it only takes two or three lungfuls in a smoke-filled room for a person to be overcome and suffer carbon monoxide poisoning.
The campaign has been built on research that found while 59 per cent of residents who suffered a house fire in Staffordshire evacuated their homes in an emergency, a significant 41 per cent said they did not leave immediately. Of those asked, 52 per cent said they had tried to tackle the fire themselves.
The campaign features video and case studies to drive the risks home, and while it is mainly focused on an elderly audience, it has been designed to reach a broader demographic too.
Two days following the campaign press launch, Staffordshire Fire and Rescue released a video featuring a song set to the tune of the 'Oompa Loompa Song' from Willy Wonka & the Chocolate Factory. Produced in-house, it features fire service staff from across Staffordshire in various roles, from someone playing a man who sets his kitchen on fire, to crew members miming. The song's lyrics were written by staff, while it was produced and performed by group manager Toby Wilson.
"Get out, stay out, doo-bee-doo-doo. I've got a safety message for you," go the song's lyrics, while on-screen a man prepares a fry-up that ends up catching fire. "If you are wise you will listen to me," continue the lyrics... "What do you get when you go back inside'? Poisoning from carbon monoxide?"
The video and other campaign activity has been disseminated via the service's social media channels, including YouTube, Twitter, Facebook and Instagram.
Three weeks after launch, Staffordshire Fire and Rescue released some hard-hitting hallway CCTV footage (which can be viewed here) of a Staffordshire woman's last moments as she walks back into her smoke-consumed flat. Fire crew, who arrived a short time later, are seen carrying her lifeless body out of the building. The family of the woman agreed that the footage should be released to highlight the dangers of not getting out and staying out.
Another video, which went live earlier this month, features the story of Michael, who suffered serious burns when he attempted to extinguish a chip pan fire.
All comms activity directs people to a campaign website that contains the various creative elements, additional safety videos and advice on smoke alarms and escape plans.
The earned coverage and social activity has been backed by paid-for advertising on the backs of buses, at bus shelters and on Facebook and Instagram.
The media reaction so far has been strong, with local press conveying the campaign's core message and featuring case studies of real stories that humanise the campaign, including that of an elderly lady who tried to tackle a hob fire but who thankfully escaped uninjured.
While the campaign had been planned to officially run until 6 April, Staffordshire Fire and Rescue said that case studies are still being published in the local media, reinforcing the messaging. The 'Get out, stay out' campaign and message will continue to be referred to in future safety messages, the service said.
Measurement will include assessing media coverage and sentiment, visits to the campaign website and social traffic, while Staffordshire Fire and Rescue plans to run a Twitter poll to gauge awareness of the messaging, comparing the results to a similar poll held at campaign launch that asked what people would most likely try to retrieve from a house fire (see below).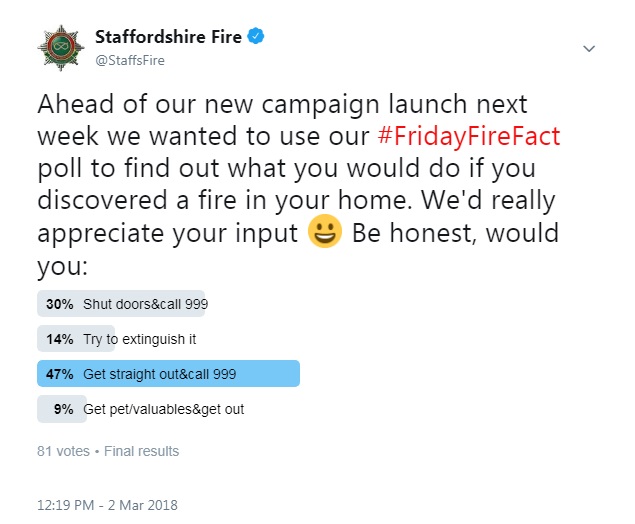 Heather Challinor, Staffordshire Fire and Rescue's head of marketing and comms, said: "The 'Get Out, stay out' campaign was something we really wanted to get across in a creative way; we needed to catch people's attention by being different and getting them involved in a story.
"One idea we came up with was to put our message to the catchy 'Oompa Loompa' tune and we were thrilled with the track our talented group manager recorded for us (he is also a session artist).
"The ultimate aim of the campaign is to reduce the number of people who don't get straight out when a fire starts and stop people risking their lives by going back in to retrieve belongings.
"Rather than preach we really wanted to show what can happen if you make the wrong choice by telling real life stories of regret and death."

It is another example of a fire service using music and lyrics to convey a serious safety message. South Yorkshire Fire and Rescue created an award winning campaign last year with its "ohhhoo, me chip pan's on fire" song.
---
Click here to subscribe to the FREE public sector bulletin to receive dedicated public sector news, features and comment straight to your inbox.
Make sure you register for the site to access more than one story per month.
To submit a news, comment, case study or analysis idea for the public sector bulletin, email Ian.Griggs@haymarket.com