The product of a first-of-its-kind collaboration between the Scottish Government, Scottish Development International, VisitScotland and Universities Scotland, the campaign launches this month in the UK, across North America and in China.
An inter-organisation comms team comprising representatives from each of the bodies has been set up to handle both proactive and reactive PR, with its members dealing with issues pertinent to their remits. Thus for example a ministerial announcement would be dealt with by Scottish Government PR, or a travel media matter by VisitScotland.
The aim of the campaign is to build brand awareness, recall and engagement with 'Scotland is now' across multiple markets, ultimately growing the number of high-spending visitors, foreign direct investors and students to Scotland.
Activity will promote Scotland under the 'Scotland is now' brand banner, highlighting Scotland as a welcoming, diverse and open country. It will also seek to promote less well-known elements of its identity: as a pioneering, dynamic and progressive nation that is ripe for leading global challenges.
Spanning paid-for digital and traditional media activity including cinema and press, social and PR, at the campaign's heart is a 60-second film, accompanied by a series of films focusing on real-life people who have lived, worked, studied, visited and invested in Scotland.
Economy secretary Keith Brown was in New York last week to give audiences a 'sneak peak' of the campaign during Scotland Week. First Minister Nicola Sturgeon is launching the campaign in China, while culture, tourism and external affairs secretary Fiona Hyslop fronted an event in London on Friday (13 April).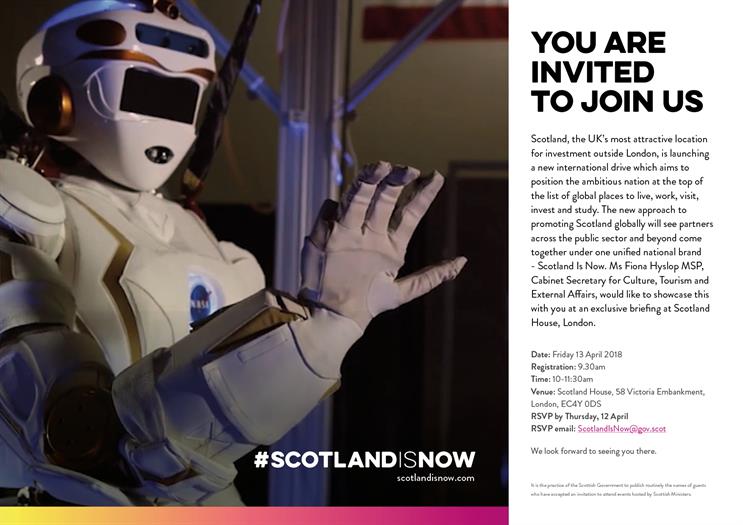 A number of high profile brand leaders have been brought onboard to advocate the campaign and embody its messages, including Gerry O'Donnell, corporate affairs director at Edrington (which operates whisky brands including Macallan). He said that the campaign "presents a confident narrative that connects well with scotch whisky's authenticity and growth potential".
"It's a story that all exporters can get behind," he added.
Educational bodies including the University of Strathclyde and the Scottish Tourism Alliance are backing the comms work.
Traffic is being driven to a dedicated campaign website that features visuals from the campaign, the campaign film itself, case studies and a downloadable augmented reality app that allows users to 'experience' modern Scotland.
A campaign toolkit has been produced that can be used to access images, videos, a content calendar, presentations, case studies and infographics.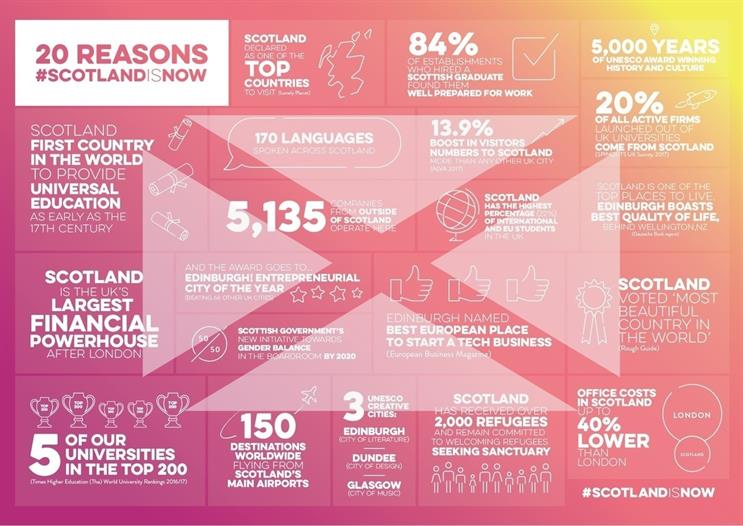 The one-minute film is accessible on a 'Scotland is now'-branded YouTube channel. It opens with a series of evocative shots of Scotland's landscape. The voiceover says: "'Now' is a place where hope calls home. 'Now' is compassion and freedom to roam. 'Now' builds bridges, 'now' breaks down walls." Vignettes include Andy Murray triumphing at Wimbledon ("'Now' gives its all") and the film ends by displaying the #scotlandisnow hashtag and campaign web address against a backdrop of Edinburgh.
John Booth, Scottish Government's head of comms, told PRWeek: "'Scotland is Now' represents a major shift in the way we market Scotland's many strengths to the rest of the world. For the first time, public bodies are working together to ensure that everyone around the globe knows that now is the time to live, work, study, invest and visit here.
"It's a game-changer for public sector communications in Scotland, but more importantly it will drive both short-term and long-term economic growth."
Sturgeon added: "The message at the heart of 'Scotland is now' is of a bold and positive country offering the warmest of welcomes, rich in history and heritage and with a progressive, pioneering and inclusive approach to our future."

The campaign follows a meeting last month between 50 Scottish public sector comms chiefs in which they promised to collaborate with each other on campaigns more in the future.
---
Click here to subscribe to the FREE public sector bulletin to receive dedicated public sector news, features and comment straight to your inbox.
Make sure you register for the site to access more than one story per month.
To submit a news, comment, case study or analysis idea for the public sector bulletin, email Ian.Griggs@haymarket.com