Birmingham City Council has adopted the slogan 'Your Birmingham. Your vote' for a campaign designed to encourage people to register to vote, to check their polling station and on election day to turn up and make their voices heard.
Birmingham has not held all-out local elections since 2004. This factor, coupled with a reduction in the number of elected members from 120 to 101 across 69 new wards, means that the electorate needs to be made aware of changes. Birmingham City Council therefore opted for a more emphatic comms strategy than those of previous years.
The push comes in the wake of the Electoral Commission's central campaign to encourage voter registration, using the slogan 'Got 5?'.
Birmingham had a 704,415 electorate at the time of its last local elections (2016) and achieved a 31.87 per cent turnout. Its target this year is to at least maintain that percentage, with comms designed to reach all voters, from the young to the old from all backgrounds.
Given that every new seat is being contested, the level of scrutiny is higher than usual this year, requiring a carefully thought out comms strategy.
The council's comms team has been working in close collaboration with the council's elections office, using detailed information about voting patterns in order to shape activity, while teams including customer service have also been involved in the campaign.
Using digital and traditional channels, Birmingham City Council has created an array of campaign material in-house.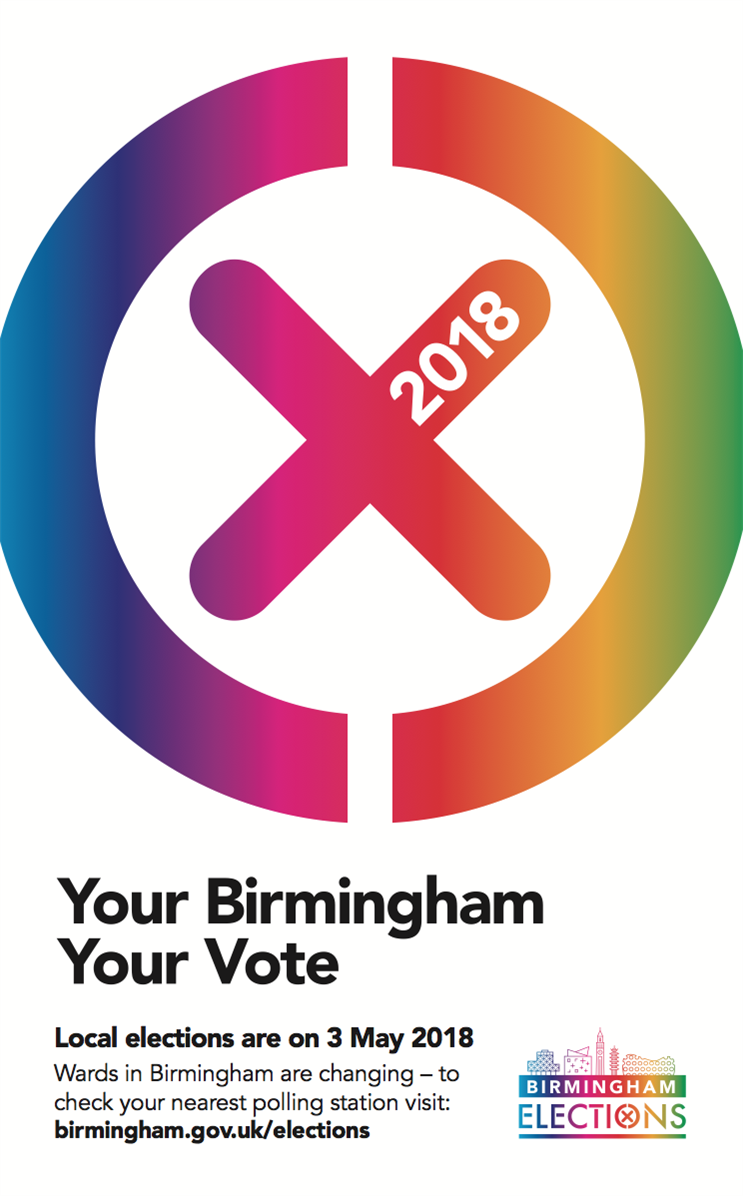 In order to reach the younger electorate, it is working alongside Beatfreeks, a collective of individuals and businesses whose raison d'être is 'using creativity for good'. Groups of young people were brought together to devise a number of campaign themes and materials. The theme #YourPenYourPower won the popular vote and is being deployed to target the youth vote. It is a line conceived to encapsulate the ease with which anyone wielding a pen can exercise their power to make a difference, from signing a contract to writing poetry, penning a letter saying 'sorry', or ticking a box on a ballot paper.
The comms team is also using some of the council's apprentices to appear in short videos that can be disseminated via social media.
Meanwhile, traditional media are being used to reach those people less likely to go online, mostly older voters. Posters and leaflets have been created to be posted and distributed to libraries, GP surgeries and care centres; ads are appearing on the backs of buses in the city until election day; and Birmingham City Council has tied up with the Birmingham Mail to run a print and online campaign.
The comms team has also identified another opportunity to reinforce its messaging — the 100th anniversary of women (over 30) first getting the vote in the UK. It will link to activity around this celebration throughout its comms to boost engagement and participation.
"This is about being proactive rather than passively assuming people are aware of elections," said Sarah Kirby, Birmingham City Council's press and PR manager.
"For every engaged and aware adult or young person there are those who do not participate in local democracy, for a variety of reasons. Often it is because they simply do not know elections are happening, or that it is not something they think matters to their day-to-day lives.
"The 'Your Birmingham. Your vote' strapline is about showing that voting is not about a process but it can have a direct effect on the place you live."
Electoral Commission 'cheers to voting'
Separately, the Electoral Commission has been amplifying its 'Got 5?' campaign message in pubs and bars across the UK, using beer mats to remind people that they must register to vote by 17 April or fail to have their say in local elections.
---
Click here to subscribe to the FREE public sector bulletin to receive dedicated public sector news, features and comment straight to your inbox.
Make sure you register for the site to access more than one story per month.
To submit a news, comment, case study or analysis idea for the public sector bulletin, email Ian.Griggs@haymarket.com