Another exciting battle between PRWeek's five favourite campaigns in March was won by Malaria Must Die, So Millions Can Live, which took nearly half the total votes. The film – humourously tracing malaria's history – harnessed the twin talents of animation studio Aardman and actor Hugh Laurie, and called on the 53 Commonwealth states to unite against the disease.
In second place, with 270 votes, was The Electoral Commission's 'Got 5?' campaign targeting people who have not yet registered to vote with a comms drive designed to "demystify" the process and get them to meet the 17 April deadline.
See the full results below and find out more about the winning campaign: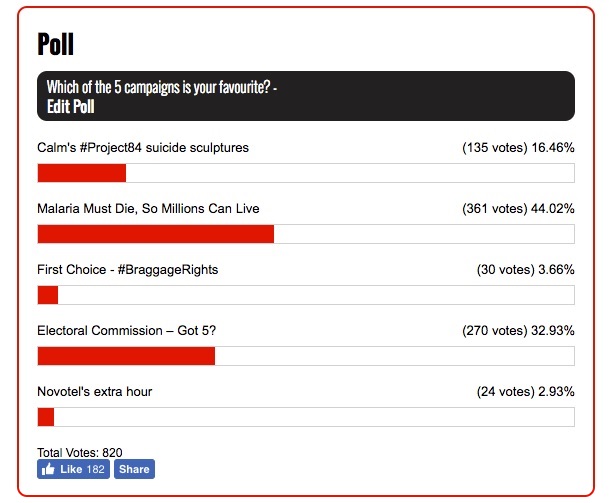 Malaria Must Die, So Millions Can Live
Animation studio Aardman and actor Hugh Laurie respectively created and narrated a film on Malaria's history.
The campaign, convened by charity Malaria No More UK, was shown during a Commonwealth Day reception at the Houses of Parliament and called for leaders of the 53 Commonwealth states, which are disproportionately affected by the disease, to make new commitments to combat its spread.
Danny Capozzi, animation director at Aardman, said: "Being a film about the history of Malaria, we wanted it to have a vintage 8mm projector feel but with a unique graphic style that would capture the audience's attention."