The ongoing communications drive seeks to raise awareness of the risk of flooding and boost the number of people, particularly younger consumers, signing up to the organisation's flood warnings.
Part of an annual drive by the Environment Agency to raise awareness of flood risk, the work is built on research that found that, even though flooding poses the biggest natural disaster threat to England, public awareness is falling. In 2016, 38 per cent of people believed that they were at risk, down from 45 per cent in 2015.
Previous messaging centred on persuading people to download and prepare a flood plan, but the Environment Agency's research found that many found it hard to envisage flooding affecting them and were therefore reluctant to download the document.
Targeting a core audience of 18- to 34-year-olds and a secondary audience of the general population, the latest activity has been designed to convey three core messages: that people should check their flood risk on a dedicated campaign website that if they are at risk they should sign up to receive flood warnings; and that once signed up, they should know what the warnings mean and how they can act in case of a flood.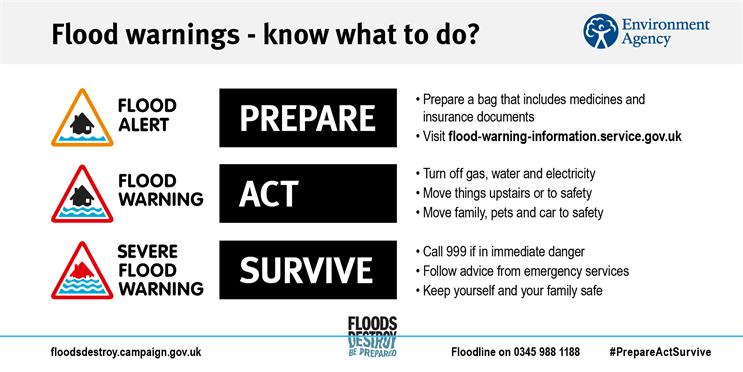 Social-media advertising has been used to target the younger demographic, while earned media and no-cost social channels targeted the broader population.
The first phase of the campaign ran between 27 and 31 October using a Halloween theme across paid-for social (including £40,000 spent on targeted Facebook ads) and targeting 18- to 24-year-olds living in areas at risk of flooding. The organisation's 36,000-plus Facebook followers and 500,000-plus Twitter followers were reached via the agency's own channels.
More than 800 partners and supporters with a combined reach of 4.6m people also disseminated the messaging, while a Facebook Live and Instagram livestream event, hosted by The National Student magazine and Birmingham University, also gained traction.
Phase two, which ran from 15 to 19 February, used traditional and social media to ensure messages reached primary and secondary audiences. The message was similar to that of the first phase, but adopted a more traditional tone of voice in accordance with the audience.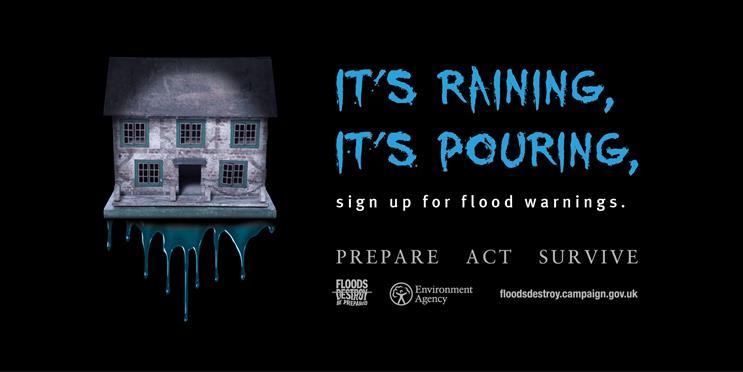 On the media relations front, the Environment Agency's comms team has issued two news releases, one warning of the growing risk of flooding from climate change and the other, issued in conjunction with the AA, warning of the dangers of driving through flood water.
Internal communications also played a leading role in the campaign, with social newsletters, email and intranet comms used to reach 14,000 staff at the Environment Agency and Defra.
The Environment Agency's evaluation is ongoing. To date it has shown that more than 32,000 people have visited the campaign site, more than 19,000 of whom went on to check their flood risk, while 16,000 have viewed the 'Prepare. Act. Survive' flood plan.
The comms team generated 155 pieces of print coverage and 105 pieces of broadcast coverage. The sponsored ads outperformed industry standard click-through and cost-per-click rates, while the Facebook Live event was viewed more than 2,200 times.
Mark Funnell, head of communications at the Environment Agency, said: "The Flood Action Campaign is vitally important. It helps the Environment Agency inform people at risk about the simple actions they can take when it floods."
He added: "We know that the threat of flooding is real and increasing. Bringing that to the public's attention and encouraging people to check their flood risk is the first step to protecting themselves, their loved ones and their possessions."


---
Click here to subscribe to the FREE public sector bulletin to receive dedicated public sector news, features and comment straight to your inbox.
Make sure you register for the site to access more than one story per month.
To submit a news, comment, case study or analysis idea for the public sector bulletin, email Ian.Griggs@haymarket.com