PRWeek examined pay gap data collated and published by the Government Equalities Office for five types of public sector organisation – government departments, councils/local authorities, police, fire and rescue and health bodies.
Public sector organisations have until 1 April to submit their pay data. At the time of writing, more than 800 had submitted information.
Out of the five groups, women were best served at East Sussex Fire and Rescue Service, where they were paid a mean 17.7 per cent more per hour than men.
However, at the bottom end of the combined scale, women were paid a mean 41 per cent less per hour than male staff at North East London NHS Foundation Trust.

Government regulations, which require companies with more than 250 staff to begin reporting their gender pay gap, came into force last April.
The regulations affect 9,000 employers in the private, public and voluntary sectors – with some 15 million workers across the UK – who are required to publish their figures by next week.
Councils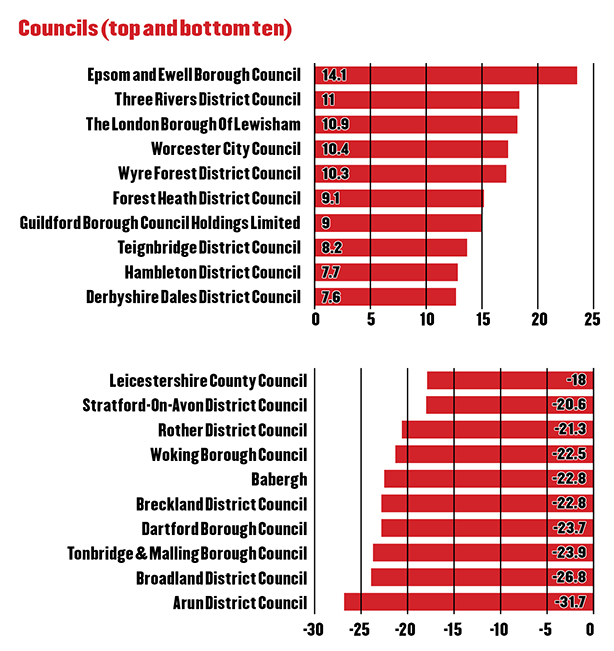 So far, councils have proved the most egalitarian employers: in fact, 39 of the 205 that PRWeek ranked paid a higher mean hourly rate to their female staff than male staff. Epsom and Ewell Borough Council came top, paying 14.1 per cent more, followed by Three Rivers District Council (11 per cent) and The London Borough of Lewisham (10.9 per cent).
At the bottom of the scale, Arun District Council paid women 31.7 per cent less, followed by Broadland District Council (-26.8 per cent).
In November, a PRWeek analysis revealed that local authorities were leading the way for early reporting of their gender pay gaps.
Government departments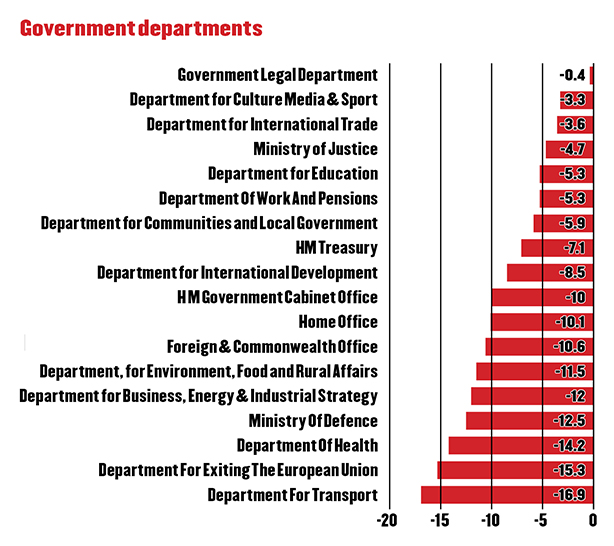 Of the 20 government departments that had submitted figures at the time of writing, the Department for Transport had the biggest gender pay gap (women were paid 16.9 per cent less an hour) followed by the Department for Exiting the European Union (-15.3) and Department of Health (-14.2 per cent).
The smallest gender pay gap was at the Government Legal Department, which had a differential of -0.4 per cent.
Police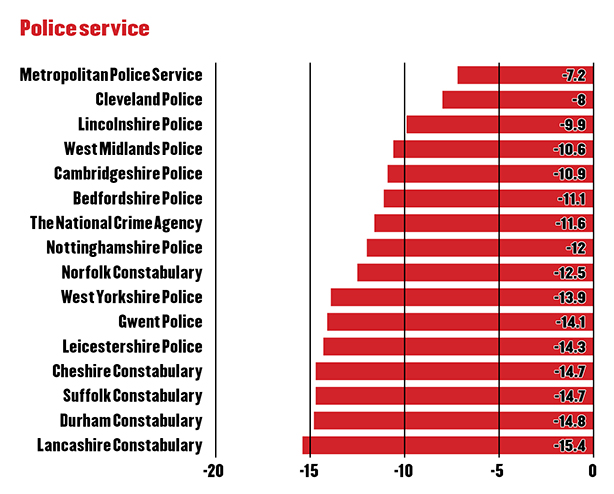 The UK's police forces consistently paid women less than men. The best performer among this group was London's Metropolitan Police Service, which paid women a 7.2 per cent lower mean wage per hour. Of the 16 forces that had submitted figures, the biggest gender pay gap (-15.4 per cent) was at the Lancashire Constabulary.
Fire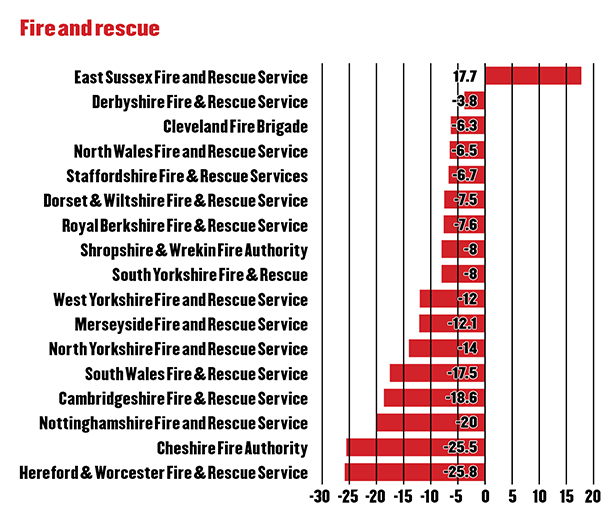 Aside from East Sussex's aforementioned fire service recording the highest pay differential in favour of women, the other 17 organisations we ranked in this group fared less well. In second place, Derbyshire Fire & Rescue Service paid women 3.8 per cent less, while ranking last, Hereford & Worcester Fire & Rescue paid 25.8 per cent less.
Health organisations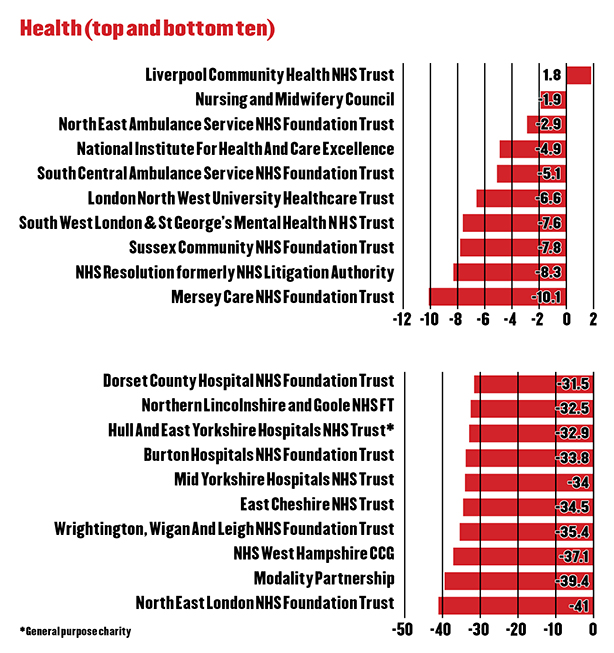 Health organisations – the vast majority of which are NHS trusts – reported the most pronounced pay discrepancies of all the categories PRWeek examined. The 15 health organisations with the highest pay gaps all paid women at least 30 per cent less than men per hour.
The Liverpool Women's NHS Foundation Trust reported a 31 per cent wage gap for its female employees.
Of the 83 health organisations we looked at, just one recorded a higher rate of pay for women than men – Liverpool Community Health NHS Trust, which paid women 1.8 per cent more an hour.
Beyond the main five
Outside these five categories, regulators the Civil Aviation Authority and Office for Nuclear Regulation demonstrated sizeable pay gaps, reporting a 34 per cent and 32.9 per cent lower rate for women respectively.
Unsurprisingly, perhaps, The Commission for Equality and Human Rights' figures reflected a less male-centric pay structure, with women paid 7.5 per cent more than men.
In the media, Channel 4 pays women 28.6 per cent less an hour than its men, while the BBC – which has faced criticism since it was forced to reveal the disparity in pay for female talent last summer – pays its women 10.7 per cent less than its male staff.


---
Click here to subscribe to the FREE public sector bulletin to receive dedicated public sector news, features and comment straight to your inbox.
Make sure you register for the site to access more than one story per month.
To submit a news, comment, case study or analysis idea for the public sector bulletin, email Ian.Griggs@haymarket.com