Financial and gender equality are two sides of the same coin. That's the thinking behind Ellevest, an automated investment platform created by and for women.
Unlike similar services, Ellevest debunks the myth of "gender neutral" investing. The majority of investment advisers are men with an average age of 50 and older, rooting the industry in men's larger salaries and shorter longevity.
Ellevest's CMO Lisa Stone says, "45% of women don't realize there is an investing gap, as well as a money gap — it costs them hundreds of thousands of dollars every year. The tools exist to change this."
Stone joined the fintech startup in August 2017 after 10 years as cofounder and CEO of BlogHer, a content platform for women and an ongoing annual conference.
After selling the company for an estimated $30 million to $40 million to SheKnows Media in 2014, the Harvard grad embarked on her next mission: "Helping women flex their financial muscles."
With a background creating female-centered content for women.com and The New York Times, as well as reporting on business and transportation, it's no wonder Stone finds herself at the intersection of gender equality and tech.
"I became addicted to data — and patterns in data — that helped explode or explore trends I saw there," she explains. "I've always had my numbers at the ready. And when numbers tell a story, you can start cooking with gas."
But first, Ellevest needs some ingredients. It asks for your age, gender (men are welcome), education, and salary, as well as your short and long-term financial goals such as retirement or buying a house. The robo-adviser then works its magic, suggesting a personalized investment portfolio for reaching those milestones.
This past September, Ellevest raised more than $34 million in funding. Early backers included Venus Williams and MasterCard CEO Ajay Banga. The company has also seen an increase in revenue growth since Stone's appointment. Although she is mum about the numbers, she says there has been "double-digit growth in subscribers and assets under management."
Stone's affinity for data is evident in Ellevest's 2018 money census. In November, to learn more about clients and the impact of the 2016 election on how people think about money, Ellevest polled 2,000 Americans aged 22 to 65, including 231 women of color and 200 LGBTQ, with incomes of $50,000 or greater.
Stone calls the results both "an exciting truth" and "a disturbing reality." Although 83% of women are aware of the gender wage gap, only 47% know how to reach their financial goals.
"We don't want to be packed into an apartment with our six best friends living on food stamps at age 65," Stone cautions.
To prevent that scenario, Ellevest's three investment services — digital, premium, and private wealth management — are designed to be accessible to women of all incomes. The digital service has no minimum balance.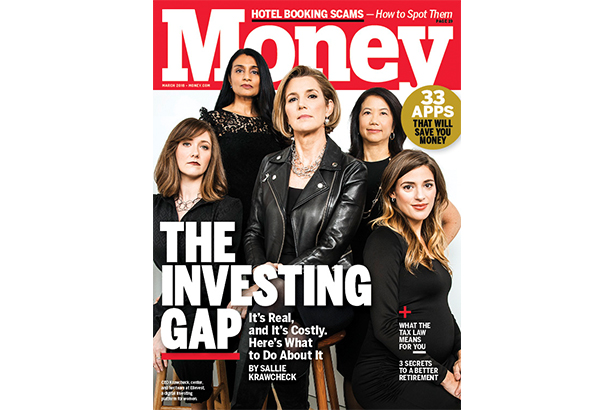 Paychecks and politics
As a privately held company and a fiduciary, Ellevest must be careful with the content it puts out. The brand "doesn't indulge in a ton of social conversations" outside its own accounts, though it does have a growing affiliate partnership network of "about 50 different sites" such as The Budgetnista, Career Contessa, Style Salute, and financial review site Nerd Wallet.
"Direct-to-consumer is our forte," Stone explains.
Ellevest has three ongoing social video initiatives. Ask Sallie, a Q&A with CEO Sallie Krawcheck, "is a huge draw. We're seeing a real ROI, because we find that our partnerships ranging from LinkedIn to Facebook respond well to that," Stone says.
Women in Power includes "four episodes of conversations about the challenge of fundraising as a woman entrepreneur."
Most recently, Ellevest partnered with Yahoo Finance and Makers for a web series. Six episodes have aired since February. The series features former Bank of America global wealth and investment management president Krawcheck "interviewing women who are experts in different areas," such as Sally Thornton, who is on the board for Stanford University's Clayman Institute for Gender Research.
If you live in New York City or San Francisco, a glance outside your office window may reveal a large billboard with the Ellevest logo and a message of solidarity to the women of either city — "We don't just believe you," it reads. "We believe in you."
"This was an attempt to send a 'thank you' note and provide a warm virtual hug to the brave women who [came forward]," Stone explains. "The [#MeToo] stories we were closest to came from friends and colleagues in NYC and San Francisco," including Krawcheck.
Images of the billboards have generated more than 5,200 likes and retweets across Twitter, Facebook, Instagram, and LinkedIn. The billboards intentionally "have zero call to action and barely say our name," though Stone did get emails and texts about them. "Figuring out how to support a community is a delicate thing," she says. "We chose not to include a hashtag or call to action. It's almost like a private communication."
But Ellevest is far from private about politics. The brand posts on social with #ellevestmoneymoves, asking women to reach out to the Center for American Women and Politics to "find out how their state compares to the other 49 when it comes to women holding office" and urging them to call or write to their senators to bring the Paycheck Fairness Act "back to the Senate floor in 2018."
For Stone, the latter is of personal importance. "As someone who interviewed President Barack Obama about the Paycheck Fairness Act and came up as a mother in a world where paid family leave was not available at the income levels where it needs to be, I am personally committed to the initiative."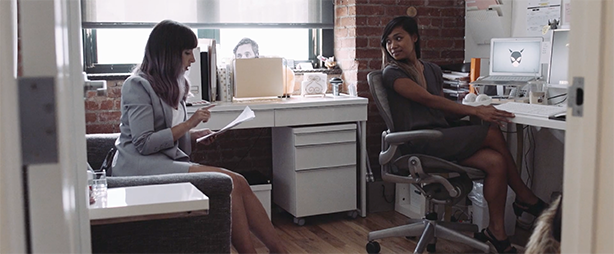 Previously, the brand partnered with Shrill Society and nonpartisan organization She Should Run to design the "Woman in Power" T-shirt that came out around election day 2017, with $10 from every shirt supporting efforts "to get more women into public office."
The times since Stone's first foray at BlogHer have changed, but the issue of gender equality is more pertinent than ever.
"In the '90s, the idea that women were writing code and that we would embrace using it was dismissed and greeted with laughter," she recalls. "In the age of #MeToo and #TimesUp, money is the new code women need to learn and embrace to fight to feel secure and independent."