At Combs Enterprises, excess is not a sin. During the documentary Can't Stop Won't Stop: A Bad Boy Story, Sean "Diddy" Combs, CEO and rap mogul, rails against the stage rigging for the inaugural show of the 2016 Bad Boy Reunion Tour because he felt it lacked "God light."
At the time, such a request came as no surprise. Bouts of controversy and egomania had often intersected with Combs' moments of glory.
And behind every crisis and milestone of the past 20 years, there was a woman who could take his irascible bravado and amplify it: Nathalie Moar, EVP of communications at Combs Enterprises.
"Why would you want to manage expectations?" Moar says of Combs' hyperbole. "You want to ask for the world."
Combs Enterprises is home to the rap mogul's storied music label, Bad Boy Entertainment. But it's also launched and acquired other brands as varied as the MCs it's signed, ranging from spirits (Cîroc Ultra Premium) to education (Capital Prep Harlem).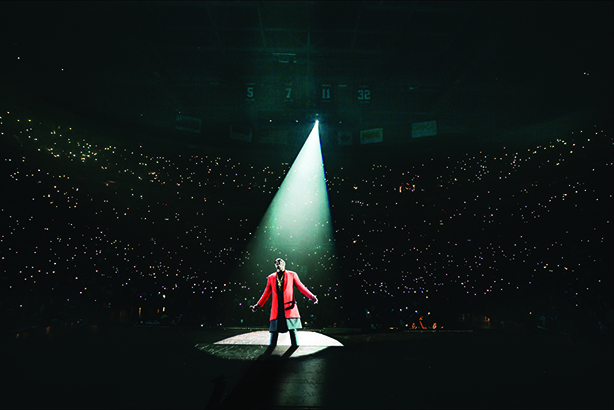 At the company, Moar plays a role in building culture, encapsulated by its mission statement that she wrote: Be great. The goal, she says, is to celebrate excellence and help the world see a new side of Combs. Moar is helping the entertainment mogul leave his problems in the past with a softened public persona that emphasizes his charitable work and musical legacy.
"Some people do extraordinary things," she says. "Other people get credit for doing extraordinary things. The difference is who has better PR."
For Moar, that entails everything public-facing Combs Enterprises and its CEO undertake.
Since Combs joined DKC in 1998, she's wrangled his crises, helped launch his most iconic products, and supported his numerous name changes. He has gone by Puffy, Puff, Puff Daddy, Diddy, P. Diddy, and most dubiously, Swag for a week. More recently, Combs teased the possibility of adopting the moniker Brother Love.
"It does break up the searchability, so it's not something I choose," Moar says, grinning. "Most recently, he was feeling the love. I gave him suggestions [for strategy] if he was being serious, but he laughed that I thought he was."
'Australia's Greatest Export'
Before her career in PR, Moar was an Australian native with dreams of working in high-end photography alongside the likes of Annie Leibovitz and Helmut Newton. "Unfortunately, I did not fall into it very easily," she admits, laughing.
Like Combs, Moar also wanted to change how others saw her. Realizing she occupied a unique juncture as the "liaison between marketing and PR," she dove into comms with a dose of her own bravado: She wrote a press release about herself.
"It said, 'Give me Moar Moar Moar,'" she recalls. "'Nathalie Moar — Australia's Greatest Export!'"
Eventually, Moar found herself working at DKC, where Combs was signed as a client. Less than two years later, the rapper was facing a lawsuit for his involvement in a shooting at Club New York. The incident is notorious in hip-hop history for sending Bad Boy artist Shyne to prison for more than eight years, while Diddy was acquitted. At the time, Moar was an account executive.
She declines to discuss the Club New York shooting, but says Diddy was satisfied with the results and retained the agency on an ongoing basis, with Moar handling publicity at the direction of founder Dan Klores.
For a while, Moar says she had trouble finding her way at DKC. During brainstorming sessions, she would pray no one would call on her.
"I thought, 'When will be that moment I know what an idea is?'" she recalls. "It's that moment when you think, 'OK, I know what I'm doing.'"
Moar found her footing. During her eight-year run at DKC, she accumulated clients that ranged from Britney Spears to Target and Starwood Hotels & Resorts to China Grill Management. One of her most important briefs was Estée Lauder, which later hired her in 2003 as SVP of comms for the launch of Combs' fragrance and the Mac AIDS Fund. Moar helped raise $120 million for the charity.
When Estée Lauder and Combs Enterprises launched Unforgivable in 2006, Moar says she had to be strategic in how they promoted the fragrance. During the European launch in Saint-Tropez, Combs and his team staged an ad campaign for next season's fragrance, I Am King, while re-christening a boat full of celebrities.
Moar recalls vetting paparazzi swarming around the boat by allowing photographers to come aboard and take pictures as long as they mentioned Unforgivable.
"It was good exposure for the brand, and it put us in favor with good photographers who wouldn't normally have had that access," Moar explains.
To highlight Unforgivable becoming the top-selling fragrance, Combs and Lauder wanted to strategically time the announcement to coincide with the most important day of the year in the fragrance industry: the 2006 FiFi Awards. They gave the exclusive to the New York Post, and Combs rang the New York Stock Exchange bell the same day.
The following year, Unforgivable won the FiFi Award for Fragrance of the Year. At its peak, it recorded sales of $98 million in one year, according to a Women's Wear Daily interview with clothing line Sean John's president and CEO Jeff Tweedy.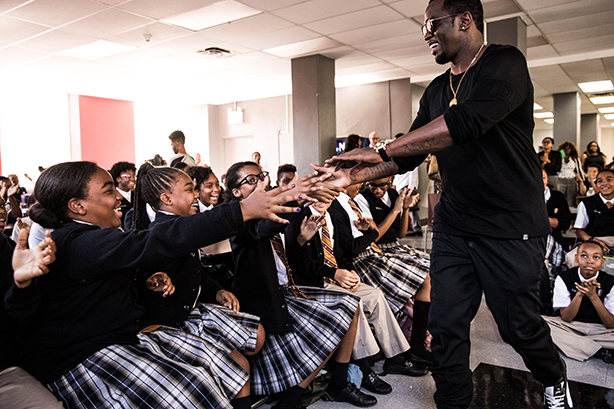 From Bad Boy to business magnate
At Combs Enterprises' Times Square headquarters, its history is on full display. A showroom of the clothing line waits just outside the elevators. Magazine covers and photographs of Combs' Puff Daddy days hang from Moar's office walls. The corporate on-hold music is The Notorious B.I.G.'s anthemic classic "Juicy."
Comms at Combs Enterprises has to build up the profiles of each of its businesses, while keeping them from cannibalizing each other's press. And it has to all tie back to the Bad Boy story, while also explaining Combs' evolution from artist to business magnate.
Combs was No. 1 on Forbes' 2017 Celebrity 100 with pretax earnings of $130 million. He was paid $70 million when Global Brands Group acquired a majority stake in Sean John in November 2016, reportedly leaving him with 20% of the company, which Forbes said had annual sales of almost $500 million. Combs also has stakes in Revolt TV, DeLeón tequila, and Aquahydrate.
It's a neat balancing trick, and if Moar was looking for pointers, Combs wasn't giving any. During her first day on the job in 2015 as head of comms, she spoke to him briefly:
"I said, 'I'm starting today.' And he goes, 'Good luck.'"
Since taking on the role of "air traffic controller" at Combs Enterprises, Moar has been frequently challenged with managing the company's own appetite for media exposure. She built up comms at the company, implementing systems so everything PR-related runs smoothly in a compressed timeline. The company's AOR is Interpublic-owned entertainment specialist PMK-BNC.
"Corporate America usually plans 18 months to two years in advance. We don't work like that. We move with what's going on in the conversation," Moar says.
Despite that, she believes all PR pros should sometimes pump the brakes.
"It's not a knee-jerk reaction," she explains. "Some people are really quick to say, 'Oh my God, we got to get a statement out, we got to do a press conference.' No, no, no. We actually have to get to the truth. And then we have to devise a clear, concise, succinct, on-point strategy with no bells and whistles."
Part of Moar's day includes handling Combs' personal brand, which can vary from scathing news reports about physical assaults to adoration for his entrepreneurial spirit.
"As a publicist, you have to be sweet as pie, even to not the nicest of journalists," Moar says. "There were certainly journalists in the past that had it in for him. As you get more comfortable with the public eye, it doesn't bother you."
Back to reality
The rap mogul is notorious for micromanagement, an image Combs parodied in the film Get Him to the Greek. More recently, during the Bad Boy reunion tour, he told a "water girl" when to bring him refreshments and what she should wear.
But Moar notes she rarely has those moments with Combs. "What makes our relationship so good is he says, 'Whatever she wants.' That for me is validation. There's trust."
On occasion, Combs has pulled her aside for a private one on one because she can be "really aggressive."
"I'm OK with that," Moar explains. "We all need to be in check. I think he sees some of the personality traits he has. Sometimes, I have to bring it back a little bit. I can be a bit intense."
"Nat has been in my corner for almost 20 years now, and we've been through so much together," Combs said in a statement. "She's involved in all aspects of my business, and her leadership, passion, and hard work continue to exemplify the level of excellence I demand from my team. From Combs Enterprises' global communications to my personal PR, there's nobody I trust more to represent me and my brands."
While Combs has relentlessly pursued new artistic and business avenues, his latest turn as a reality TV judge for Fox's music competition show The Four: Battle for Stardom raised eyebrows.
But Moar notes it is all anchored in Combs' experience. Further, he has been approached about doing a reality TV show prior to this, but he'd been waiting for the right opportunity.
In spite of criticism that the judges are "playing roles" and of Combs' "penchant for hyperbole," Moar asserts the show serves as a very real extension of her boss' story, having launched the careers of some of hip-hop's brightest stars.
"He's been a mentor his entire life," Moar adds. "He was born for this role."
Tasked with supporting Fox's marketing, Moar enlisted help from Combs Enterprises' in-house marketing shop, Blue Flame Agency, which also supports marketing and ad initiatives for vodka brand Cîroc.
Promotional efforts included late-night TV appearances and digital activations.
"An ad campaign in the old days needed to be seen three times before anyone connected to it," Moar explains.
"And then PR would do a blanket press release and send it out wide. Now, we have a segmented audience. People aren't loyal to one platform. But you have to make sure you're communicating on all the platforms because it is so segmented."
Similarly, Moar was expected to wear multiple hats. She took on a role that extended beyond comms.
She didn't just do press, she says. Her remit ranged from staging, lighting, dance choreography, song clearances, and branding for the talent appearing on the show. This includes having to brand the contestants so audiences can connect with them.
"At the end of the day, I've had this unbelievable, incredible opportunity," Moar says of her career. "I feel so lucky."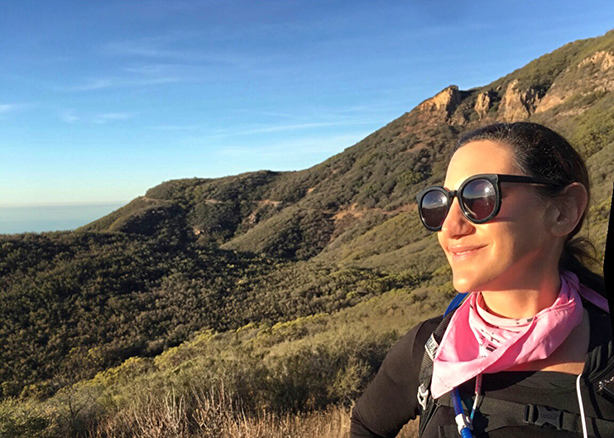 Take a hike
A fitness enthusiast, Moar prides herself on her pursuit of new physical challenges.
When Johnny Gee invented spinning, she was "the biggest spinner." She even went to Tracy Anderson's studio for classes. Anderson's clients over the years have included the likes of Kim Kardashian and Madonna.
She recently took to Ventura County and Malibu, California, for some fresh air (above).
"It's very meditative," Moar says. "I have no idea what I'm thinking during the 15 miles I'm hiking. I sometimes sing at the top of my lungs, or listen to books on tape while I hike."
A fashionista and culture guru at heart, Moar still keeps herself apprised of the latest trends, a hobby she says came from her mother.
When she isn't keeping up with the latest fashion trends or roaming a mountainside, she's catching up with her friends from Australia and listening to music.
"I love thinking, 'What sample is that? I know that song' and not looking it up, trying to figure it out by the beat," she says.
Asked if there was one book she had to recommend to everyone, she says it would be The Alchemist.
"It's short, and any age and language can read it. It leaves you with optimism and hope," Moar says.
---
Résumé
July 2017-Present
Combs Enterprises, EVP of comms
2015-2017
Combs Enterprises, SVP, head of comms and digital

2012-2014
NKM Consultants, executive

2007-2011
Marilyn Agency, cofounder of talent and branding division

2003-2006
MAC Cosmetics, SVP of global comms, Sean John Fragrance – The Estée Lauder Companies, SVP of comms

1995-2003
DKC, partner and head of entertainment, media, and lifestyle division