A Hawking highlight with (Taylor) Herring
Flack notes that this week's obituaries of Stephen Hawking omitted one claim to fame: being talent scouted by Taylor Herring in 2014.
Yes, in 2014 the great man (that's Hawking, not James Herring) worked with the agency's client Paddy Power ahead of the World Cup in Brazil, creating a report on the optimum conditions for England to succeed, including tips on how to triumph in the dreaded penalty shootout.
Recalls Taylor Herring managing partner Peter Mountstevens in a LinkedIn post: "The creative tickled him apparently, and despite having no real interest in football he gave it a huge amount of his energy and time.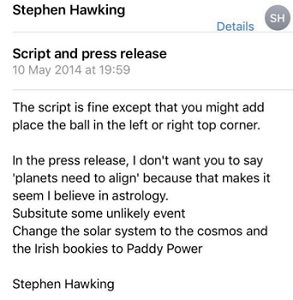 "Few things have given me greater joy over 20 years of PR than receiving an email (right) from the great man himself telling me how to shape the campaign! Travel well, Professor."
Ken Robertson was head of mischief at Paddy Power at the time.
He remembers: "We announced our partnership at a packed press conference in the Savoy Hotel. It was one the most surreal moments of my life when the Professor slowly emerged on the stage through a fog of dry ice and strobe lighting to the thumping soundtrack of Breathe by The Prodigy."
"You could tell he was loving it. What an absolute legend," says Robertson (pictured with Hawking, below), now founder of The Tenth Man.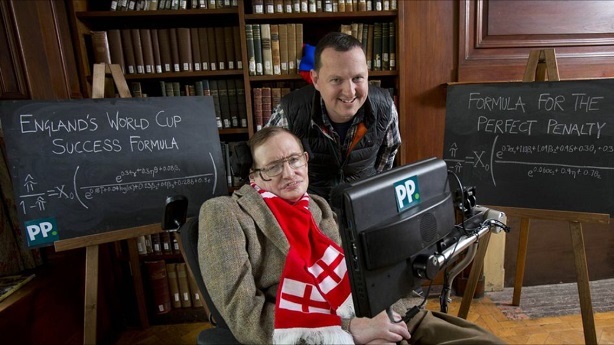 As football fans might recall, the team crashed out in the group stage without ever having to put Hawking's shootout advice into practice. It's not the only time he has lent his face to a marketing campaign - here are some other examples.
Imitation of life
We probably don't need more reminding of the impact Absolutely Fabulous and the Thick of It have had on perceptions of PR professionals in the wider world. So Flack is hopeful that the latest TV show with a PR pro hero does more to alter views in a positive direction.
The UKTV show, for 'premium entertainment channel' W, is set in the "world of high-stakes public relations", according to the blurb. It stars X-Men and The Piano actor Anna Paquin as Robyn, the "sharp and witty" American PR living in London, who is described as "an expert at her craft but a complete self-saboteur when it comes to her personal life".
The series will go into production this Spring and air in 2019.
And the name of the programme? Umm, Flack.
If it's half has lively as this author's regular column, viewers are in for a treat.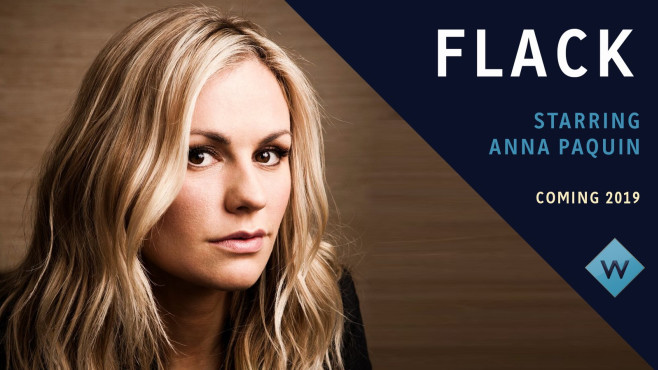 Open Britain leaves Finsbury
Open Britain, the pro-EU campaign group that succeeded Stronger In after its Brexit referendum defeat, has opted to leave.
Specifically, its staff have left the offices of PR firm Finsbury, where they had been housed for at least six months. Finsbury's founder Roland Rudd remains the group's chair and one of his close colleagues is also on its board, but it has now moved in with fellow 'Remain' groups European Movement UK, Britain for Europe, Scientists for EU, Healthier IN and InFacts.
The new digs are in Millbank Tower, where its neighbours include PR firms Lewis and Connect Communications.
FYI on IWD
Data time now. Brandwatch has provided Flack a bit of a retrospective on International Women's Day. Interest in IWD has been on the up - it received 1 million Twitter mentions in 2015 from 112,000 unique authors, with those numbers rising to 3 million mentions from 264,000 authors in 2016, and 4 million from 370,000 authors in 2017.
The number of mentions this year dropped significantly, according to Brandwatch, to just 3 million - but the number of authors skyrocketed, reaching 1 million. Of course, as any good PR will tell you, it's quality, not quantity, of mentions that counts.

Mentor moments
Talking of, well, women: the newly-opened Allbright inFitzrovia – billed as Britain's first members-only club specifically for businesswomen – was the appropriate setting for the launch of the latest Women in PR/PRWeek Mentoring Scheme last night.
In her introductory speech, WIPR president Bibi Hilton recalled a quotation from former US Secretary of State Madeleine Albright – whose name, misspelt on purpose, was the inspiration for the club's title – that goes: "There is a special place in hell for women who do not help other women."
Well, Flack thinks the ex-politician would approve of the Mentoring Scheme, which sees senior female PR professionals offer advice and guidance to 15 less experienced counterparts. Click here to apply to be a mentee.
Meanwhile, Flack's PRWeek colleague, deputy editor John Harrington, played his usual role of token man among the throng of talented female PR pros (as the image below proves).
So proud to be here with @WIPRUK to celebrate women in #PR on behalf of @PRCA_UK! Hear hear to everyone involved and if you're not yet involved, DM me or @WIPRUK for details pic.twitter.com/Mp25HDzDMo

— Isobel Arrowsmith (@IzziArrow) March 15, 2018
Frank emerges (Hope&)Glorious
Agencies assembled last night for the inaugural PR Pub Quiz, hosted by Hope&Glory.
Agencies rolled out the big dogs in a bid to win the coveted trophy, with teams including James Herring and Cath Taylor of Taylor Herring, Frankie Corey and Damon Statt of Mischief, The Academy's Dan Glover, Warren Johnson and Mark Perkins from W and Frank's Alex Grier, alongside Hope&Glory founders Jo Carr and James Gordon-MacIntosh.
With a suspiciously large number of people on their team, so Flack hears, Frank was the eventual winner, pipping Taylor Herring for first place, while The Academy team took home the wooden spoon. The next event will be hosted by last night's winners at some point in the summer.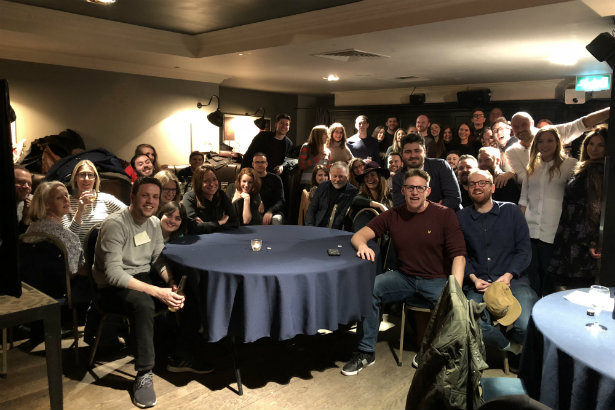 Fast feud
Finally, something to file in the 'unfortunate ad placing' drawer, here…