PRWeek asked social analytics firm Talkwalker to assess the performance of 24 major government departments, including the main ministries of state, over the 12 months to February 2018 to find out which have been the most successful.

Most active government departments on Twitter
The Ministry of Defence (MoD), along with the Department for International Development (DfID) and the Department for Environment Food and Rural Affairs (Defra) were the most active government departments on Twitter.
The MoD put out just shy of 2,000 tweets, an average of five per day, during the past 12 months. The volume of tweets rose to its highest point in the second week of December 2017, during Chief of the Defence Staff Air Marshal Sir Stuart Peach's annual lecture at the Royal United Services Institute. His speech was live tweeted by the MoD, resulting in 70 tweets.
CDS: "The UK Armed Forces offer more apprenticeships than any other organisation in the UK. We create more skills for the British economy and give back more qualified, accomplished and disciplined people into British society than any other organisation." @RUSI_org #CDS17

— Ministry of Defence (@DefenceHQ) December 14, 2017
Meanwhile, DfID's social media team tweeted a little over 1,800 times in the 12 months to February 2018, an average of 4.7 per day.


Its high point for activity came in mid-March when the department used Twitter to encourage the public to donate aid for the famine in East Africa, resulting in 78 tweets in a single week.
Watch: Foreign Secretary Boris Johnson helps load food funded by #UKaid, on its way to people in need across Somalia #fightingfamine pic.twitter.com/fwS1UxSSy5

— DFID (@DFID_UK) March 16, 2017
Commenting on its Twitter activity, Tim Gatt, head of digital and creative content at DfID, told PRWeek: "Twitter provides us with a great opportunity to tell our own story directly to the public about what UK aid does every day to tackle poverty – and rebut misconceptions and inaccuracies about our work."


In third place for activity was Defra, with nearly 1,500 tweets over a 12-month period – an average of 3.7 per day.


The department's highest level of activity was in the final week of October when it used the launch of the new series of Blue Planet on television to highlight the Government's commitment to protecting marine life, as well as a campaign to protect hedgehogs, sending out 55 tweets in one week.


Other government departments in the top ten for Twitter activity included the Department for Education (DfE), the Department for Digital, Culture, Media & Sport (DCMS) and the Foreign & Commonwealth Office (FCO).


The average number of tweets across the government departments tracked in the study was two per day.


All government departments suspended their Twitter activity and went 'silent' during May last year in the run up to the general election to take account of purdah rules, which govern the use of official accounts for political purposes.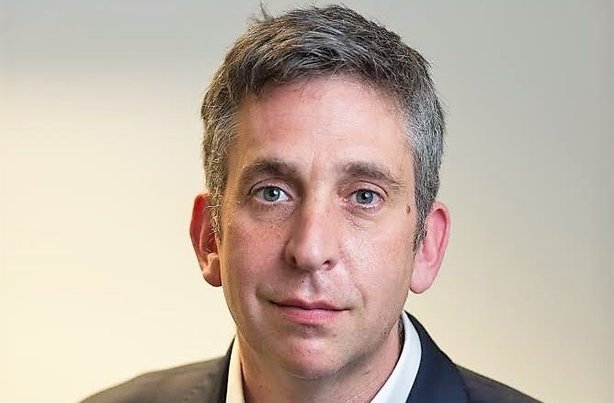 Commenting on the data, Gabriel Milland (above), former deputy director of the Government Communications Service and now a partner at specialist agency Public First, said: "It is interesting that MoD, DfID and Defra are the most active on Twitter. There has been a big movement in government communications in favour of content delivered through social channels and DfID and MoD undoubtedly have the best content; partly because aid operations and new military kit are more compelling as subject matter than, say, pension reforms. But that's not the whole story. Both of these departments have made really strong efforts to improve the content they deliver using social channels like Twitter."


Milland, who is also a former head of comms at DfE and the Ministry of Justice (MoJ), said it was critical for departments to have a strong Twitter presence.


He continued: "With Defra, I suspect it is because in Michael Gove they have a Secretary of State who has made more eye-catching announcements than many Cabinet ministers put together. Of course, Twitter is not Britain… but a lot of important conversations take place on Twitter and departments need to realise that journalists spend vast amounts of time combing it for stories and ideas. It's important to have a voice there."


Most engaging government departments on Twitter
However, while some government departments can rightly claim to be most active on Twitter, a critical measure of success is the level of public engagement with their tweets.


Talkwalker analysed public engagement with government departments on Twitter using 'likes' and retweets to judge which had been the most effective.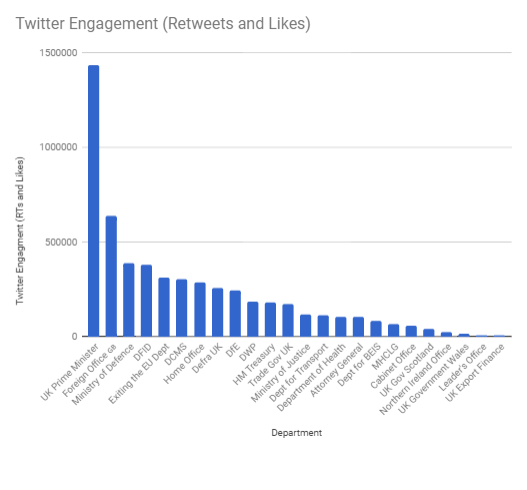 By this measure, the Prime Minister's Office was the most effective at engagement with more than 1.4 million retweets or likes over the past 12 months.


The tweets with the highest engagement from the PM's Office came in the wake of the Westminster Bridge terror attack in March, and then again when Theresa May gave a speech about the UK's future outside the EU.
PM: Our thoughts and prayers go out to all who have been affected by the attack on the streets of our capital. https://t.co/K6LqooqZNE pic.twitter.com/eBoU6ahJYk

— UK Prime Minister (@10DowningStreet) March 22, 2017
The FCO was the next most effective government department for engagement, with 640,000 retweets and likes, although this was less than half the level of engagement with the PM's Office.


The two FCO tweets with the highest engagement were around Remembrance Sunday, in November.
This weekend, we remember those from all over the world that gave their lives during WWI and later conflicts #ArmisticeDay #LestWeForget pic.twitter.com/x8DgPzibMf

— Foreign Office ???? (@foreignoffice) November 11, 2017
Other tweets were in response to Foreign Secretary Boris Johnson's statements regarding Nazanin Ratcliffe, who was arrested in Iran.
In third place for engagement was the MoD, with more than 390,000 likes and retweets. The department's engagement on Twitter also peaked around the Remembrance Sunday commemorations, in November.
We will remember them. pic.twitter.com/uzrzVoE35m

— Ministry of Defence (@DefenceHQ) November 12, 2017
Other peaks in MoD engagement came with its tweets about hurricane relief in the Caribbean and support to the police in the wake of the Manchester Arena bombing.


The MoD said that its digital strategy was to create content that engaged with its audience online in order to increase the public's understanding of defence, as well as to recruit and retain staff.


The ministry said it took an "audience-led approach" to social media that took account of people's needs and interests.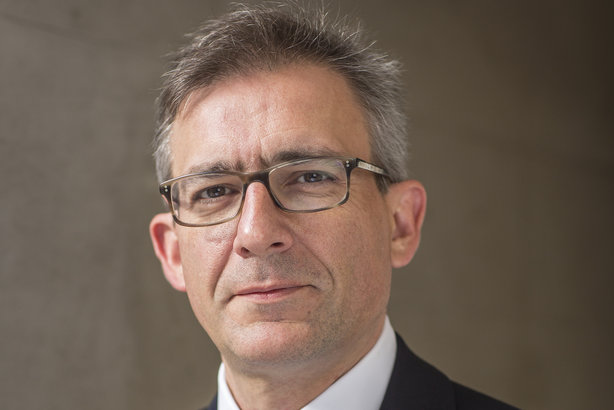 Commenting on the data, Carl Newns (above), director of defence comms, told PRWeek: "We have a really important and engaging story to tell and these figures show our efforts to get people talking about defence are paying off. We use a variety of social media channels to reach our audiences and we deliver content that resonates – whether that's stunning photographs of large-scale global operations, or vital information about the everyday support we provide to military personnel and their families."


Other government departments in the top ten for engagement were DfID, the Department for Exiting the EU (DExEU) and DCMS, with the Home Office and Defra close behind.


Commenting on the public's engagement with government departments, Milland continued: "It's not surprising that the Prime Minister's office, the Foreign Office and MoD get the most engagement. These are the departments that are most exposed for major national 'moments', whether that be a terrorist attack or an occasion of national coming-together like Remembrance Sunday. The FCO and Number 10 also have the most international exposure."


The importance of content-rich tweets
The importance of including video and images in tweets for winning greater engagement is clear. Talkwalker said that videos tweeted by government departments received more engagement per tweet, with an average of 166 retweets and likes, ahead of images alone which received an average of 72 retweets and likes.


Government department tweets which did not feature either pictures or video gained an average of 57 retweets and likes.


The FCO was the top user of video content in tweets, along with the UK Government's Scotland Office and the Home Office.


Growth in government department Twitter followers
Talkwalker also analysed the growth in followers across the 24 government departments it tracked over 12 months.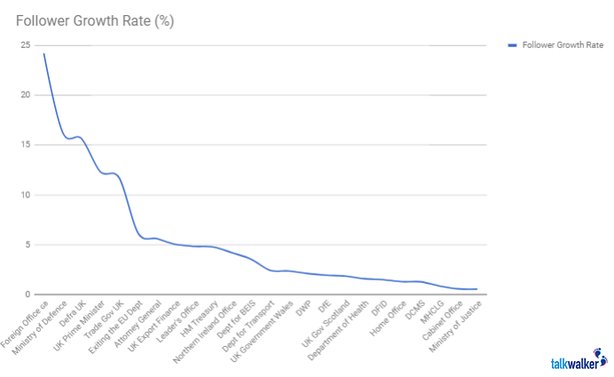 It found that the top departments for follower growth were the FCO, whose Twitter followers grew by 24 per cent, the MoD, which grew its following by 16 per cent and Defra, close behind, on 15.6 per cent.


Follower growth peaks for the FCO came in the wake of the terror attacks on London in early June, when its Twitter account grew by nearly 10,000 followers.
Foreign Secretary: Today we mourn the innocent victims. Today we collectively resolve to beat the terrorists and their nihilistic creed.

— Foreign Office ???? (@foreignoffice) June 4, 2017
The MoD's follower surge was in September, during its relief effort in the Caribbean for Hurricane Irma, when it acquired 1,200 new followers.
At Defra, its Twitter followers grew by nearly 800 in January when the Prime Minister announced a ban on the use of microbeads and launched the Government's 25-year environment plan.
Most impactful government department social media activity
Talkwalker assessed the most impactful social media activity across government departments.

It found five major peaks over the course of 12 months, including the Prime Minister's Office response to the Westminster Bridge attack, Remembrance Sunday tweets from the FCO, Coventry being announced as UK Capital of Culture by DCMS, the Prime Minister's Cabinet reshuffle in January and, finally, DfID's tweets about Rihanna taking part in a global campaign for education.


Richard Sunley at Talkwalker said the analysis offered lessons to government departments that wished to emulate the most successful ones on Twitter.


He told PRWeek: "The MoD, DfID and DEFRA stand out as leaders on Twitter, with each scoring highly in terms of activity level and engagement generated. The data shows that smart use of video is the key element of social public engagement and those that do it best will have the biggest impact."