Has anyone heard of you? That's probably a rather foolish question, given the target audience of this magazine and the hall of fame in the Power Book. We may all know one another, but do enough of our targets know who we are – or, more importantly, what we do?

For an industry focused on the importance of raising the profile of our clients' products and services, we do a much poorer job when it comes to our own. Our school report would read: "Has done some good work – could try harder."
So, as you look ahead, challenge your consultancy to put real effort into your business development and prospecting.
Value proposition
When did you last revisit or even consider it? Are you sure it's fit for purpose in the sectors in which you operate? Review and refresh as necessary, or simply congratulate yourself on the fact that it still has currency. It will be time well spent.

Plan
Do you have one? Has it been articulated and responsibilities agreed? Our industry is comfortable, indeed skilled, at producing detailed plans that count down to important events. We need to harness those skills for our own programmes. Make sure you have a timetable of activity to take you through the next six months, at least, and have the rigour and discipline to review it regularly and amend as necessary.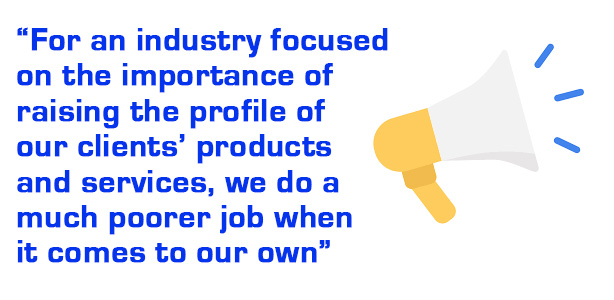 Collateral
No – not just the website. Ensure someone is responsible for keeping that current and relevant, but look at the other techniques you use to bring your consultancy story to life too. If you haven't refreshed them for more than a year, be sure to.

Outreach
I've been judging awards recently and it is stimulating to read about the great work being executed in the industry. But you have to be in it to win it, so enter awards – and treat the process as you would a proposal to a client. Read the brief, be creative and tell your story well. It could give you another fantastic platform for your prospecting programme.

Connected
Are you truly connected? Not just to your own industry – which is important, and fun – but to the sectors in which you operate. Do you speak on platforms, write, attend events?

This may seem rudimentary, but how much genuine consultancy attention is given to it? As the adage goes: you don't buy things from companies you've never heard of. So, challenge your consultancy to focus and improve on your prospecting and outreach. You may find yourself with a better school report because the people who matter to you really do know who you are and what you offer.

Alison Clarke is a business consultant and mentor @pitchwitch