A thrilling contest between PRWeek's five favourite campaigns in January was won – taking more than half the total votes – by the Justice 4 Grenfell campaigners, with their 'Three Billboards' inspired protest outside Parliament. The stunt was even praised by Frances McDormand at The Oscars.
In second place, with more than 100 votes, was another billboard campaign, as UKTV and Taylor Herring used the medium to promote its show Celebrity Haunted Mansion, airing on W.
See the full results below and find out more about the winning campaign: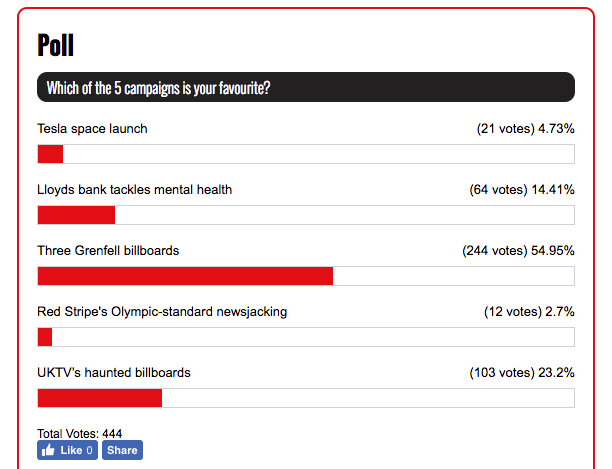 Three Grenfell billboards
The #Justice4Grenfell campaign has turned up the pressure in its mission to get justice for the 71 people who died in the tower-block fire last year. Inspired by the BAFTA award-winning movie Three Billboards Outside Ebbing, Missouri, campaigners created three mobile billboards, which read: "71 DEAD", "AND STILL NO ARRESTS", and "HOW COME?"
In the film, Frances McDormand plays a woman who rents three billboards near her home, seven months after the rape and murder of her daughter, to put pressure on the police investigation. They read: "RAPED WHILE DYING", "AND STILL NO ARRESTS?", and "HOW COME, CHIEF WILLOUGHBY?"
The Grenfell billboards campaign was run by BBH and the PR firm Mc&T.