Earlier this week, we've had a look at campaigns from Vodafone, and a predictably controversial one from BrewDog. Read on for some of our favourites...
Marie Claire
The media brand has launched the #NotMyJob campaign, saying:"#NotMyJob is about saying that it's not any woman's job to have to do the same work as a man and be paid less for it; that it's not any woman's job to be expected to flirt with the boss or worse to get ahead at work. And it's not any woman's job to face pregnancy discrimination or be penalised for choosing motherhood alongside her career."
Omniwomen from Omnicom
Omnicom, the marcoms holding company whose PR agencies include FleishmanHillard Fishburn, Ketchum, Porter Novelli and Portland, has used IWD to release the gender split on its boards.
The company said its UK senior management teams and boards comprise an average of 48 per cent of women, compared to the existing industry average of 30.2 per cent and the IPA's (Institute of Practitioners in Advertising's) target of 40 per cent by 2020.
Omnicom today holds its fourth annual Omniwomen UK Leadership Summit, which is part of the Omniwomen initiative, designed to increase the influence and number of women leaders across the network. The firm said that since 2015's launch of Omniwomen UK, female representation in senior management across Omnicom companies has increased from 40 per cent. The theme of the Summit this year is 'Take it On' which aims to encourage women to 'take on' being positive role models to create lasting change.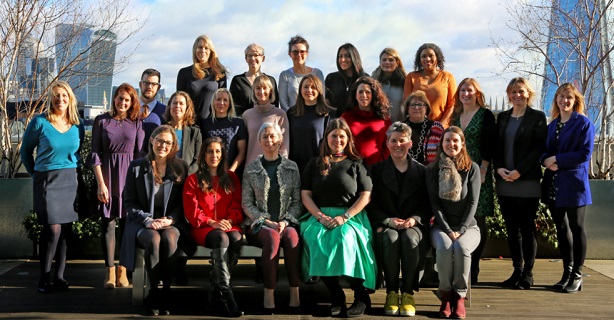 British Airways
BA is showcasing its female workforce by launching what it says is the first "end-to-end female flight", in a campaign headed by TV star Carol Vorderman.
We are so excited to be celebrating #IWD2018 with the first end-to-end all female flight, thanks to the amazing women across our operation! #proudtoBAwoman pic.twitter.com/D7qvevG2Tu

— British Airways (@British_Airways) March 8, 2018
Aer Lingus
...while another airline favours the "ladies first" approach:
Today we're marking International Women's Day by offering our female guests priority boarding on short-haul flights. #InternationalWomensDay pic.twitter.com/yDDjhNdRBP

— Aer Lingus (@AerLingus) March 8, 2018
Royal Navy
The Royal Navy has released a video in its "Made in the Royal Navy" recruitment campaign aimed at showcasing opportunities for female recruits. "Louise's Story" demonstrates the breadth of opportunities, from flying a helicopter to driving a speed boat, fixing an engine, or running a warship as its Captain. Created by WCRS, it follows the story of a young woman whose experiences the Royal Navy said exemplify the possibilities a career in the Royal Navy can offer, regardless of gender.
It is also running a Facebook Live broadcast at noon today.
Personal bests, check. Professional development, check. Go on to better things with a @RoyalNavy #Apprenticeship. Discover Modou's story and start your journey https://t.co/udiIqQq1xY #NAW2018 pic.twitter.com/vw4hi00oQ7

— Royal Navy Jobs (@RNJobsUK) March 5, 2018
McDonald's
McDonald's had what it no doubt considers a flippin' good idea...
Here's is why @mcdonalds iconic "golden arches" are upside down https://t.co/igM87sF77Y

— NBC New York (@NBCNewYork) March 8, 2018
Queen Rules
The creative agency FCB Inferno has launched a new deck of cards, called Queen Rules, in which the queen outranks the king. Women portrayed include Holly Willoughby, Claudia Winkleman (both pictured above), Alison Hammond, Tess Daley, Victoria Derbyshire and Janet Street-Porter. The campaign is running with support from Unibet.
#QueenRules is a new way to play cards where Queens outrank Kings.

Together we can tackle unconscious gender bias. One hand at a time. https://t.co/3ytbyIAu4y pic.twitter.com/cRZAYcRiGV

— Queen Rules Project (@queenrules) March 7, 2018
Barbie
The UK's double Olympic boxing champ Nicola Adams has teamed up with the iconic doll maker.
Proud to partner with @Barbie this #InternationalWomensDay to show girls – YOU CAN BE ANYTHING!#Ad pic.twitter.com/nMdT7jMK8L

— Nicola Adams (@NicolaAdamsOBE) March 6, 2018
Rothco
Irish creative agency Rothco (recently acquired by Accenture Interactive) has created a collection of Smythson diaries highlighting the gender pay gap, which will be sent to "women of influence" in Ireland, the UK and elsewhere on IWD.
Seven weeks of the diaries are marked with a large red 'unpaid' stamp creating a page gap that mirrors the gender pay gap - seven weeks is the average number of weeks that women effectively work unpaid relative to their male colleagues. The diary includes a bookmark on 8 March with the message: "It's not too late to achieve what you want in 2018." The campaign uses #thepagegap hashtag.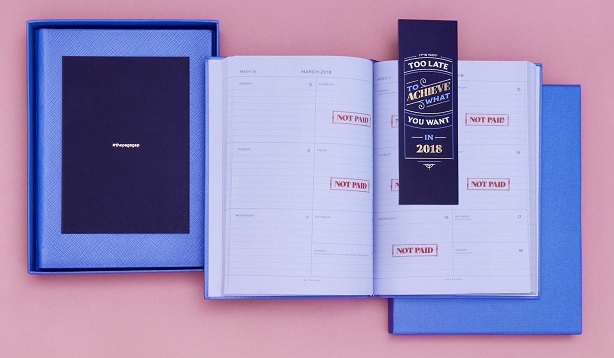 PR agency name changes
The PR agencies Tin Man and Frank are temporarily rebranding as, well, guess...
Frank has rebranded for the day to celebrate #InternationalWomensDay #IWD2018 pic.twitter.com/cRz5y6Hlgp

— Andrew Bloch (@AndrewBloch) March 8, 2018
Tin Man becomes Tin Woman for #internationalwomensday2018 ??‍?????? pic.twitter.com/rEiuHHWmVG

— Tin Man (@tinmancomms) March 8, 2018
100 FSB Women
The Federation of Small Businesses is raising the visibility of role models for women entrepreneurs with a digital campaign called 100 FSB Women.
It's 100 years since the first women won the right to vote. We're featuring #100FSBwomen and sharing their wealth of advice and inspiration with women all over the world. Here they all are: https://t.co/ESm0HOkgsU #PressforProgress pic.twitter.com/7d1nbOvOvi

— FSB (@fsb_policy) March 8, 2018