Tesla space launch
When Elon Musk needed ballast to complete testing on his Falcon Heavy rocket, he could have used concrete. Instead – in a stroke of PR genius – the billionaire chose to launch his own Tesla Roadster, complete with David Bowie's Space Oddity playing on repeat, into final orbit around the sun.
However, the car overshot its intended trajectory, which would have taken it out to the distance of Mars' orbit. Thousands of people gathered in Florida to watch the launch, and the stunt led to thousands of news articles worldwide. What better way to publicise the fact that Musk's super-rocket has twice the launching power of any other existing space-launch vehicle?
Lloyds bank tackles mental health
Lloyds Bank is trying to bring discussion of mental-health issues into the open with a campaign, from PR agency Unity, in collaboration with Mental Health UK and Channel 4. The #GetTheInsideOut campaign aims to dispel misconceptions and get people more comfortable talking about mental illness. It features celebrities and members of the public playing a 'who am I?'-style game to guess the mental-health condition written on a note stuck on their forehead.
Mental health problems affect 1 in 4 of us every year; let's get it out in the open. #GetTheInsideOut pic.twitter.com/mWeHycxTcL

— #UNRULY (@professorgreen) February 1, 2018
Professor Green, Jeremy Paxman, Alastair Campbell, Ruby Wax and high-profile chef Gizzi Erskine are among those appearing in and raising awareness of the campaign, which made its debut on Channel 4.

Three Grenfell billboards
The #Justice4Grenfell campaign has turned up the pressure in its mission to get justice for the 71 people who died in the tower-block fire last year. Inspired by the BAFTA award-winning movie Three Billboards Outside Ebbing, Missouri, campaigners created three mobile billboards, which read: "71 DEAD", "AND STILL NO ARRESTS", and "HOW COME?"
In the film, Frances McDormand plays a woman who rents three billboards near her home, seven months after the rape and murder of her daughter, to put pressure on the police investigation. They read: "RAPED WHILE DYING", "AND STILL NO ARRESTS?", and "HOW COME, CHIEF WILLOUGHBY?"
The Grenfell billboards campaign was run by BBH and the PR firm Mc&T.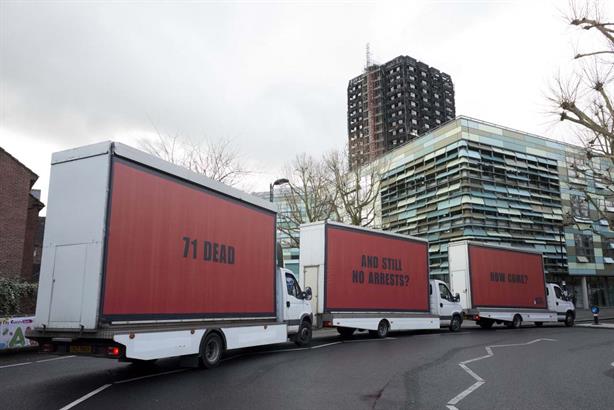 The three red and black Grenfell campaign billboards paraded through London, passing sites including the Houses of Parliament, London Bridge and St Paul's Cathedral. The stunt's coverage ranged from the BBC and CNN to the Daily Mirror and Daily Mail.
Red Stripe's Olympic-standard newsjacking
Red Stripe beer made headlines when it made a generous offer to keep a Jamaican bobsleigh team's Winter Olympics hopes alive. It looked like the women's team might not be able to compete after their coach departed under disputed circumstances, reportedly threatening to take their rented sled with her, just days before the event started.
Fortunately for the Olympic hopefuls, and in a great bit of 'newsjacking', the Heineken-owned Jamaican beer brand (which ensured it was not contravening Olympics marketing rules) stepped forward on Twitter with an offer to buy a sled for the team.
No bobsled, no problem. If you need a new ride @Jambobsled, put it on @RedStripe's tab. DM us and we'll be in touch ????

— Red Stripe USA (@RedStripeUSA) February 15, 2018
It wired them a reported €40,000 so they could buy their sled and compete. The tweet received more than 6,000 likes, and the story was featured by news outlets worldwide – not to mention all the fans promising to stock up on the beer over the weekend.
UKTV's haunted billboards
Another good billboard story next, as UKTV used the medium to promote its show Celebrity Haunted Mansion, airing on W. The campaign, a collaboration between Taylor Herring and UKTV's creative and press office teams, kicked off with a spooky stunt, using transformative billboards that got scary after dark.
The innovative billboard featured the show's hosts, Christine Lampard and Matt Richardson, who morphed into ghostly Victorian characters as the sun set. The stunt kicked off an integrated campaign, promoting the show ahead of, and throughout, its five-day run.
Starting with a team of 10 celebrities who faced spooky challenges and ghost-hunting, two would leave the show each night. Once the five-night special started, the digital out-of-home creative revealed who the public had voted to eliminate each day, showed video highlights and called for viewers to tune in, using the show's hashtag, #Celebhaunted. Traditional media announcements, including revealing the celeb line-up, helped secure column inches and interviews in all the major tabloids.
Read next: Five Campaigns We Liked in January - your winner revealed