What began as a trickle with Laura Bates' Everyday Sexism project - a user-generated website launched in 2012 to call out low-level sexist behaviour - became a flood in October last year when a string of women made allegations against the disgraced movie mogul Harvey Weinstein.
The allegations, which he denies, triggered the #MeToo social media campaign, which unearthed numerous instances of abuse and sexual harassment of women, and men, by people in positions of power all over the world, across multiple sectors.
Now, an exclusive survey for PRWeek shows how the PR and comms industry must also acknowledge that it has a problem with sexual harassment as it faces its own #MeToo moment.
The survey
More than one in six respondents to an industry survey into sexual harassment in the workplace say they have been sexually assaulted and a quarter said they had experienced some form of harassment in the last year.
The survey, carried out in partnership with the PRCA and Women in PR, received nearly 300 responses from people across the PR and comms industry to a range of questions investigating sexual harassment of workers.
More than three quarters of survey respondents were women and two thirds were from agencies, with the remainder from in-house, while their seniority ranged from interns through to agency owners or in-house comms directors. Respondents worked for a range of public and private sector organisations.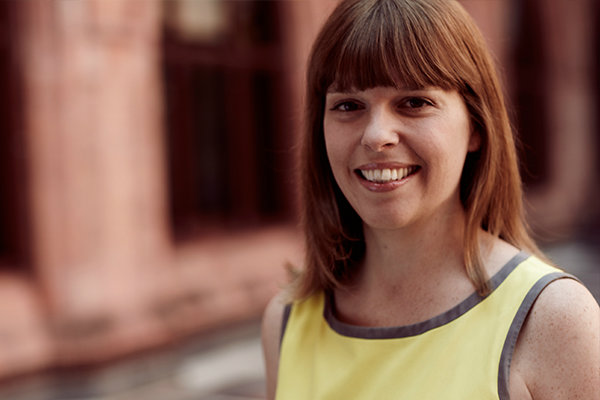 Commenting on the findings, Bibi Hilton (above), president of Women in PR, told PRWeek there was an urgent need for the industry to take action on the issue.
She said: "We need employers to review policies and ensure there is a clear course of action for cases of sexual harassment: to train and empower men and women across their organisations in how to report and respond to cases, and to put in place clear codes of conduct for relationships between PROs, clients, journalists and influencers. Above all we need to drive real behaviour change. Failing to act is not acceptable."
What is sexual harassment?
Survey respondents were asked if they regarded 11 types of behaviour – ranging from sharing sexually explicit images with co-workers and sending suggestive emails and texts, through to inappropriate touching and sexual assault – as examples of sexual harassment. Three quarters and above agreed that it was in all cases.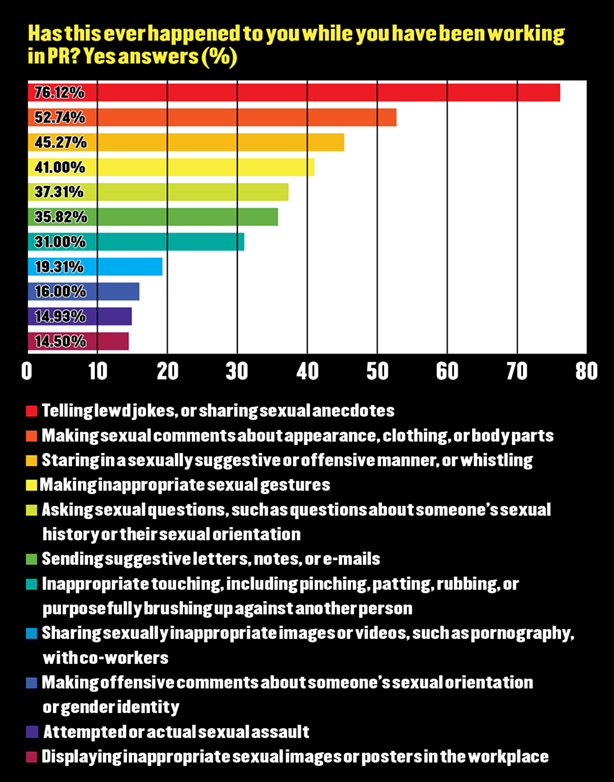 Have workers experienced sexual harassment?
Asked if they had personally experienced any of these in the workplace (above), 15 per cent said they had been on the receiving end of an attempted or actual sexual assault, while nearly a third said they had been touched inappropriately at work.
One in five had been sent sexually explicit emails or texts and more than half of those surveyed said they had received sexual comments about their appearance, clothing or body directed at them, while three quarters said they had been made to feel uncomfortable by lewd jokes in the workplace.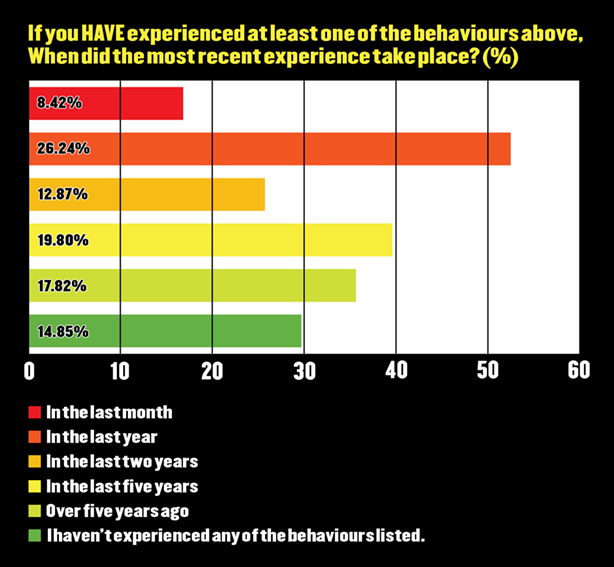 Asked when the most recent instance of sexual harassment took place (above), more than a quarter of respondents said it had happened in the last year and nearly 10 per cent said it had happened in the last month.
Only 15 per cent told the survey they had never experienced any form of sexual harassment at work.
One respondent told the survey: "I was groped after a Christmas party by a colleague from another office. It was very awkward and I slapped him but didn't report it as I felt ashamed. I should have done as he was eventually let go for doing it to someone else."
Reporting on behalf of a colleague
Survey respondents reported harassment in even greater proportions when doing so on behalf of a colleague, with 17 per cent telling it that a colleague had been on the receiving end of an attempted or actual sexual assault, while 41 per cent said colleagues had been inappropriately touched at work.
Nearly half said a colleague had been sent sexually explicit emails or texts and 57 per cent said a colleague had complained about sexual comments regarding their appearance, clothing or body.
Sources of sexual harassment and reporting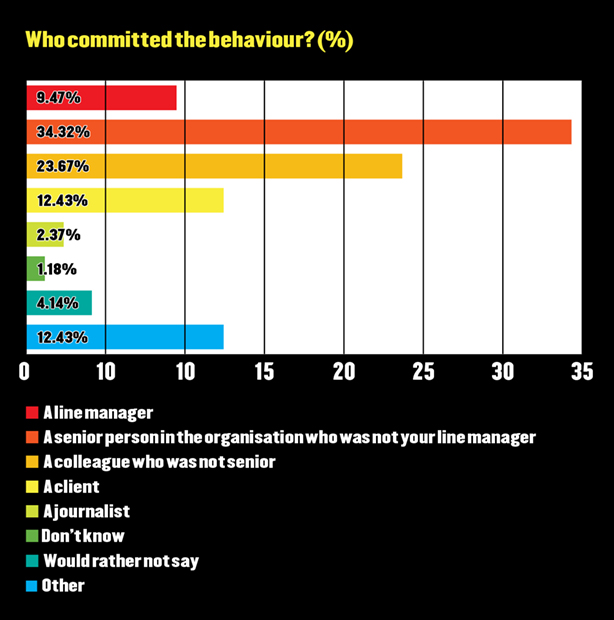 As for the source of sexual harassment (above), more than a third attributed it to "a senior person in the organisation who was not your line manager", the highest percentage, while nearly a quarter named a colleague who was not senior to them in their organisation.
Clients made up 12 per cent of those complained about, while one in ten said the source of the sexual harassment was their line manager and just over two per cent of respondents said it was a journalist.
One respondent explained the detail of the harassment they had received from a client.
They said: "My colleague and I were out for dinner with two clients. One touched my leg under the table and refused to move his hand away. He made explicit references and suggested he would be "taking me home if he wanted to". In a separate incident, my colleague was pressed up against the wall of a lift by a prospect who also tried to kiss her."
Reporting sexual harassment and outcomes
In a sign of how under-reported sexual harassment is in the workplace, nearly two thirds of respondents said they did not report it, while just over 25 per cent said they did.
However, even when instances of sexual harassment were reported, it was sometimes of little use.
One respondent said: "It was reported and the CEO (female) said I had to do whatever it takes to keep the business. I left." Another said: "Stopped working with the client, I don't believe the director meant it in that way."
Responses to the question of whether their organisation took action regarding a complaint of sexual harassment (above) should be of serious concern to the industry, with two thirds telling the survey that no action was taken, while just 14 per cent said something was done about it.
One said: "He was the boss so no-one to report it to," while another told the survey: "I thought it would affect me more than him."
However, nearly two thirds of those surveyed (below) said that when action was taken, they were happy with the outcome, although 13 per cent said they were not.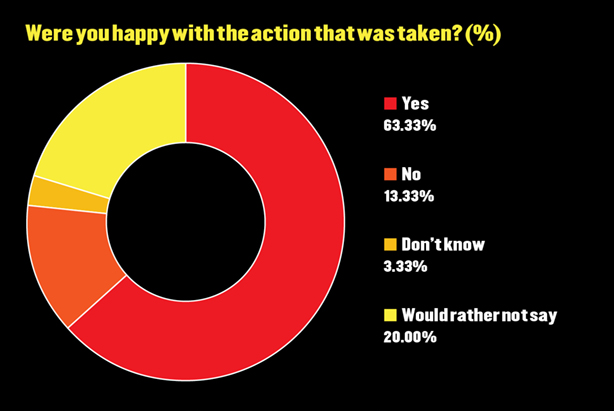 One said: "Felt that the perpetrator was protected in London and I was made to feel like a problem maker."
Where action was taken it was most often initiated by the organisation's managing director or chief executive - with 43 per cent telling the survey this was the case - while 17 per cent said the complaint was dealt with by the HR department. In three per cent of cases, the complaint was dealt with by the police, survey respondents said.
Hilton said she was alarmed by some of the findings.
She said: "That sexual harassment is prevalent in our industry is sadly not a shock. Every industry which has so far sought to understand this issue has found similar results. What is shocking is that we have collectively failed to act on this issue, with two-thirds of respondents saying that when harassment was reported the organisation failed to take action. Even where action was taken, over one in ten say they were not happy with the outcome. This has to stop now."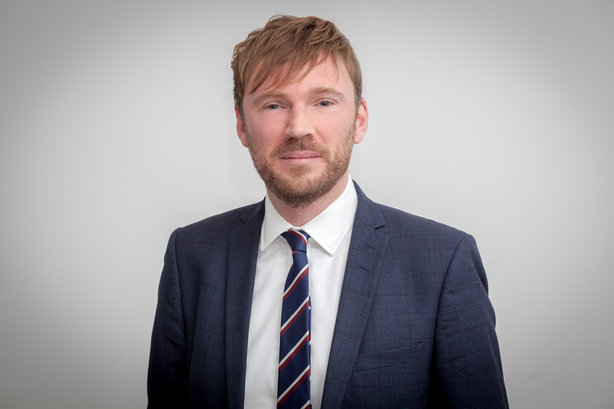 Matt Cartmell (above), recently appointed deputy director general of the PRCA, pledged to set up a cross-industry working group in order to draw up a set of guidelines around sexual harassment at work.
He said: "Employers are clearly not doing enough to take complaints of sexual harassment seriously and deal with them in an appropriate manner. There is a need for action, and this is the action that the PRCA, in partnership with Women in PR and PRWeek, will take… This is not a problem that can be swept under the carpet for any longer – we want to create real and lasting change."
Cartmell said people who had suffered sexual harassment at work who had not been supported by management or HR should consider calling employment reconciliation service Acas, the Samaritans or the PRCA and legal firm Lewis Silkin's helpline:
Acas: 0300 123 1100
Samaritans: 116 123
PRCA / Lewis Silkin legal helpline: Contact PRCA@lewissilkin.com to arrange a phone conversation
---
Case studies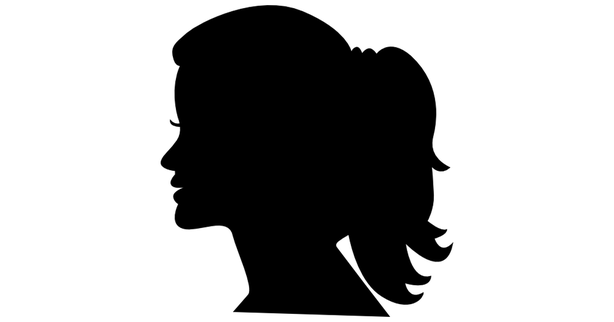 Agency chief's advances led to NDA but no tangible action
"I'm aware of a CEO at one of the big PR companies in London making sexual advances towards a colleague at a partners' dinner. He has done the same to junior account staff at company get together. Complaints were made to HR and his employers sent him on an awareness course and have entered into a NDA with one of the complainants. It's outrageous that more hasn't been done to address this, particularly at this time. Makes the bigger PR companies seem woefully out of touch. I no longer work for the agency in question."
Action taken after a series of explicit texts
"An older man in a senior position to me started to text me at night and make comments about my looks etc. We would often travel together and he started to say things like I can't wait to get you alone etc. I had only been in the job months. It went on for about 6 months when he texted me saying he wanted to push me up against the wall in the office and kiss me. It was the last straw, I had to tell my husband and I went to HR and my boss the next day. I thought they would think that I instigated it or could have prevented it, but they didn't. I was terrified he would say I was lying and get to keep his job. After an investigation and interviews and the texts he waited until the day of the hearing and resigned. I never had to see him again, it was discreet and I kept my dignity. I would encourage anyone to report and go forward, keep any emails, texts etc and confide in a colleague who can back you up if need be. Don't let a man make you feel scared or vulnerable and it's not your fault. Men in powerful positions can take advantage of their power and it's not right. Report it, you will be amazed how seriously it will be taken."