Step out of the elevator into a common area at WeWork's Manhattan headquarters, and you might think you've been transported into a millennial daydream of the ideal workspace.
The bike racks outside are sturdy, the Wi-Fi is fast, fruit-flavored water and micro-brew coffee are readily available, and intense work-related conversation rises from the strivers at the nearby couches. And, of course, there are stylish booths for private phone conversations just steps away from the craft beer taps.
Building a utopian workplace is unabashedly ambitious in and of itself. But so are WeWork's other business plans, which include WeLive housing, Rise by We gyms, and a pilot program for an elementary school near its HQ.
There are also mockups for something called the "Area 51 Paradise Ranch," reportedly a startup incubator, though the company is tight-lipped about those blueprints. Meanwhile, closer to earth, the company with a reported $20 billion valuation is seeing its Powered by We office services unit gain steam.
Founded in 2010, the coworking space and provider of virtual services has more than 200,000 members — as it calls its clients or users — in more than 50 cities and 16 countries around the world. The company's nerve center in Manhattan has a feel not unlike a hip social media firm or Brooklyn creative hot shop, and part of the reason is its founders' unconventional backgrounds.
Adam Neumann spent part of his childhood on a kibbutz, a communal settlement native to Israel, while business partner Miguel McKelvey traces his roots back to an Oregon commune.
Part of what brings them together is a shared belief in community playing a vital role on both sides of the work-life balance, according to chief communications officer Jennifer Skyler, who is responsible for crafting the message of the startup darling. She notes that much of the company's business plans are "grounded in community."
"The company is ambitious, it's high-growth, and there's a lot going on, but when you look at the foundation of the company in everything we do, community is always at the core," says Skyler.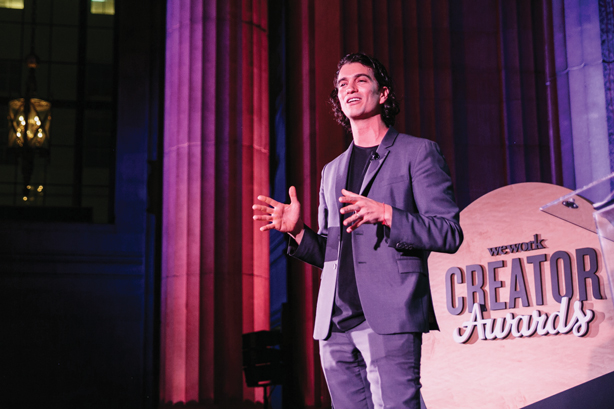 Challenge accepted
However, even a darling of the high-flying startup world can't afford to leave its reputation to chance, which is where Skyler comes in. The veteran of tech-sector players Facebook and Polyvore was WeWork's first communications employee, responsible in her first days for everything from penning memos to staff to scrambling to answer messages via its general press email address.
And week two wasn't any easier. It included a trip to India that required Skyler to negotiate with the office of the country's prime minister and its Startup India initiative.
As the company's ambitions have grown — it opened dozens of locations last year — so has its comms team. Skyler's unit has expanded to more than 50 members covering areas such as comms, policy, social impact, and its entrepreneur-focused Creator Awards. While hectic, Skyler now says the first few months as WeWork's jack of all trades were a blessing in disguise.
"It was just me for four to five months. I was doing corporate comms, regional comms, crisis comms, policy, and other things — and it was just me," she recalls. "Now that was challenging, but it was important because I did every job from start to finish."
Skyler oversees teams focused on corporate comms, consumer and human interest comms, internal comms, and regional public affairs, in which staffers work on both policy and comms.
She also manages social impact, which includes initiatives to hire refugees and veterans, programs with roots in local offices. The company has pledged to hire 1,500 refugees over the next five years, and has seen a 94% retention rate among the 50 refugees hired in New York, she says.
Leadership has also met with International Rescue Committee head David Miliband about expanding the program across the U.S. and U.K. Similarly, after making headway with a veterans program in Denver, the company committed to hiring former armed forces members over the next five years.
At a glance, WeWork's positioning doesn't seem much different than other Silicon Valley bluechips, albeit with the emphasis on community rather than world domination. However, the expansion of its business model also comes with several hurdles.
While WeWork is in a prime position in the coworking market, its competition is increasingly well-heeled, according to analyst Steve King, a partner at Emergent Research. He notes "WeWork's competition has moved from primarily mom and pop coworking spaces to well-funded, well-run chains of coworking spaces."
King mentions the company will also face new challenges as it diversifies its business model beyond shared workspaces to living spaces, retail, tech, and education. It is also facing challenges from Industrious and Serendipity Labs close to home and international pressure from Chinese brand URWork, he adds.
"To be successful in coworking requires strong execution," King explains. "One issue WeWork faces is maintaining an outstanding level of execution while also pursuing these markets and businesses."
Avoiding the political fray
Yet while the company expands and embraces several core values, Skyler says it has no plans to become overtly political, though it does have a plan in place in case it becomes the focus of a "Keurig moment," or a hyper-political flame war on social media.
Skyler is no stranger to high-pressure moments or the political landscape. Before joining WeWork, she was Facebook's first comms staffer in New York, and she spearheaded consumer comms as the social media giant went public in 2012.
In a precursor to her manic first days at WeWork, she recalls an earlier career in broadcast cutting opening bell-ringing video of executives such as Mark Zuckerberg and Sheryl Sandberg for media use. Skyler notes that even as Facebook's stock cratered in its first hours as a public company, its leadership team maintained the price would rebound.
During her time at the social network, Skyler worked for a veritable who's who list of comms executives, including public policy head Elliot Schrage, former NFL comms lead and one-time White House Press Secretary Joe Lockhart, and the tech giant's current comms chief, Caryn Marooney.
"I am a strong believer in learning from every mistake and looking at every launch as a lesson in what we can do better," says Facebook's Marooney. "Jen was always game for embracing this philosophy — not looking for what we did well, but more importantly, what we can learn from and do better."
Skyler notes Marooney also mentored her when she was considering taking her position at WeWork.
"She was the one who I had a lot of long conversations with when I was deciding whether or not to come here, and when I made the decision to join WeWork, she was the one who was like, 'You got this. You can do this,'" Skyler recalls.
Prior to Facebook, Skyler held producer roles at a trio of networks: CBS News, NBC News, and CNN. Her time as a producer at CNN included cutting her teeth in the White House press travel pool during President George W. Bush's administration.
"When you're that pool reporter responsible for conveying to every network producer, correspondent, or anchor what the president just said or did, and if you get it wrong, then they will be misreporting all day and that will come back to you, that's a tremendous level of responsibility," she explains.
However, the need for accuracy in the high-stress role, as well as serving as a booker for CNN's left-versus-right debate show Crossfire and covering the 2000 election recount in Florida, sticks with Skyler even after she moved from journalism to comms.
"Being on this side of the house, you want to make sure that everything you say or do is accurate and transparent to the level you can be transparent and that the messaging is right," she says. "The experience of covering politics definitely helped when it comes to messaging and strategy."
In her first job after graduating from the University of Michigan, Skyler was one of former CNN president Rick Kaplan's assistants before being moved into a producer role when Kaplan left the network. It was in these early roles where Skyler says she learned the importance of perspective, a topic that comes up repeatedly in a conversation in one of WeWork's small, but stylish meeting rooms at its Manhattan HQ.
Just a few weeks after Skyler started working at CNN, the network retracted a report that U.S. military forces used sarin nerve gas in 1970 in Laos, an incident that became known as the "Tailwind Scandal."
"That was a real learning opportunity, just to be able to sit next to the president of the network and see what was going on," she recalls. "It was like a master's degree in media."
The pen is mightier
Despite her broadcast background, Skyler says she gets most of her information today from the written word, partially due to an extra-hectic schedule that includes raising two young daughters and WeWork's extra busy Monday schedules. However, she's been impressed by changes in the media landscape in terms of the types of work being done by producers who were once focused solely on TV.
"As producers now, a lot of my former colleagues are reporting, editing, doing everything," she explains. "To me that's a tremendous opportunity, because whether they stay in news or come out of news to do something else, look at the skills they're developing. It's really incredible."
There's also the matter of the person occupying her former beat at 1600 Pennsylvania Ave., where President Donald Trump's tendency to make international news on a whim in 280-character blasts is a far cry from the relative message discipline of the Bush White House.
While she notes it can be "hard to watch" former colleagues and competitors become the focus of campaign trail attacks, Skyler says the current administration also has some positives for members of the White House press corps.
"A lot of my former colleagues are still covering the White House," she notes. "When I was part of the beat, there wasn't a lot of news that was broken — it was pretty controlled — and now there's a real opportunity for reporters that are breaking stories and driving change, and it's a completely different environment."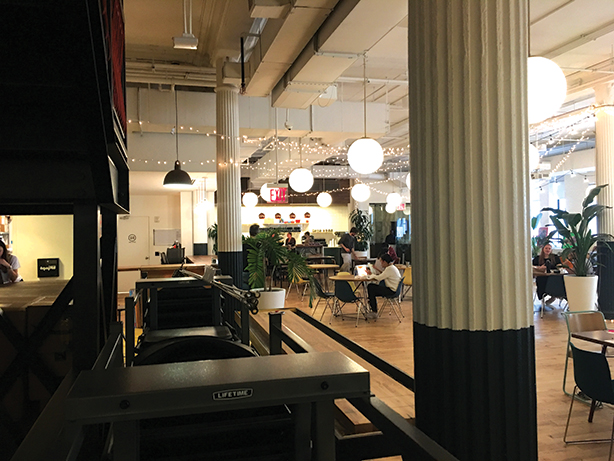 ---
Moving in
A WeWork office opening is a lot more complicated than just buffing the floors, buying the coffee, and making sure the Wi-Fi works. After the company determines a new city is a good landing spot, it tries to establish working relationships with elected officials in the region. While it does not lobby, it does attempt to educate government executives about the company's values and what it can bring to a city or region.
"When you look at the level of employment going on inside a WeWork, we have 40,000 member companies with more than 200,000 individual members. That's a lot of jobs," explains Skyler. "And you think about a building in which there are 1,000 people. People are going to lunch. People are grabbing coffee. We're definitely fueling the larger ecosystem."
But before the ribbon-cutting happens, WeWork makes that case on the ground three to four months in advance, holding meetings and events with entrepreneurs and reporters and telling the stories of successful members.
Of course, there's also the nuts-and-bolts side — the beer taps and other perks don't set themselves up, after all — so it puts an issues management team in place in case something goes awry.
"What's key is developing the right relationships early so you're not in scramble mode if something unexpected does come up," Skyler says. "In New York even, we've had great learnings about making sure you're educating the communities and being proactive before an issue arises."
---