The story Nick Desai, CEO of Heal, wants to tell is how a quaint medical practice from a bygone era can revolutionize healthcare when powered with technology.
As an app that schedules house calls with doctors, Heal prides itself on a business model and workforce designed to increase human interaction.
"Today, tomorrow, and on Christmas Day, people's kids will get sick, end up with colds and flus, bumps and bruises, aches and pains," Desai says. "And they will spend their Christmas at home, with a doctor that will come to their house. That's something people want to happen."
A Heal client, described by Desai as a "household name top 10 tech company," encouraged employees to use Heal instead of the ER during the 2017 holiday. Between December 18 and January 2, the company said 208 people used the app. Desai declined to name the client.
Most medical care today comes to patients in hospitals in the form of ER and urgent care visits. Unfortunately, these alternatives have big out-of-pocket costs and "cartoonish" wait times while limiting the amount of time doctors have with patients, Desai says.
The house call addresses these problems in roughly three ways: improving the quality of care by allowing doctors to develop a more holistic relationship with patients; sparing patients from increasing wait times through the expediency and convenience offered by an on-demand app; and lowering costs by offering a more viable form of primary care delivered at insurance rates in network.
"We're overusing the hospital," Desai says. "We need to get [patients] out of the hospital and back into their homes."
Heal doctors can do "anything that is done in a doctor's office or urgent care," including full physical exams, bedside testing, drawing blood and urine, administering vaccines, and more, according to Desai. They're also equipped with medical diagnostic equipment capable of non-acute medical services.
Since its founding in late 2014, the startup has delivered 40,000 house calls across 20,000 patients in California and the Washington, DC metropolitan area.
Desai says they have no official plans yet regarding new markets, but all major metros, including Seattle, Chicago, Dallas, Houston, Atlanta, New York City, and Boston are being evaluated.
Patients are charged at their insurance rate and Heal operates within their network. Heal employs about 80 physicians, either full-time or under contract.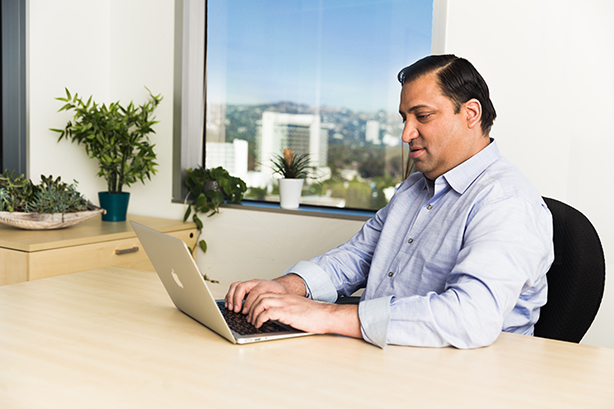 Beyond the house call
Against sales of over $10 million in 2018 alone, Heal's $126 million valuation and the $51 million it's raised over two rounds speaks to broader investor optimism that banks hard on both the ability of Heal to disrupt and leverage Internet of Things innovation.
In January, Heal unveiled Wellbe, a product that serves as a hub for users' health-tracking devices, such as finger pulse oximeters, at the 2018 Consumer Electronics Show. After Heal installs Wellbe for patients, the device integrates data for users and doctors "securely" and in a regulatory-compliant way, Desai says. Wellbe is integrated with Apple HealthKit and was an honoree at the 2018 CES Innovation Awards. It was developed in partnership with Qualcomm.
This data allows doctors to make better decisions based on more precise information that is both historical and current. And it extends the doctor-patient relationship into a 24/7 one beyond the house call with real-time video conferencing available 12 hours a day every day, Desai says.
Experts such as Eric Topol, author of The Patient Will See You Now, believe health-tracking devices will have a democratizing force on medicine, bringing patients into the decision-making process by giving them access to information.
"We have every opportunity, if we stay focused and keep our nose to the grindstone, to be as influential in healthcare as Amazon is in its space," Desai contends.
He acknowledges Heal's pathway to scale and market share could put it on a collision course with hospitals. They could disrupt hospitals in the same way online retailers disrupted brick-and-mortar companies. But he hopes hospitals will instead see Heal and other tech as a way to enhance medical care delivery.
"We can be an asset to a hospital, where we do all the primary care, keep the preventable stuff out of their hair, and give them the more complex patients," Desai says.
Heal's PR
The future of Heal depends on its ability to meet a few business challenges: offering a broad suite of quality services and competitive prices; obtaining key insurance partnerships; receiving regulatory approval; and generating enough interest among consumers and potential doctors that it can enter new markets more quickly than competitors.
PR helps solve many of those problems.
The Heal brand hit a series of milestones in 2017. During that time period, the Republican Party tried and failed to repeal the Affordable Care Act three times. After the second time, Desai penned a piece about the state of healthcare in America in April.
Heal's PR counsel, Nicole Rodrigues, CEO of NRPR, decided to pitch Desai to The Washington Post. In June, the Post featured Heal in a story called, "Doctor on Demand: How the app culture is reviving the house call."
In November, Desai appeared on CNBC's Squawk Box alongside celebrity doctor Dr. Drew Pinsky, who serves on Heal's board of advisors.
"If I raise $50 million in funding, I can get news for that without a PR firm. What good PR does is keep you relevant. That's what Nicole's company has done differently from every other agency I've witnessed," Desai explains.
Not only do these media placements bolster investor enthusiasm, they also serve as a recruitment tool for doctors with the promise of greater flexibility, more patient time, and less paperwork.
After the Post story was published, more than 100 doctors reached out to Heal to try to join the startup, Desai says. He estimates 40% of physicians it employs came through inbound calls from physicians who found out about Heal through news stories.
"It's hard to talk about PR's impact in one dimension because it has so much impact across so many different dimensions," Desai notes.
PR outreach also boosts interest from prospective investors, partners, large corporate clients, insurance companies, and state governments.
"Ironically, startups don't use PR, because they think social media can take its place," Desai explains. "[Social] takes no money and very little time. But it's because everyone can do it that you need PR more than ever."
He adds PR helps companies differentiate themselves from competition. Indeed, Heal has to contend with other house calls apps, such as Pager and Curbside Care.
"PR, effectively done in a good agency, is the investment that cuts through the clutter and gets you the credibility competitors won't have," he says.