It's hard to think of another product so synonymous with it's founding nation as IRN-BRU is with Scotland. With this kind of iconic status comes great responsibility, and a recent recipe change has provoked a strong reaction among 'Bru fans'. Dealing with the associated fallout while cementing the brand's burgeoning reputation as a master of social is all in a day's work for the man at IRN-BRU's online coalface...
Name: George Gunn
Job title: Content Strategist
My typical day/shift involves…
My first job of the day is to check all the comments and messages we've received overnight. I do further sweeps throughout the day, too. It's important to make any fans and followers feel appreciated by going back to them as soon as possible.
Other tasks include content planning, reporting/analytics, and occasional wider strategic pieces. My team works closely with both our creatives and our media agency to make sure any planned content works as well as it can for our audience.
I also keep an eye out throughout the day for any reactive opportunities, typically on Twitter. If something presents itself that feels right, we'll get something live within the hour.
It's a great day for gingers ????#royalwedding pic.twitter.com/0wysaJbuR6

— IRN-BRU (@irnbru) November 27, 2017
Which social media channels do you manage?
IRN-BRU's Facebook, Twitter and Instagram channels. Also the YouTube channel, although this isn't a priority channel for the brand right now.
Which channels work best for the brand & why?
We have a lot of fun on Twitter, which is ideal for getting involved with trending stories (though only when relevant to the brand), as well as cheeky exchanges with fans and influencers. This is probably where we focus the most time and where we've had the biggest wins. One response (below) last year had over 17k retweets, all with a single emoji.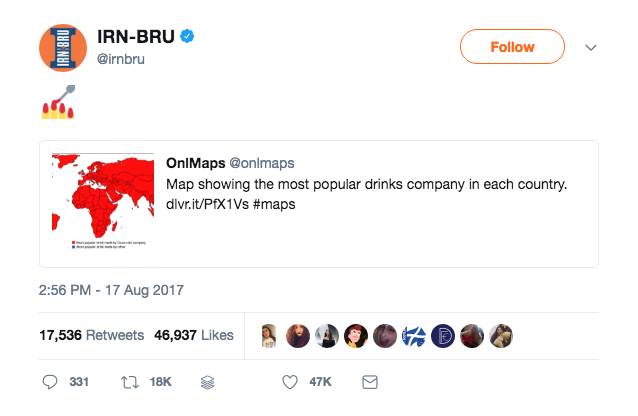 Facebook plays a very important role when it comes to mass reach and engagement, particularly for campaigns. Its targeting tools also allow us to acquire new fans beyond the brand's traditional strongholds. On Instagram, it's all about harnessing and showcasing the love for IRN-BRU by regramming fan creations.
Do you measure your social activity/growth?
Of course. We measure audience growth, reach, engagement and advocacy, and benchmark these against competitors.
My brand guidelines/restrictions are…
Because of its somewhat unique status as a national treasure - plus its legendary advertising heritage - managing the IRN-BRU accounts comes with a lot of responsibility. Staying 'on brand' is vital.
Having said that, any guidelines we have are not overbearing - to run the accounts effectively we need the freedom and trust to go for it. We don't just post about anything and everything though; we've identified a set of content themes that are a relevant fit for the brand. Plus, we avoid some obvious no-go areas.
Common issues...
A lot of people use social media as a go-to customer service channel these days, so a necessary part of the job is logging any enquiries, product issues and speculative requests, and making sure these ultimately reach the right people. It's not the sexiest part of the job if I'm honest, but it's important.
How do you handle criticism online (specifically the recent recipe change)?
We've aimed to be open and honest throughout this process. We've been listening carefully to what fans are saying and addressing any questions where we can.
What makes a good social media manager?
A calm head. The job involves several roles - from community management, through writing and publishing, to planning and opportunity identification. You have to find a way of juggling and prioritising these different tasks across channels as the notifications ping non-stop.
Best experience…
On an otherwise unremarkable Monday morning last May, Iron Maiden announced their arrival in Scotland by posting an image of the IRN-BRU logo, tweaked so that it read "IRN-MDN". It came out of absolutely nowhere. They've got over 17 million fans across Facebook, Twitter and Instagram, so we knew straight away it was a huge opportunity.
Within minutes, we'd already got some back-and-forth going with the band. This was followed up by a social competition, giving fans who tweeted using the hashtag #IRNMDN a chance to win a very limited batch of (six) specially commissioned IRN-MDN glass bottles. The team also managed to turn around a set of these bottles for the band, which were waiting in their changing rooms when they arrived at the SSE Hydro in Glasgow.
The interaction got picked up on and covered by the national press, music publishers and marketing bloggers - plus Iron Maiden shared a photo of our IRN-MDN bottles across all their channels and became our new Twitter pals. Not a bad result for a very cheap bit of reactive activity.
Strangest experience…
I still find talking to celebrities and influencers, through the medium of a brand, very surreal. Especially when you find yourself in an unexpected niche. Last summer, for example, IRN-BRU enjoyed a surge of popularity amongst University Challenge fans, as cult competitors Eric Monkman and Bobby Seagull revealed it was their 'brain juice'.
At the same time we were having a laugh with Monkman and Seagull, we were also chatting with LA-based producer/DJ Hudson Mohawke and helping a couple of professional wrestlers who were live-tweeting a BRU-related motorway drama.