Gilchrist, who has been CEO for the past six years, will take the new position of chair, global clients, Brunswick said in a statement.
In addition, Helen James (pictured right), chief executive of digital comms company Investis Limited, has been appointed group chief operating officer.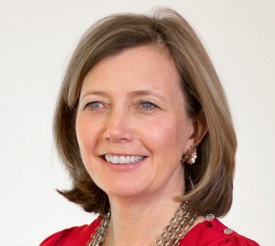 Rob Pinker, previously chief operating officer and head of India, Middle East and Africa (IMEA), takes the position of chair, emerging markets.
Wolin, based in Washington DC, has been a senior counselor at Brunswick for the past three years, advising some of the firm's most significant clients, the agency stated.
He was a senior official in both the Clinton and Obama administrations, most recently as deputy secretary of the US Department of Treasury. Prior to this, he was president and chief operating officer of the property and casualty insurance companies of The Hartford Financial Services Group, a $20bn Fortune 200 company.
Brunswick chairman Sir Alan Parker said: "I am delighted that Neal has agreed to take over as Brunswick's CEO. The challenges facing our clients are more complex and varied than ever before, and Brunswick continues to evolve. Neal and Helen are ideally placed to lead us on the next stage of Brunswick's journey.
"I would like to thank Susan and Rob for their leadership of the firm. They have overseen a period of huge expansion and development at Brunswick. As two of the most senior advisors in our industry I am excited that our clients will get to see more of them".
Wolin said: "As the challenges facing our clients continue to increase, I look forward to leading the next phase of the firm's modernisation and growth. We will continue to accelerate our client capabilities, and operational and management strength so that we remain focused on delivering what our clients need, while at the same time strengthening the firm and maintaining its very special and collaborative culture."
Gilchrist said: "It has been an honor and a privilege to lead Brunswick over the past six years and I am thrilled to have Neal and Helen on board as we continue to grow. I'm excited to focus on the most important thing at Brunswick - our clients - deepening our understanding of their challenges, and using the range of expertise across the firm to solve them."
The agency also outlined other recent partner appointments: Renfeng Zhao in Beijing; Axel Duroux as senior partner in Paris; Marshall Manson and Jonny Stark in the digital team; Sir Jonathan Faull as chair of European public affairs; Jonathan Doorley in the firm's New York M&A bench; Ria Thomas as co-lead for the cybersecurity offer; Charles Pretzlik as a financial and corporate advisor; and Amelia Pan, who focuses on investor engagement and activism.
In other recent changes at the global financial and corporate comms agency, Brunswick last week announced a new geopolitical offer led by Bob Zoellick, former president of the World Bank. The company said the new offer "brings business leaders strategic advice at the highest level on a wide range of global issues and challenges, complementing our regulatory and public affairs capabilities across the firm".
Brunswick is the world's ninth biggest PR agency and the UK's second largest, according to the most recent PRWeek Agency Business Report, with global revenue of $276.5m in 2016. Click here to read PRWeek's profile of the agency from the ABR.
According to a recent report from media analysis and data company Mergermarket, Brunswick was overtaken by Sard Verbinnen as the agency that provided comms support on the greatest number of M&A deals globally in 2017.